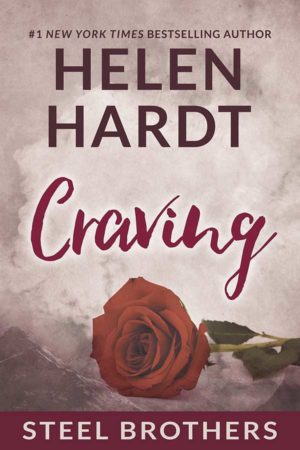 Craving
by
Helen Hardt
Series:
Steel Brothers Saga #1
Published by
Waterhouse Press
Publication date:
May 18, 2016
Genres:
Erotica
,
Romance
288 pagesFormat:
eBook
Source:
Borrowed
After being left at the altar, Jade Roberts seeks solace at her best friend's ranch on the Colorado western slope. Her humiliation still ripe, she doesn't expect to be attracted to her friend's reticent brother, but when the gorgeous cowboy kisses her, all bets are off.

Talon Steel is broken. Having never fully healed from a horrific childhood trauma, he simply exists, taking from women what is offered and giving nothing in return...until Jade Roberts catapults into his life. She is beautiful, sweet, and giving, and his desire for her becomes a craving he fears he'll never be able to satisfy.

Passion sizzles between the two lovers...but long-buried secrets haunt them both and may eventually tear them apart.
Affiliate Disclosure: This post contains affiliate links. In plain English, this means that I may receive a small commission (at no cost to you) if you purchase something through the links provided. This small income goes back into my blog, so I can continue to create fun content for you. I appreciate my readers and make it my goal to be upfront and honest. Thank you for supporting my blog!
Work has been really crazy for me, so I've been on the hunt for quick, mindless romances to read. I remember seeing this series all over the place—on social media, advertisements on prominent bloggers' websites. I thought with so many popular bloggers essentially endorsing this author's work with their ad space and posts, that this would be a promising pick. There was so much about this book that was eyeroll-worthy and nauseating.  I've learned my lesson to not take book bloggers' ads as anything more than a paycheck. Helen Hardt's CRAVING may be one of the worst books I've picked up this year.
There wasn't anything in this book that was done well, which is why the rating is what it is. The writing was terrible. The plot was a patchwork of romantic cliches gone bad. The characters were failed attempts at being three-dimensional. To make matters worse, Talon and Jade's (yes, that's their names) story isn't over! Yes, my friends, this book ends on a cliffhanger because one book wasn't enough.
The hero's name is Talon Steele. Get it? He's a man's man, so he needs a manly man man name. Something that I hate in novels is when an author uses mental illness to create character death. You see, Talon has "the PTSD" because he's a veteran and because of that, he has all these "walls" built up around him. Talon's family talks about his "walls" over and over again. This was the shallowest depiction of PTSD I've ever seen in a novel.
Jade's fiancé left her at the alter, so she goes to live with the Steele family. She meets her best friend's brothers for the first time, including the hardened and emotionally unavailable Talon. The two are instantly attracted to each other. Right after meeting her, he says he "wasn't sure any amount of distance would ease [his] craving."
The two meet frequently at midnight while an insomniac Talon sits in the kitchen staring at a glass of water (something you learn is tied to his troubled past). It doesn't take long for poorly developed chemistry to force both of them to act on it. Of course, Jade has to agree that what they have can only ever be sex and he she can't ever love him. Of course.
There are some legal inaccuracies that really bothered me since I've been through what Jade has been through. Her bar results come in and she finds out she passes. The exact same day she gets a job doing municipal court issues with the city attorney. Without ever interning in this area of law, she's an instant expert and advising her clients on her first day what will likely happen in their case. This wouldn't happen. Even if you interned in the area of the law you practice, your boss wouldn't let you tell clients these types of things. With Jade, she hadn't ever practiced in this area, so there is no way that she would have known what she was doing. It just made no sense.
The writing in this book was atrocious. For example, in one scene, the author clues the reader in (unnecessarily) to how Jade unwraps her fast food (side note: this is right after they met for the first time). These are direct quotes:
"The paper from her burger crinkled as she wadded it up and put it in the bag. When she reached to grab mine out of my lap and her fingers grazed the inside of my thigh, my dick stiffened. Yeah, just what I didn't need—a boner in the fucking car. She wadded up my paper and tossed it in the bag as well."
In another scene, the author takes up several pages (I read this on my Kindle) describing in excruciating detail the sandwich that Jade makes for Talon—something that blows his mind—which is confusing because it's a grilled cheese sandwich with a tomato on it. It's nothing revolutionary.
The author's repetitious word choices were problematic. Talon describes Jade's body or breasts as lucious at least 4 times in the first half. The reader is constantly reminded of Jade's blue eyes. Over and over and over again.
The sex scenes were void of romance, chemistry, or steam. Talon's dirty talk did nothing for me. His clinical use of the word "areola" and talks of stuffing Jade's vagina with his manhood only made me want to puke. Come on, a vagina is not a turkey. It doesn't need to be stuffed.
The one good thing I can say about this book is that at 288 pages its length makes it a quick read but unfortunately not a painless one. I can't recommend this book to anyone, even lovers of erotic romances.
* I borrowed this book from my library.