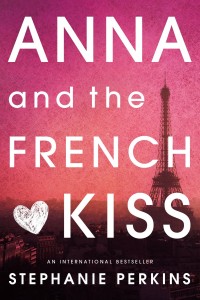 Anna and the French Kiss
by
Stephanie Perkins
Series:
Anna and the French Kiss #1
Publication date:
December 1, 2010
Genres:
Contemporary Romance
,
Young Adult
372 pagesFormat:
eBook
Source:
Purchased
Can Anna find love in the City of Light?
Anna is happy in Atlanta. She has a loyal best friend and a crush on her coworker at the movie theater, who is just starting to return her affection. So she's less than thrilled when her father decides to send her to a boarding school in Paris for her senior year. But despite not speaking a word of French, Anna meets some cool new people, including the handsome Étienne St. Clair, who quickly becomes her best friend. Unfortunately, he's taken —and Anna might be, too. Will a year of romantic near misses end with the French kiss she's waiting for?
Affiliate Disclosure: This post contains affiliate links. In plain English, this means that I may receive a small commission (at no cost to you) if you purchase something through the links provided. This small income goes back into my blog, so I can continue to create fun content for you. I appreciate my readers and make it my goal to be upfront and honest. Thank you for supporting my blog!
Do you like to read about kissing cute boys?  If you answered the question with a yes, then is for you!
I read Anna and the French Kiss almost two years ago and since then it has remained one of my favorite young adult contemporaries.  I didn't write a review for it at the time, but now I really think I should since it's one of my favorites.  I just reread the book in preparation for the August 14th release of Isla and the Happily Ever After, and I loved even more the second time!  If you haven't #ReadANNA then now is the perfect time to meet Anna, Etienne, Lola, and Cricket!
Anna Oliphant is in crisis.  Okay that might be a little dramatic.  But she's not happy.  Anna's dad decided that it would be a good idea to send his daughter to Paris, France for her final year of high school…to a boarding school.  Spending a year away from her friend, Bridgette, and her could-be boyfriend, Toph, isn't exactly what she had in mind.  Once her parents leave her dorm room, she realizes she is completely alone, away from her mother, her brother Sean, her best friend, and her crush.
Who sends their kids to boarding school? It's so Hogwarts. Only mine doesn't have cute boy wizards or magic candy or flying lessons.
Anna is passionate about all things film. She runs a film blog in her spare time where she posts reviews and discussion.  Her dream is to study film and to someday be the nation's greatest film critic.  Fortunately for Anna, Paris is a film buff's dream with its many cinemas, show old obscure films.  Unfortunately for Anna, film is not in her class curriculum.
Her first night she meets her very artsy next-door neighbor, Meredith.  On her way back to her room, she runs into Étienne St. Clair or just St. Clair (that's what everyone calls him).  At first glance, Anna notices how good looking he is, he has a special kind of charm that she picks up on immediately.  St. Clair is on the short side and apparently he has amazing hair.  In this new place, Anna starts to get in the groove and meets a lot of new people.
Étienne has all of the girls at the School of America in Paris (or SOAP) falling all over themselves for him.  He's gorgeous in a unique way, funny, smart, and has a sexy English accent.  Yep, I love him.  There is only one problem:  He has a girlfriend.  Nooooooo!!  That small little fact created SO MUCH AMAZING tension between Anna and Étienne, which was my favorite part.
"Why do I care so much about him, and why do I wish I didn't? How can one person make me so confused all of the time?"
"You must think I'm a complete idiot right? That I'm just some doormat who'll wait for you on the sidelines forever? That you can keep running back to her every time things get difficult and I'll just be okay with it?!"
The narrative style of this book was so captivating.  From page one I was completely sucked in to what Anna was telling me.  I felt like my teenage best friend was telling me her troubles and secrets.  All of the characters in this book were so real and relatable.  They had inside jokes with one another, teased each other, and were there for one another when things were tough.
What I love most about this book is the slow progression of their friendship and the building romantic tension between them.  Anna and Étienne spent a lot of time together.  It's clear that they're drawn to one another, but their circumstances make it impossible to act on their feelings.  That's the great thing about young adult, there is almost always incredible romantic tension and longing.  This book had both of those things and I was HOOKED!
"I love it when he cocks an eyebrow whenever I say something he finds clever or amusing.
I love listening to his boots clomp across my bedroom ceiling.
I love that the accent over his first name is called an acute accent, and that he has a cute accent."
One thing I'd like to note is that Étienne and Anna are not described as your typical modelesque teenagers.  Anna had a "gap the size of a raisin" and Étienne was shorter than Anna. Both of these things are the type of character traits seen in books. Since this is a book whose intended audience is teenagers, I think that sets a great example.
"I risk a glance, and St. Clair stares back. Deeply. He has not looked at me like this before. I turn away first, then feel him turn a few beats later.
I know he is smiling, and my heart races."
Anna and the French Kiss had everything that makes up a great young adult contemporary—humor, kissing cute boys, drama, and a big dose of heart. Stephanie Perkins does young adult well and I will read whatever she writes!  I would highly recommend this book for lovers of sweet (but not cavity-inducing sweet) young adult contemporaries.
4 stars
If you preorder Isla from one the select retailers, you will receive:
a set of Stephanie Perkins inspired buttons and
a set of decals
AND Twenty-five (25) lucky people who preorder will receive a Stephanie Perkins tote bag!!