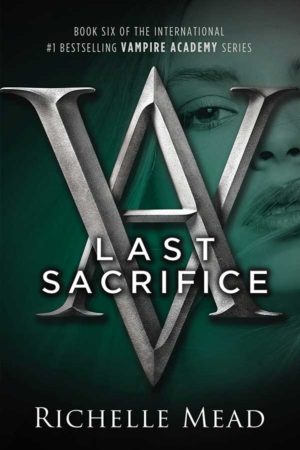 Last Sacrifice
by
Richelle Mead
Series:
Vampire Academy #6
Published by
Razorbill
Publication date:
December 7, 2010
Genres:
Paranormal Romance
,
Young Adult
608 pagesFormat:
eBook
Source:
Purchased
The astonishing conclusion to the #1 international bestselling series, now in paperback!

Murder. Love. Jealousy. And the ultimate sacrifice.

The Queen is dead and the Moroi world will never be the same. Now, with Rose awaiting wrongful execution and Lissa in a deadly struggle for the royal throne, the girls find themselves forced to rely upon enemies and to question those they thought they could trust. . . .

But what if true freedom means sacrificing the most important thing of all?

Each other.

Can't get enough? Check out Bloodlines, Richelle Mead's bestselling spinoff series set in the world of Vampire Academy!
Affiliate Disclosure: This post contains affiliate links. In plain English, this means that I may receive a small commission (at no cost to you) if you purchase something through the links provided. This small income goes back into my blog, so I can continue to create fun content for you. I appreciate my readers and make it my goal to be upfront and honest. Thank you for supporting my blog!
Reading this series almost 5 years later, I still love the books just as much now. Over the course of six books, I came to love these characters, despite the mistakes they make along the way.
LAST SACRIFICE was a great way to end this series and say goodbye to the world of Rose, Dimitri, Lissa and Christian. Almost everyone is left in a good place at the end, which made me insanely happy. Rose has been through so much in such a short amount of time. She went from being a student in Vampire Academy to a warrior and fighter in Last Sacrifice.
I've talked about Rose before in previous reviews, but it bears repeating that she is absolutely resilient. That's not to say that she is infallable, flawless, or pefect in every way—because she's not—but she never gives up even in the bleakest moments. In the beginning of this last installment, Rose is waiting for her trial for the murder of the Queen. Yet she doesn't spend the book resigned to her fate. No, she keeps fighting.
Rose gets a lot of slack for how she treats Adrian in this series. I'll be the first to say that the position she placed him in wasn't kind, especially knowing the space in her heart was already full of love for someone else. Not to transfer all the blame to Adrian—because I think Rose is guilty here—but he had the self-awareness to know how Rose truly felt. For that reason, I didn't really buy into Adrian's heartache. To me, Adrian and Rose's failed romance was more a way for Mead to create both a subplot for this series and an opening for the spin-off series, Bloodlines, rather than a romance the reader was supposed to be emotionally invested in.
For teens, I think what Rose and Lissa represent are strong women who are unrestrained by their gender, by what society tells them to be, or what box they are placed in. Both women were told what and who they were going to be, but by the end of the novels they became who they wanted to be. And they did that by fighting.
The love story in this series is one that I've always remembered. From book one we always knew that, despite what happened, Rose's heart belonged to Dimitri, wherever and whoever he might be. Even when Rose started dating Adrian, the reader knew what Rose couldn't admit to herself—that she couldn't in good faith give her heart away to him. I'm happy where she ended up, who she became, and where Richelle Mead left her.
* I purchased this book myself.