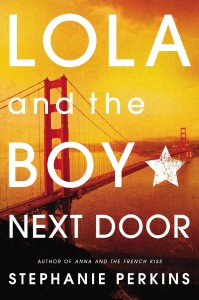 Lola and the Boy Next Door
by
Stephanie Perkins
Series:
Anna and the French Kiss #2
Published by
Penguin
Publication date:
September 29, 2011
Genres:
Contemporary Romance
,
Young Adult
338 pagesFormat:
Paperback
Budding designer Lola Nolan doesn't believe in fashion...she believes in costume. The more expressive the outfit--more sparkly, more fun, more wild--the better. But even though Lola's style is outrageous, she's a devoted daughter and friend with some big plans for the future. And everything is pretty perfect (right down to her hot rocker boyfriend) until the dreaded Bell twins, Calliope and Cricket, return to the neighborhood.

When Cricket--a gifted inventor--steps out from his twin sister's shadow and back into Lola's life, she must finally reconcile a lifetime of feelings for the boy next door.
Affiliate Disclosure: This post contains affiliate links. In plain English, this means that I may receive a small commission (at no cost to you) if you purchase something through the links provided. This small income goes back into my blog, so I can continue to create fun content for you. I appreciate my readers and make it my goal to be upfront and honest. Thank you for supporting my blog!
Cricket Bell.  Need I say more?  I suppose I do.
I LOVE THIS BOOK SO MUCH!  If I was forced to choose between Étienne St. Clair and Cricket Bell, I will choose Cricket.  I still love Étienne, but Cricket has my heart.  Stay tuned next week for my Ode to Cricket Bell.
Lola and the Boy Next Door is a second chance romance.  It's a love story between a girl who talks to the moon and dresses in costume and the brilliant boy next door.  Lola is a walking costume ball. Everyday is a performance and a new opportunity to put on a show and make a statement.  Lola's mother has been in and out of her life, leaving Anna in the care of her brother and his partner.  I LOVED Anna's dads, Nathan and Andy.  They were just another element that made this book so great.
"Dad! I'm serious." My panic rapidly intensifies. "I can't go to the dance like this, it's too much. Way too much."
"Honey," he shouts to Nathan. "You'd better get in here. Lola is using new words."
Nathan appears in my doorway, and he grins when he sees me.
"Our daughter said"—Andy pauses for dramatic effect— "it's too much."
Growing up, Lola Nolan was best friends with the boy next door, Cricket Bell.  He has a twin sister, Calliope, but she isn't exactly friendly with Lola.  Nearly every night, they'd talk out their bedroom windows to each other.  Suddenly, one day Cricket and his family moved away without a word.  Lola was devastated because she'd had a crush on Cricket for as long as she can remember. But not only that they were best friends.
She has a hot rocker boyfriend. She has sex with her hot rocker boyfriend.  And she has a new group of friends.  She's totally, completely moved on, right?  She thought she was until Cricket Bell moves back and upsets her new life.  He's the boy next door again.  Now is her chance.
Here is why Cricket Bell is awesome: he's tall, incredibly cute, absolutely brilliant, he's an inventor, he's thoughtful, he can do my hair, and he's wicked creative. And he has his own set of quirks. He wears rubber bands on his wrists, writes on his hands, and builds Rube Goldberg. I just loved everything about him.   What's more is that he spent most of his teenage years following his sister Calliope to all of her figure skating competitions without complaint.  How selfless!
"I was obsessed with the way his hands never stopped moving. And his fingers. Long, enthusiastic, wild, but I knew from watching him build his machines that they were also delicate, careful, precise. I fantasized about those fingers."
The story is told in Lola's point-of-view, so you don't really know what exactly is going on in Cricket's mind.  You get glimpses of his feelings through his actions and what Lola sees.  He's so shy that he doesn't exactly say what he's thinking.  Several times, I wanted to scream at Lola, "Lola, look right in front of you! Go for it! He likes you too!!"
Cricket's limbs are still, but his chest is pounding hard against my own. "But you'll want me someday? That feeling you once had for me … that hasn't left either?"
Our hearts beat the same wild rhythm. They're playing the same song. "It never left," I say.
Like Anna, the romantic relationship between Lola and Cricket was this delicious and rather quiet slow burn.  At first, Lola was still harbored so much anger towards Cricket for what he did.  But eventually, the two fell back into their old friendship.  I loved watching them rekindle the bond they had before he moved back.  A year older than Lola, Cricket attends college away, so he is only in his parents' house on the weekend.  That small amount of distance only added to the romantic tension.  It gave Lola a chance to miss him when he was gone.
"You'll come home soon?" I ask.
The question makes him smile. "Promise you won't forget me while I'm gone?"
I smile back. "I promise."
And as I walk away, I realize that I have no idea how I'll manage to stop thinking about him." 
Lola has a great sense of humor, which only added to my enjoyment of the book.  Her quirky sense of style and fanfare was immensely entertaining and was so endearing.
"Oh God." I blink at the mirror. "It looks like I've been vomited on by an inkwell." 
When I think of this book, I remember the ending.  OMG, that ending!!  This book has one of the most memorable, swoon-worthy conclusions without being over-the-top dramatic. What happens at the end has so much meaning to these characters' and their relationship. It melted my heart! I can't tell you how many times I've reread and listened to the end.  I hang on Cricket's every word and action.  All of Lola and Cricket's pent-up emotions come flowing out and it is just SO, SO, SO GOOD!!
These are not the kisses of a sweet, wholesome, boy next door.
I would recommend this book for lovers of sweet, young adult romances.  Like Anna, this book isn't sugary sweet.  There is depth and layers.  Lola has a lot on her plate emotionally what with her mother, her rocker boyfriend, and her feelings towards Cricket.  I highly recommend this one!!
4 stars — HIGHLY RECOMMEND!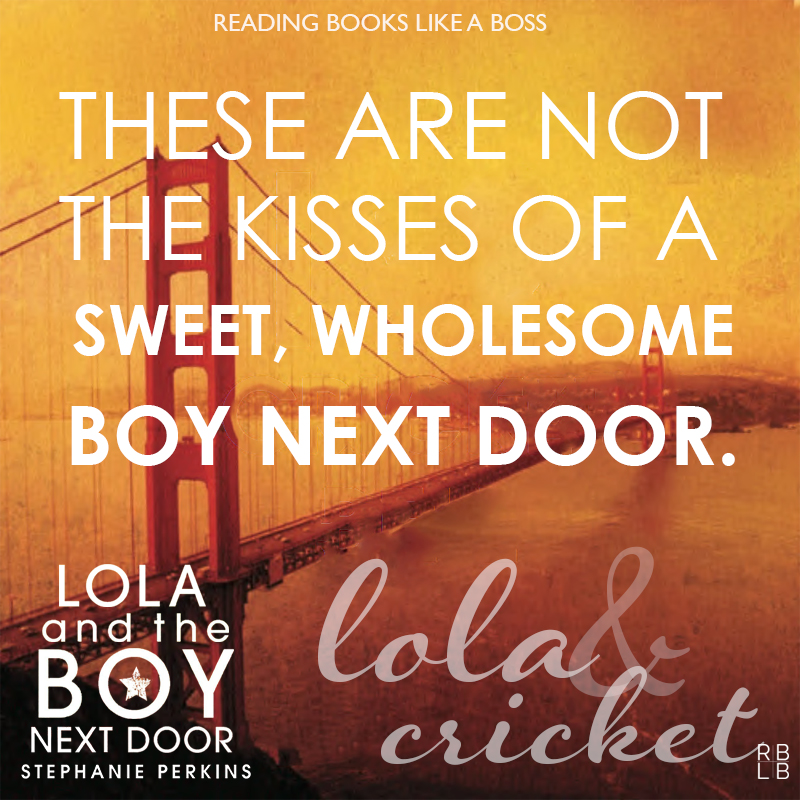 ANNA AND THE FRENCH KISS SERIES
Book 1 – Anna & the French Kiss
Amazon: US • UK • CAN | iBooks | GR
Book 2 – Lola & the Boy Next Door
Amazon: US • UK • CAN | iBooks | GR
Book 3 – Isla & the Happily Ever After
Release date:  August 14th 2014
(Pre-order Links)
KINDLE | PAPERBACK | GOODREADS
Serious, super important question: Who would you choose? Cricket or Étienne?