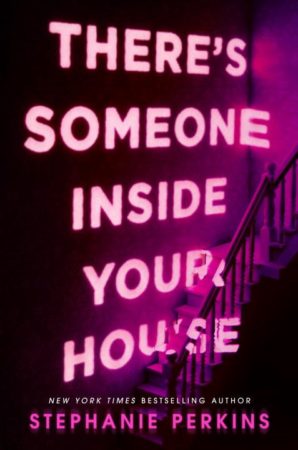 There's Someone Inside Your House
by
Stephanie Perkins
Published by
Dutton Books for Young Readers
Publication date:
September 26, 2017
Genres:
Horror
,
Suspense
,
Young Adult
304 pagesFormat:
eARC
Source:
Publisher
Scream meets YA in this hotly-anticipated new novel from the bestselling author of Anna and the French Kiss.

One-by-one, the students of Osborne High are dying in a series of gruesome murders, each with increasing and grotesque flair. As the terror grows closer and the hunt intensifies for the killer, the dark secrets among them must finally be confronted.

International bestselling author Stephanie Perkins returns with a fresh take on the classic teen slasher story that's fun, quick-witted, and completely impossible to put down.
Affiliate Disclosure: This post contains affiliate links. In plain English, this means that I may receive a small commission (at no cost to you) if you purchase something through the links provided. This small income goes back into my blog, so I can continue to create fun content for you. I appreciate my readers and make it my goal to be upfront and honest. Thank you for supporting my blog!
Stephanie Perkins moves away from contemporary young adult romance in the horror-like story of a small town terrorized by a serial killer. THERE'S SOMEONE INSIDE YOUR HOUSE has several suspenseful moments, but when it comes to finding out why this person was slaughtering high school students, the reason is underwhelming.
Moving to Osborne, Nebraska from Hawaii was a bit like culture shock for Makani Young; she sticks out and isn't used to wearing actual shoes. Her two best friends, Alex and Darby, are her saving grace, especially when her summer fling with Ollie Larrson ends abruptly, leaving her heartbroken. Months into her junior year, several of her peers are murdered in the most gruesome ways. Osborne has a serial killer on the loose and his victims are seemingly random. Or are they? Could she be next?
Like in her previous novels, Perkins's writing has ease and flow to it that pulls you in instantly. You won't have to wait very long to sink your teeth into this book. The novel is written in third person but the reader doesn't feel detached from the story at all. This is effective and adds to the reader's suspense, especially when the chapters switch to the victim's point of view. You know what's about to happen and all the signs are there.
Perkins doesn't entirely leave behind her romance roots in this novel. She embeds a sweet love story in this darker novel between Makani and the pink-haired and misunderstood Ollie Larrson. Their summer fling started without either of them putting a label on what they were doing. The romance got in the way of the mystery (or maybe vice versa). It felt out of place in this novel.
The reader finds out who is responsible for the mass slaughter well before the book is over, which naturally leads one to ask: why is this happening? The answer to this question is what controls the plot's fast tempo in the latter half. But you might prepare yourself to be disappointed in why this killer chose to attack and murder several young teenagers (not that there is ever a good reason to kill anyone). But, we find out the strange reason why and then the novel just sort of abruptly ends.
This novel is very plot-driven, making it fast-paced and lacking in dull moments. But the characters themselves are forgettable and underdeveloped. Makani's backstory is teased for a good portion of the novel, but the unveiling of her "bad act" that weighs so heavily on her conscious is almost as underwhelming as the serial killer's motive. Perkins tried to infuse distinctive traits and personalities into the side characters, but honestly they felt more like generic stock characters.
* I received an advanced copy from the publisher in exchange for an honest review. Receiving this book for free did not affect my opinion. Thanks to Penguin Teen for the reviewing opportunity.