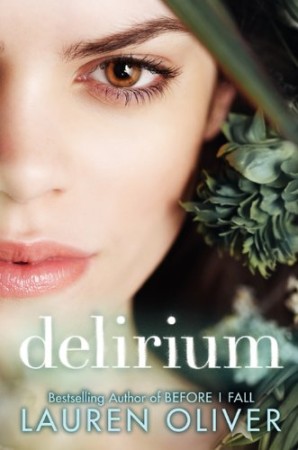 Delirium
by
Lauren Oliver
Series:
Delirium #1
Published by
Harper Teen
,
HarperCollins
Publication date:
August 2, 2011
Genres:
Dystopian Romance
,
Young Adult
401 pagesFormat:
eBook
Source:
Purchased
Ninety-five days, and then I'll be safe.
I wonder whether the procedure will hurt.
I want to get it over with.
It's hard to be patient.
It's hard not to be afraid while I'm still uncured, though so far the deliria hasn't touched me yet.
Still, I worry.
They say that in the old days, love drove people to madness.
The deadliest of all deadly things: It kills you both when you have it and when you don't.
Affiliate Disclosure: This post contains affiliate links. In plain English, this means that I may receive a small commission (at no cost to you) if you purchase something through the links provided. This small income goes back into my blog, so I can continue to create fun content for you. I appreciate my readers and make it my goal to be upfront and honest. Thank you for supporting my blog!
Book Review:
Lauren Oliver's poetic, lyrical writing shines in this hauntingly beautiful story about two people falling in love under precarious circumstances. A touching and forbidden love story to the core, I couldn't stop thinking about Delirium and the timeless love story Oliver wove after I finished.
In just ninety-five days Lena Haloway can take a deep breath and rest easy because she will get the cure for amora deliria nervosa. The government deemed love a terrible contagious disease and passed rules and regulations mandating that everyone at age of eighteen receive a cure by injection to rid themselves of feeling love.
Raised by her aunt after her mom was killed, Lena has no idea what love feels like. And she doesn't want to find out. Set in modern day Portland Maine, Lena has been raised to believe that love will kill you. She is a rule-follower and will stop at nothing to keep the deliria from entering her blood streaming and killing her. Her perfect little plan is put to the test when she meets an employee for the government, Alex Sheathes, at her first test.  There is something in the way he carries himself that draws her to him, this unworldly charm and charisma. She runs into him again by chance and from that moment, the two begin to see one another as friends. Ever so slowly, Lena begins to experience things she has never felt before, feelings of affection and desire. Love?
Lena and Alex's love story is representative of the kind of love that everyone longs for. The emotional intensity they share is quietly ardent, pure, and untainted. Oliver captured the sentiment of first love and the fight for love perfectly. I felt for these characters every step of the way as they fought for every moment, every kiss, and every stolen glance.
Alex is one of my all-time favorite heroes. He is strong, protective, sweet and the really the perfect guy.  One of my favorite scenes in this book was when he read Lena poetry. Lena had never heard these impassioned poems before and having the man she loved deliver them with such fervor was beautiful to read.
What made this story riveting was Lena's internal struggle to do what she thinks is right and following her heart. All of her external forces tell her that what she is feeling for Alex is dangerous, but she begins to make decisions for herself and fight for what she believes in — Love.
5 stars
Amazon: US • UK • CAN | iBooks | GR