"This and That" is a feature meant to showcase books that I think sound similar or have similar themes and would recommend to someone who is a fan of the "this book."  I may not have read the "that" book, but I think fans of the "this" book might like it.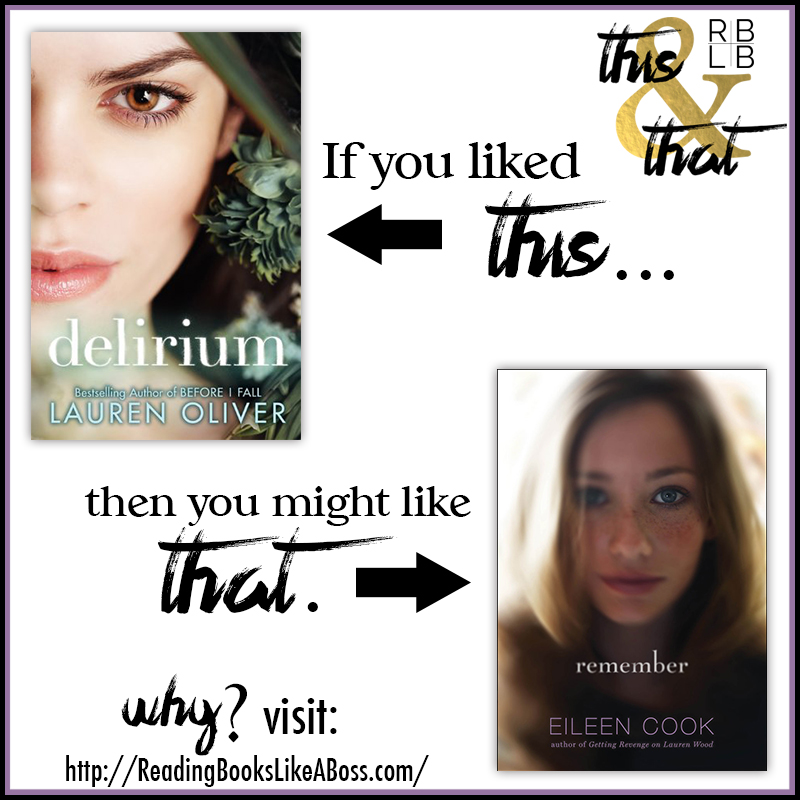 The Why:
I'm really excited to read Remember! Both of these books deal with procedures that take something away from the characters. In Delirium, it's the ability to feel love. In Remember, it's memories of times past. I loved Delirium because of Lena's internal struggle to fight what she was feeling. I'm excited to see how Harper deals with her memory relapses in Remember. Both of these books have a sort of sci-fi feel to them. Check them out!
About the Books: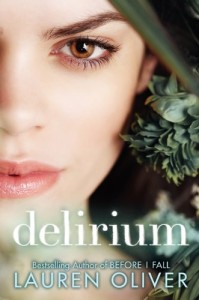 Delirium by Lauren Oliver
Before scientists found the cure, people thought love was a good thing.
They didn't understand that once love — the deliria — blooms in your blood, there is no escaping its hold. Things are different now. Scientists are able to eradicate love, and the government demands that all citizens receive the cure upon turning eighteen. Lena Holoway has always looked forward to the day when she'll be cured. A life without love is a life without pain: safe, measured, predictable, and happy.
But with ninety-five days left until her treatment, Lena does the unthinkable: She falls in love.
Amazon: US • UK • CAN | iBooks | GR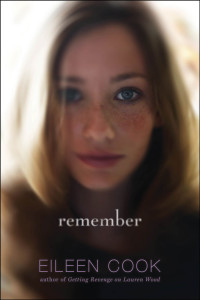 Remember by Eileen Cook
A thrilling tale about what a girl will do to get back a memory she lost…or remove what she wants to forget.
Harper is used to her family being hounded by protesters. Her father runs the company that trademarked the "Memtex" procedure to wipe away sad memories, and plenty of people think it shouldn't be legal. Then a new demonstrator crosses her path, Neil, who's as persistent as he is hot. Not that Harper's noticing, since she already has a boyfriend.
When Harper suffers a loss, she's shocked her father won't allow her to get the treatment, so she finds a way to get it without his approval. Soon afterward, she's plagued with strange symptoms, including hallucinations of a woman who is somehow both a stranger, yet incredibly familiar. Harper begins to wonder if she is delusional, or if these are somehow memories.
Together with Neil, who insists he has his own reasons for needing answers about the real dangers of Memtex, Harper begins her search for the truth. What she finds could uproot all she's ever believed about her life…
✥ ✥ ✥ ✥
Do you have any This & That pairings that you'd like to share?