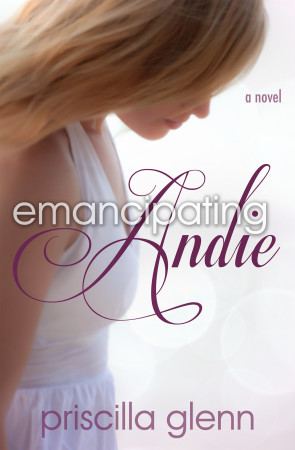 Emancipating Andie
by
Priscilla Glenn
Published by
Self-Published
Publication date:
April 5, 2013
Genres:
Romance
278 pagesFormat:
eARC
Source:
ARC via author
Ever since the one time Andie Weber threw caution to the wind - and paid the price for it - she's learned that it's safer and smarter to live life playing by the rules. Now she's got a great apartment, a steady job, and a wonderful boyfriend in Colin; he's sweet, stable, and essentially perfect – except maybe for the fact that his best friend is Chase.Chase McGuire lives his carefree, unstructured life strictly for himself. Dripping sarcasm and oozing wit, he refuses to censor his feelings or opinions for anyone, making no apologies for either and wearing his abrasiveness like a badge of honor. No one has ever gotten under Andie's skin the way Chase does – and vice versa.So when Andie and Chase find themselves forced to take a two-day road trip together, they are already dreading an inevitable all-out war. But as the trip progresses, and the undeniable friction that has always defined their relationship slowly begins to wear away their preconceived notions of each other, Andie and Chase discover they both have a lot to learn about life, courage, happiness, and the age-old battle between logic and love.
Affiliate Disclosure: This post contains affiliate links. In plain English, this means that I may receive a small commission (at no cost to you) if you purchase something through the links provided. This small income goes back into my blog, so I can continue to create fun content for you. I appreciate my readers and make it my goal to be upfront and honest. Thank you for supporting my blog!
Book Review:
I absolutely loved Priscilla Glenn's debut novel, Back to You, so I was thrilled to read Emancipating Andie.  Glenn did not disappoint. I LOVED Emancipating Andie.  Since I finished, I have gone back and reread parts parts of this novel numerous times.  Clearly, I'm having a hard time letting go of Andie and Chase.  Gah!  Their story was full of stolen glances, LOTS of tension, and sweet chemistry.
The story begins with Andie and her Colin going on a date – their first date.  Colin takes Andie to his friends' house for a party.  House maybe isn't the right word.  It's clear that the house is more like a mansion and that Colin's friends are very, very wealthy.  Right after arriving, Colin leaves her alone.  What does Andie do?  She sneaks around to explore all the rooms, hoping she doesn't get caught snooping.  Then the worst thing happens.  She gets locked in the wine cellar when the door shuts behind her.  She's not alone.  Chase McGuire, who we later find out is Colin's friend, is locked up with her.  Almost instantaneously, he gets under her skin and not in a good way.  In some weird way, he knew exactly how to push her buttons and get her fired up.
Fast forward seventeen months later.  Andie and Colin are officially a couple.  Andie lives in a neat and tidy apartment and is a creature of order and routine.  She has a comfortable life with her boyfriend and an amazing career. Everything in her life is perfectly aligned – just the way she likes it. But her world is about to be tilted on its axis.  Colin's friends are getting married in another state.  Just one problem – Andie doesn't fly.  So, Andie's plan is to drive to the wedding alone, but Colin has another idea.  He invites his good friend Chase to be her passenger.
Even Chase notices how immaculate and tidy Andie keeps her apartment.  It's almost as if he could feel that it reflected Andie's personality.
"You know what this place needs?" he said, lifting his mug and taking another sip?
She place one of her bags down on the coffee table and began rummaging through it. "No, but I'm sure you're gonna tell me, " she deadpanned,s till not looking at him.
"It needs some life."
Andie is less than thrilled to be stuck in a car with Chase from New York to Florida.  Chase, on the other hand, cannot get Andie out of his head.  He felt something for the night they were locked in the cellar.
…how quickly those big brown eyes had changed from innocently captivated to utterly fierce. That zero-to-sixty, that fiery tenacity.
Chase wants to stop and sightsee whereas Andie wants to drive straight through.  These little disputes continue mile after mile. As the days go by, Chase's easy-going disposition begins to melt Andie's icy exterior.  Andie begins to develop feelings towards Chase. He makes her feel things she never felt with Colin – alive, on fire, and new.  Her tightly coiled, self-contained emotions are suddenly coming apart.  She's coming apart, and she doesn't know what do with her feelings.
I do what I want to do. I refuse to hold back what I'm thinking or what I'm feeling anymore. And if someone doesn't like it, then they dont' need to be in my life. If that makes me an asshole, then so be it. I don't want to spend any more time trying to make other people happy. Life is much more enjoyable when you're surrounded by people who just accept you for you."
Andie thought she had Chase pegged as this carefree photographer with pipe dreams, but she learns that he's not at all who she thought he was.  There is depth to Chase and underneath all of his jokes and lightheartedness is a little brokenness.  It's that brokenness that Andie can relate to.  Andie has a dark past of her own.  It's why everything she does and every choice she makes is safe.  It's why she never takes risks…until Chase
I loved seeing the change in Andie's feelings towards Chase.  There was a shift in the way they regarded one another during the road trip.  When Andie and Chase got to Florida, it was clear that neither of them wanted to step out of the bubble they created.  Andie didn't want to go back to her reality where she was with Colin, where everything was planned out for her. And Chase didn't want to let her go.
Remember when I said there was tension in this story?  Well, Glenn serves up a massive dose of tension in this one.  HOLY CROW!  The longer Andie and Chase denied their feelings for each other, the more I wanted to reach through my Kindle and give them a good shove.  Chase's desire to do good by Colin was admirable, but for me, proud member of Team Chase and Andie (Team Chandie?), I wanted him to throw his respect out the window.  I wanted him and Andie to be together.  Mostly importantly, I wanted Andie to TAKE A RISK and realize that Colin is not the man for her.
One of my favorite moments of the book is towards the end.  There is this scene between Chase and Andie where things between them are way emotionally charged and both of them are a bit brittle.  Chase uses Andie's full name for the first time.  I JUST ABOUT DIED.  That one word turned the whole scene around.  He said so much by saying so little to Andie and it made my heart go pitter patter.  That is officially a new bookism for me:  That moment where the guy calls the girl by her full name for the first time.  *melts*  Emancipating Andie was such a gorgeous story – one that I will definitely reread again and again.
* I received a copy from the author in exchange for an honest review
Buy on Kindle | Buy in Paperback | Add on Goodreads