What I'm Digging is a weekly feature in which I share my bookish finds with you. This can range from jewelry to clothes to home decorations. I find so many neat bookish things on Pinterest, Etsy, and elsewhere. I thought I would share my finds with you. Who doesn't love book-related goodies?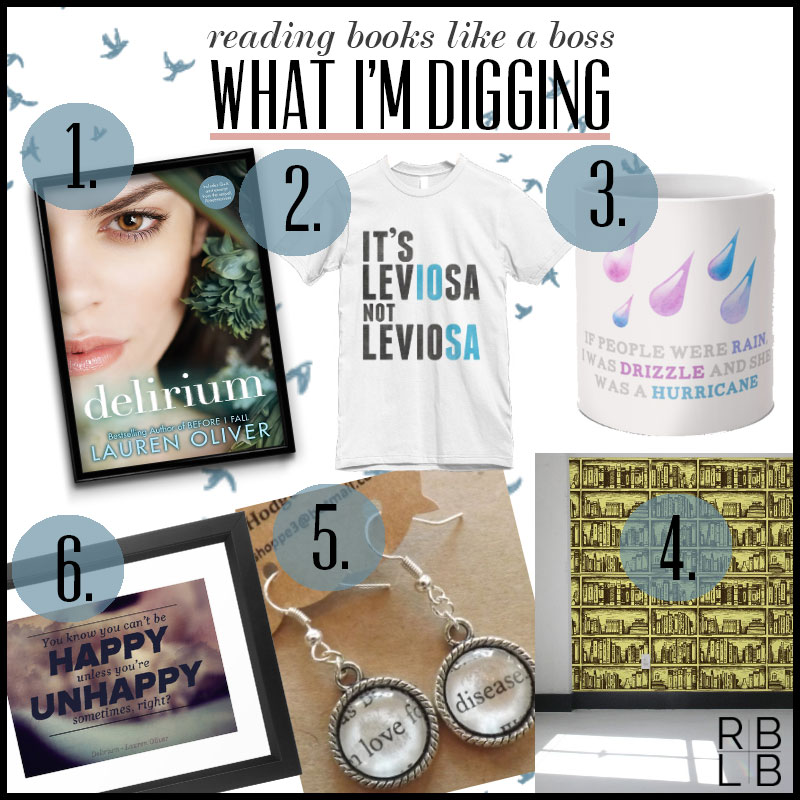 1.) Delirium by Lauren Oliver
Delirium is one of my favorite young adult novels.  It's a dystopian romance that takes place in a world where love is considered a disease.  So good!
Add on Goodreads
$5.72, Amazon
2.) IT'S LEVIOSA, NOT LEVIOSA T-shirt
Harry Potter t-shirt
$26.99, Skreened
3.) Looking For Alaska Coffee Mug
11 oz. Looking For Alaska Coffee Mug.
$15.00, Society 6
4.) Book-Patterned Wall Tiles
Two 48″ x 24″ self-adhesive tiles.  These are the perfect addition to a reading room!!
$50.00, What is Blik
5.) Delirium "Love" and "Disease" Earrings
THESE CHARM EARRINGS FEATURE THE WORD/S: "love" and "disease"
$8.50, Etsy (Seller LilShopofHodgePodge)
6.) Delirium Framed Print
Framed print that says, "You know you can't be happy unless you're unhappy sometimes, right."
$32.00, Society 6
Which of my picks this week would you choose?  Have you found any fun book-related goodies lately?