What I'm Digging is a feature in which I share my bookish finds with you. This can range from jewelry to clothes to home decorations. I find so many neat bookish things on Pinterest, Etsy, and elsewhere. I thought I would share my finds with you. Who doesn't love book-related goodies?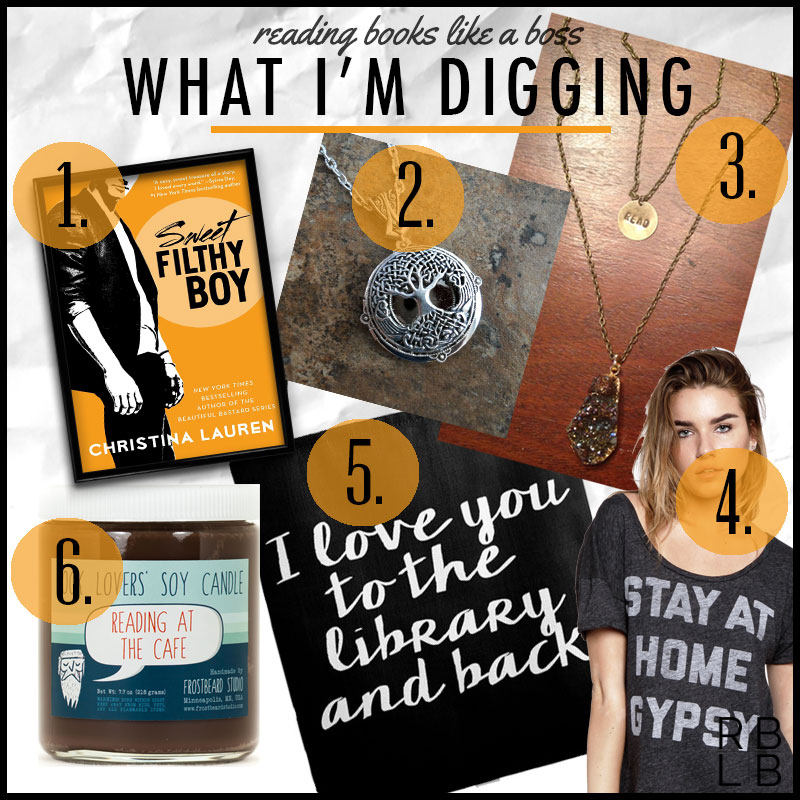 Dark Wild Night just released yesterday so I thought I would take you all on a trip down memory lane with the Wild Seasons gang. I read Sweet Filthy Boy last year and fell in love with Ansel. If you haven't read it, you need to! If you love drunken nights ending in marriages, read this book. 😉
Amazon: US • UK • CAN | iBooks | GR
#1 Sweet Filthy Boy Review
#1.5 Sweet Filthy Morning After Review
#2 Dirty Rowdy Thing Review
#3 Dark Wild Night Review
Okay this necklace is actually the Celtic tree of life, but it kind of reminded me of The Opportunist by Tarryn Fisher (only 99 cents right now! – Purchase the Book)
Purchase Here
$26.00, Etsy (EnchantedLockets)
This is so freaking gorgeous! It says "Read" at the top and then has a freaking crystal at the bottom! Click here to see the gorgeous crystal.
Purchase Here
$23.00, Appraising Pages
This shirt is my life. 
Purchase Here
$32.00, Buy Me Brunch
This tote expresses the depths of my love for all of you. 🙂
Purchase Here
$22.00, Society6 (Seller:Bookwormboutique)
Shoutout to Frostbeard Studio! I frigging love their soy wax candles! I've been burning my "Dumbledore's Office" candle for awhile and it's almost finished. *tear* It's time for an order! I think this one is on my "I NEED IT" list!
Purchase Here
$16.00, Frostbeard Studio
Which of my picks this week would you choose?  Have you found any fun book-related goodies lately?