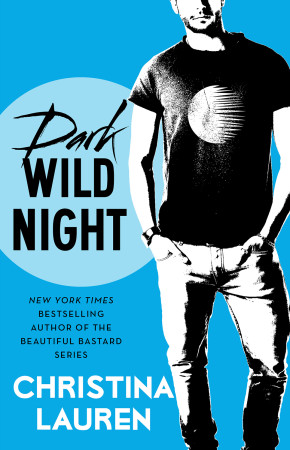 Dark Wild Night
by
Christina Lauren
Series:
Wild Seasons #3
Published by
Gallery Books
,
Simon & Schuster
Publication date:
September 15, 2015
Genres:
Adult
,
Erotica
,
Romance
Narrator:
Shayna Thibodeaux
,
Steve West
Length:
9 hrs and 49 mins
352 pagesFormat:
ARC
Source:
ARC via publisher
What happens in Vegas, stays in Vegas.
But what didn't happen in Vegas seems to follow them everywhere.

Lola and Oliver like to congratulate themselves on having the good sense to not consummate their drunken Las Vegas wedding. If they'd doubled-down on that mistake, their Just Friends situation might not be half as great as it is now.

... Or so goes the official line.

In reality, Lola's wanted Oliver since day one—and over time has only fallen harder for his sexy Aussie accent and easygoing ability to take her as she comes. More at home in her studio than in baring herself to people, Lola's instinctive comfort around Oliver nearly seems too good to be true. So why ruin a good thing?

Even as geek girls fawn over him, Oliver can't get his mind off what he didn't do with Lola when he had the chance. He knows what he wants with her now ... and it's far outside the friend zone. When Lola's graphic novel starts getting national acclaim—and is then fast-tracked for a major motion picture—Oliver steps up to be there for her whenever she needs him. After all, she's not the kind of girl who likes all that attention, but maybe she's the kind who'll eventually like him.

Sometimes seeing what's right in front of us takes a great leap of faith. And sometimes a dark wild night in Vegas isn't just the end of a day, but the beginning of a bright new life...
Affiliate Disclosure: This post contains affiliate links. In plain English, this means that I may receive a small commission (at no cost to you) if you purchase something through the links provided. This small income goes back into my blog, so I can continue to create fun content for you. I appreciate my readers and make it my goal to be upfront and honest. Thank you for supporting my blog!
Book Review:
I've been in such a mood to read a Christina Lauren book since breezing through their Beautiful Bastard series earlier this year. After reading through the first two Wild Seasons books (Sweet Filthy Boy and Dirty Rowdy Thing), I was really excited to get Lola and Oliver's story.
We met Oliver and Lola in Sweet Filthy Boy and by Dirty Rowdy Thing, it's pretty obvious that both are more than smitten with each other. Though, I went into this book with a slight apprehension given the state of their already solid relationship. They were basically together without defining the relationship. The "talk" happened really early on in the book which didn't leave much room for a true conflict for the rest of the story. Instead, what ended up happening was manufactured conflict that led to Lola making some pretty dumb decisions.
Lola and Oliver weren't my favorite couple from this author. Their dialogue seemed stilted and awkward (and not in a good way). Lola's voice was inconsistent. One moment she was shy and virgin-like and the next moment she was talking about how Oliver's "uncircumcised cock was her kryptonite." I really hope the next couple in this series are more like Ansel and Mia and Harlow and Finn.
Even though this book wasn't my favorite, Christina Lauren writes the perfect kind of erotica for me. The relationships in their books are always enhanced by a certain sweetness that draws me and makes my heart swell. But to counterbalance the sweetness, Lauren also pours in loads of sexiness to spice things up.
Note: After thinking about this book and rereading parts, I edited this review and the rating.
2 stars
* I received a copy from the publisher in exchange for an honest review