What I'm Digging is a feature in which I share my bookish finds with you. This can range from jewelry to clothes to home decorations. I find so many neat bookish things on Pinterest, Etsy, and elsewhere. I thought I would share my finds with you. Who doesn't love book-related goodies?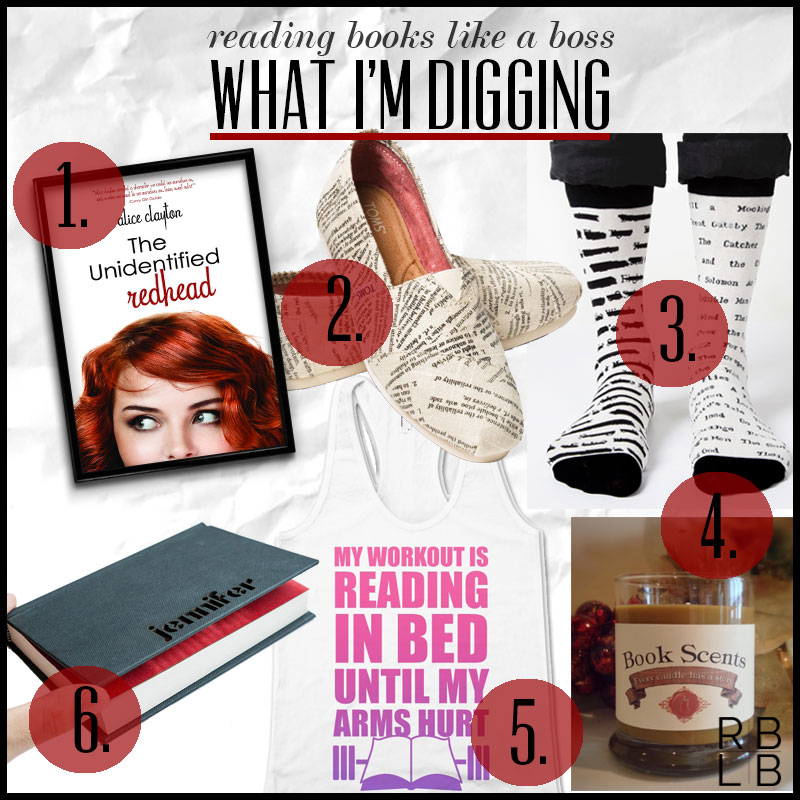 1.) The Unidentified Redhead by Alice Clayton
Jack and Grace from Clayton's Redhead series are one of my favorite couples.  The first couple books in this trilogy are really good. I loved this sweet and funny romance.
Add on Goodreads
$7.59, Amazon
2.) TOMS with Book Quotes!
I don't own a pair of TOMs but I want these! These are so cute!!
$54.00, Toms
3.) Banned Book Socks
If you require socks to match, then these socks aren't for you. 🙂
$10.00, Out of Print Clothing
4.) Santa's Pipe Candle
This candle by Book Scents features a "hearty fragrance of cherrywood, vanilla and sweet tobacco in warm caramel."
$14.00, Etsy (Seller: BookScentsCandles)
5.) Workout Tank Top
Books give my brain muscles.
$20.30, Active Apparel
6.) Book Quote Diary
You don't have to use this to keep track of your favorite book quotes.  You can use it for whatever you want. This journal is beautiful.
$25.00, Etsy (Seller: theivydesign)
Which of my picks this week would you choose?  Have you found any fun book-related goodies lately?