What I'm Digging is a weekly feature in which I share my bookish finds with you. This can range from jewelry to clothes to home decorations. I find so many neat bookish things on Pinterest, Etsy, and elsewhere. I thought I would share my finds with you. Who doesn't love book-related goodies?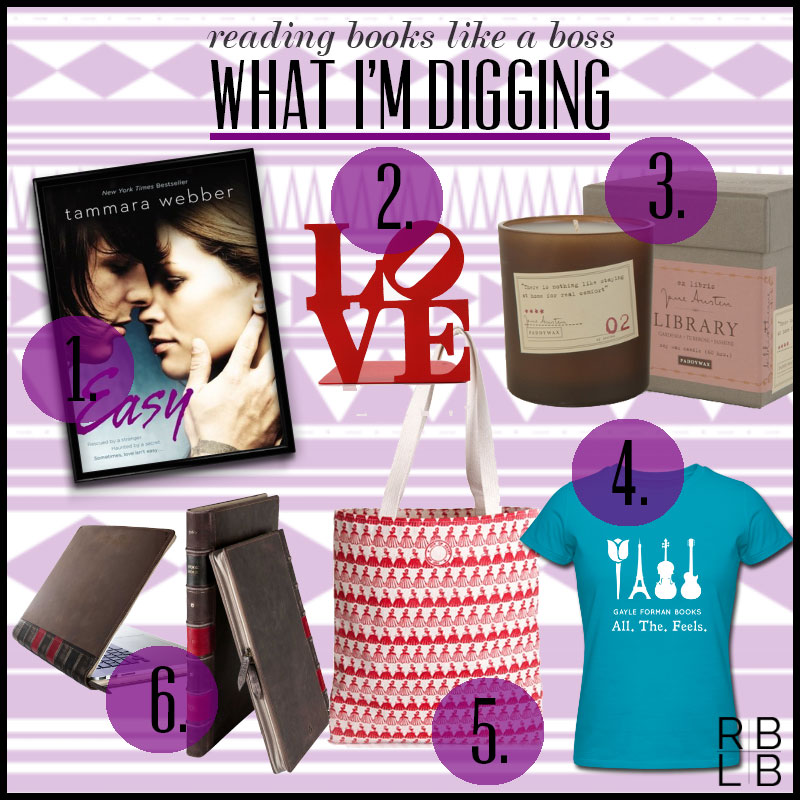 1.) Easy by Tammara Webber
Easy was one of the first books I read back in 2012 that drove my hunger for books.  The second book in this series comes out tomorrow!  Breakable is a companion novel to Easy told in Lucas's POV! Get your copy HERE.
$5.12, Amazon
2.) Love Bookend
This bookend sums up my feelings towards books. Love.  And it's in my favorite color. Isn't it cute?
$26.46, Etsy
3.) Jane Austen Candle
Not only is this candle really pretty (it would look really pretty on my coffee table) but I would bet it smells AMAZING!  Fragrance notes: gardenia, tuberose & jasmine.
$24.00, Candle Luxury
4.) "All. The. Feels." Gayle Forman T-shirt
In honor of "If I Stay" coming to the big screen, I thought I would share with you this beautiful t-shirt I stumbled upon.  If you haven't read If I Stay, I would highly recommend it. It's been awhile since I read it, but a lot of Goodreads friends have been reading it and it makes me want to reread it!
$20.00, Gayle Forman's spreadshirt
5.) Little Woman Patterned Tote Bag
The print on this tote bag is patterned from the Penguin Classic cover.  And the best part of it is that buying one of these bags sends one book to a community in need
$18.00, Out of Print Clothing
6.) Old-Style Book MacBook cover
Each case is handmade from genuine leather, offering heavy duty protection. "Two hardback covers, reinforced corners and a cushioned spine offer solid impact protection. The inside of the case is lined with a velvety soft, chocolate brown, padded interior for added protection."
$79.99, BookBook
Which of my picks this week would you choose?  Have you found any fun book-related goodies lately?