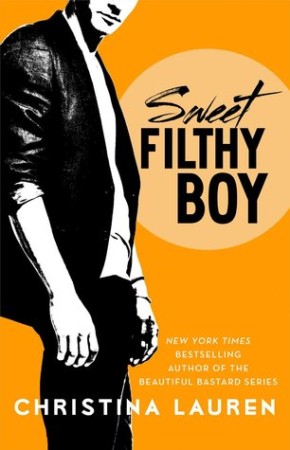 Sweet Filthy Boy
by
Christina Lauren
Series:
Wild Seasons #1
Published by
Gallery Books
,
Simon & Schuster
Publication date:
May 13, 2014
Genres:
New Adult
,
Romance
416 pagesFormat:
eARC
Source:
ARC via NetGalley
One-night stands are supposed to be with someone convenient, or wickedly persuasive, or regrettable. They aren't supposed to be with someone like him.

But after a crazy Vegas weekend celebrating her college graduation—and terrified of the future path she knows is a cop-out—Mia Holland makes the wildest decision of her life: follow Ansel Guillaume—her sweet, filthy fling—to France for the summer and just…play.

When feelings begin to develop behind the provocative roles they take on, and their temporary masquerade adventures begin to feel real, Mia will have to decide if she belongs in the life she left because it was all wrong, or in the strange new one that seems worlds away.
Affiliate Disclosure: This post contains affiliate links. In plain English, this means that I may receive a small commission (at no cost to you) if you purchase something through the links provided. This small income goes back into my blog, so I can continue to create fun content for you. I appreciate my readers and make it my goal to be upfront and honest. Thank you for supporting my blog!
Review:
In Sweet Filthy Boy, Christina Lauren blends a tender, sweeping love story with a heavy dose of hotness.   This is the first book I've read by Christina Lauren and I was thoroughly entertained watching Ansel and Mia navigate their rather unconventional and backwards relationship.
Mia Holland and her two best friends just graduated college.  In a few short months, Mia will be leaving her hometown of San Diego to go to Boston University to pursue a Masters in Business Administration.  This is more to appease her father, rather than her own passion.  After spending years dancing and performing in front of packed audience, pouring out her emotions on stage, her a car accident dashed any hopes of a future in dance.  Now, anxiety looms beneath the surface as she struggles to decide what she wants her future to hold.
"Every time I think about what comes next, my stomach turns inside out, ignites, chars. The feeling happens so much these days that I feel I should give it a name."
To celebrate their graduation, Lola, Mia and Harlow flee to Las Vegas, the city that never sleeps.  Hoping to drink themselves into oblivion, dance, and gamble, the girls get a lot more than they bargain for.  A pair of green eyes meet Mia's from across the bar, later discovering that they belong to Ansel Guillaume, a Frenchman.  Ansel is in Sin City reuniting with a couple of friends.  The two share a heated chemistry-ladden argument.  One thing leads to another and at the end of the girls' vacation, all three of them find themselves in a bit of a pickle.  What happens in Vegas doesn't always stay in Vegas.
"He may look like any other human, but he has that elusive quality that would force every pair of eyes to track him onstage, no matter how small the role. It's more than charisma—it's a magnetism that can't be taught or practiced. I'm only two feet away from him . . . I don't stand a chance."
Instead of going back home and spending the summer with her controlling father, Mia makes another impulsive decision to join Ansel in Paris.  Ansel and Mia's relationship is more than a little complicated.  They did everything backwards.  What I really enjoyed about Sweet Filthy Boy was watching their feelings for each other unravel as they got to know one another.  I LOVED ANSEL.  He truly was sweet and filthy, and not to mention insanely charming.  His French accent and devotion to Mia made him even more attractive.  But most of all, I adored how he lovingingly helped Mia find her passion and take control of her future.
I'm obsessed with the way he speaks. His English is perfect, but his accent lifts the words, tilts them so his h's comes out nearly inaudible, his r's always slightly guttural. He manages to sound both polished and crude.
Surprisingly enough, the insta-attraction storyline in this book did not bother me since it was done really well.  I could really feel why the characters felt the way they did.  The chemistry and connection between Mia and Ansel was very palpable.
I feel like he's taking over every part of me: filling my vision with the things he's doing, reaching into my chest and making my heart beat so hard and fast it's terrifying and thrilling in equal measure.
This book is really difficult to rate because I loved the pre-Paris section and really liked the ending.  My issues with the book center mainly around Mia's time in Paris.  Mia's big O is hard to come by and most of the time is completely missing.  In addition, she has a hard time opening up to Ansel right away.  So she decides to role play with Ansel in order to open up.  The whole O problem was weird and strange.  I didn't really get why that was relevant to the story.  The role playing plot was entirely unappealing for me.  It added more drama where conflict wasn't needed.  Ansel already worked a lot, which prevented him from spending time with Mia.  Her internal struggles about her future and the consequences of her actions in Vegas loomed over her.  In the Paris section, I wanted to see less of the characters using sex as an ice breaker and more relationship development.
I really liked the majority of Sweet Filthy Boy and look forward to reading Dirty Rowdy Thing!   I hope that Mia and Ansel show up in Harlow and Finn's story.
4 Stars
*I received an copy from the publisher in exchange for an honest review.
About the Authors: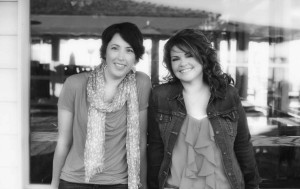 Lauren Billings (but everyone calls her Lo) has a Ph.D. in neuroscience and before she made writing her full-time job, would spend her days doing nerdy research-type things wearing a lab coat and goggles. She is silly Mommy to two littles, wife to one mountain biking homebrewing scientist, bestie to a shoe-stealer, and an unabashed lover of YA and romance.
Christina Hobbs (but you'll always hear Lo call her PQ) used to spend her days in a junior high counseling office surrounded by teenagers. Married to the cutest boy in school, she has a thirteen year old daughter, is an unapologetic lover of boy bands and glitter, and also likes to steal Lo's shoes.
You can follow their shenanigans at:
@lolashoes (Lauren) & @seeCwrite (Christina) on Twitter. On Tumblr! where we post kissing gifs and writerly stuff and Wattpad for short stories and sneak peeks!  Check out their website for more awesomeness.
For official information about their books, events, interviews, movie news and more, follow @beautifulbastrd.