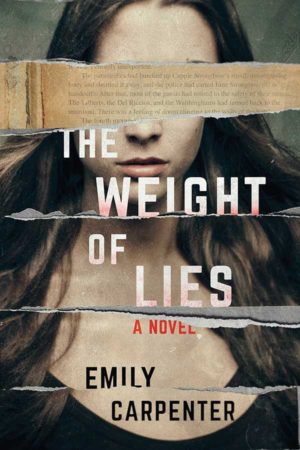 The Weight of Lies
by
Emily Carpenter
Published by
Brilliance Audio
Publication date:
June 6, 2017
Genres:
Psychological Thriller
,
Thriller
Narrator:
Kate Orsini
Length:
11 hours and 57 minutes
Format:
Audiobook
,
eARC
Source:
Publisher
In this gripping, atmospheric family drama, a young woman investigates the forty­-year­-old murder that inspired her mother's bestselling novel, and uncovers devastating truths—and dangerous lies.

Reformed party girl Meg Ashley leads a life of privilege, thanks to a bestselling horror novel her mother wrote decades ago. But Meg knows that the glow of their very public life hides a darker reality of lies, manipulation, and the heartbreak of her own solitary childhood. Desperate to break free of her mother, Meg accepts a proposal to write a scandalous, tell-all memoir.

Digging into the past—and her mother's cult classic—draws Meg to Bonny Island, Georgia, and an unusual woman said to be the inspiration for the book. At first island life seems idyllic, but as Meg starts to ask tough questions, disturbing revelations come to light…including some about her mother.

Soon Meg's search leads her to question the facts of a decades-old murder. She's warned to leave it alone, but as the lies pile up, Meg knows she's getting close to finding a murderer. When her own life is threatened, Meg realizes the darkness found in her mother's book is nothing compared to the chilling truth that lurks off the page.
Affiliate Disclosure: This post contains affiliate links. In plain English, this means that I may receive a small commission (at no cost to you) if you purchase something through the links provided. This small income goes back into my blog, so I can continue to create fun content for you. I appreciate my readers and make it my goal to be upfront and honest. Thank you for supporting my blog!
The daughter of a famous author uncovers a decades-old murder mystery between the pages of her mother's international bestseller in this thriller. THE WEIGHT OF LIES is a slow-building page-turner with a great setting, but the slower pace may not please all readers.
Kitten is the book inside of The Weight of Lies that made author Frances Ashley a household name—think of it as a novel inside of the novel. Throughout the book, Emily Carpenter places excerpts from Kitten every few chapters, the scenes often a parallel to what's happening in the present day with her daughter Megan as she separates matches fact with her mother's fiction.
Much of the novel takes place on an isolated island deep in the Georgian marshes. On the island is a Gothic mansion owned by the Kitchenses that was open to guests visiting the island. But Kitten's thinly veiled fictitious names and setting point straight to a very real place and real people, causing a dip in guests and forcing the Kitchen family to close Ambletern's doors. The novel's setting made it that much more compelling, creating a darker atmosphere which was great. The idea that Meg was completely at the mercy of the people of Ambletern was unsettling, especially when neither Megan nor the reader knew who to trust.
But like I said before, in thrillers don't trust anyone! The novel had a lot of twists and turns and red herrings that take the reader on a journey towards the truth. While I did like that it kept me engaged to put the pieces together, there were several scenes—especially in the middle section—in the novel that didn't really add anything to the overall plot. It made the story drag a little.
I admired Meg's resilience and drive to make something of herself away from her mother's big shadow. She's justifiably resentful and has a healthy dose of mommy issues, but the "mommy issues" was the only trait used to give her character depth. For a protagonist, Meg needed to have something more than this one thing to make her feel like a real person. Instead, Meg's character felt flat.
The novel's constant pulse is the fantastic whodunit at the center of a nearly forty-year murder mystery. It's this element that kept me engaged for the most part and curious to find out who killed that little girl. Is Meg in danger? Could her mother really be to blame? But the novel took a little time getting off the ground, which may cause some readers to not feel as connected to the story.
Audiobook Comments:
Kate Orsini's performance in The Weight of Lies was good but her delivery was not as expressive or emotional as it could have been. Sometimes when a novel's plot might feel stagnant, the audiobook narrator can pull the reader back in with a compelling delivery. That didn't always happen here, but I would still recommend this audiobook. Orsini's performance never took away from the story but it didn't always add that sparkle that audiobook narrators sometime can.
*  Thanks to Brilliance Audio for sending me this audiobook for review. Receiving this audiobook for free did not affect my opinion.