"Waiting On" Wednesday is a weekly event, hosted by Breaking the Spine.
Remember Me This Way
by Sabine Durrant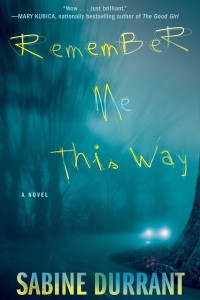 With an unforgettable cast of characters and exhilarating twists and turns, this brilliant psychological thriller from the author of Under Your Skin is sure to please fans of Gone Girl.
Everyone keeps telling me I have to move on. And so here I am, walking down the road where he died, trying to remember him the right way.
A year after her husband Zach's death, Lizzie goes to lay flowers where his fatal accident took place.
As she makes her way along the road, she thinks about their life together. She wonders whether she has changed since Zach died. She wonders if she will ever feel whole again.
At last she reaches the spot. And there, tied to a tree, is a bunch of lilies. The flowers are addressed to her husband. Someone has been there before her.
Lizzie loved Zach. She really did. But she's starting to realize she didn't really know him. Or what he was capable of…
Release Date: May 26, 2015
Amazon: US • UK • CAN | GR
Published by Atria/Emily Bestler Books
Why I'm excited:  I've been on the look out for new psychological thriller with a bit of a romantic element. When I read the synopsis for this book, I immediately went over to Goodreads and added it to my to-read list. I am so pumped for this book! It comes out really soon so you don't have to wait too long! Doesn't it look good? I think Zach has some secrets…
QUESTION:  
What books are you waiting for this week?