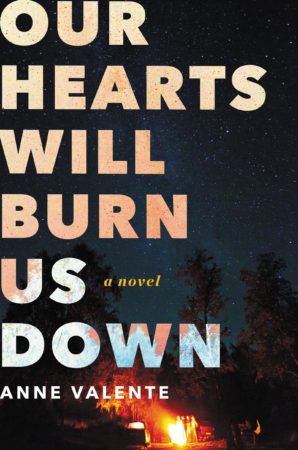 Our Hearts Will Burn Us Down
by
Anne Valente
Published by
William Morrow
Publication date:
October 4, 2016
Genres:
Coming of Age
,
Literary Fiction
384 pagesFormat:
eARC
Source:
Publisher
The lives of four teenagers are capsized by a shocking school shooting and its aftermath in this powerful debut novel, a coming-of-age story with the haunting power of Station Eleven and the bittersweet poignancy of Everything I Never Told You

As members of the yearbook committee, Nick, Zola, Matt, and Christina are eager to capture all the memorable moments of their junior year at Lewis and Clark High School—the plays and football games, dances and fund-drives, teachers and classes that are the epicenter of their teenage lives. But how do you document a horrific tragedy—a deadly school shooting by a classmate?

Struggling to comprehend this cataclysmic event—and propelled by a sense of responsibility to the town, their parents, and their school—these four "lucky" survivors vow to honor the memories of those lost, and also, the memories forgotten in the shadow of violence. But the shooting is only the first inexplicable trauma to rock their small suburban St. Louis town. A series of mysterious house fires have hit the families of the victims one by one, pushing the grieving town to the edge.

Nick, the son of the lead detective investigating the events, plunges into the case on his own, scouring the Internet to uncover what could cause a fire with no evident starting point. As their friend pulls farther away, Matt and Christina battle to save damaged relationships, while Zola fights to keep herself together.

A story of grief, community, and family, of the search for understanding and normalcy in the wake of devastating loss, Our Hearts Will Burn Us Down explores profound questions about resiliency, memory, and recovery that brilliantly illuminate the deepest recesses of the human heart.
Affiliate Disclosure: This post contains affiliate links. In plain English, this means that I may receive a small commission (at no cost to you) if you purchase something through the links provided. This small income goes back into my blog, so I can continue to create fun content for you. I appreciate my readers and make it my goal to be upfront and honest. Thank you for supporting my blog!
OUR HEARTS WILL BURN US DOWN is a poignant portrait of grief, told in the collective voice through the eyes of four best friends after a mass school shooting. While the story was not poorly written, the writing style was distracting at times, the novel was lacking in character development, and the mystery woven throughout was ultimately unfulfilling.
I can understand the publisher's comparison to Station Eleven, one of my favorite novels, albeit a weak one. Zola, Matt, Nick, and Christina are all trying to come to terms with what they experienced within the walls of their high school. As part of the yearbook staff, they feel the pressure and weight of responsibility to adequately recount and memorialize the classmates and staff who were gunned down. But they lack the personal connection and memory of the very subject they're trying desperately to remember, much like in Station Eleven.
The subject matter in this novel is disturbing and horrifying to imagine. The emotional response from the four main characters and the tangible, heavy grief felt by everyone was portrayed very honestly. I think the author did a beautiful job portraying those feelings, as confusing as they were for everyone involved. Each person dealt with things differently.
Nick drowned himself in research, desperate to find an explanation for what was happening. Christina tried to find comfort in the arms of a boyfriend who didn't want her when her father and mother were too busy to provide it to her. Zola, the one who witnessed the most horror directly, refused to talk about it to anyone. While Matt, held tight to his parents and grilled his dad for answers, who worked closely with the police's forensics department.
This novel could be described as a cross between a coming-of-age literary fiction novel and a mystery. But neither of these elements were executed well enough to be compelling and evoke the emotional response I was hoping for. The subject matter alone is emotionally haunting and heart-breaking. For a character-driven novel such as this to be effective, there needs to be great character development. While there was some development, there wasn't enough for me to connect with, and none of these characters were compelling to me.
While the novel wasn't poorly written, the writing style was very distracting and it took me a really long time find my reading rhythm. The writing very introspective, which I don't mind per se, but it was too much. The long list of items, character profiles, newspaper articles, and long narrative passages of the teens' feelings that were likely meant to add atmosphere, nuance, and emotion often felt unnecessary.
The unexplained house fires that only multiplied as the story moved forward was what kept me reading this novel. I wanted to know what was causing these things to happen. It was an interesting twist, as it only seemed worsen everyone's unsettling feelings. No one is allowed to start to heal because people keep dying. The answer to the mystery was yet another unsatisfying element to this story.
* I received an advance copy from the publisher in exchange for an honest review.