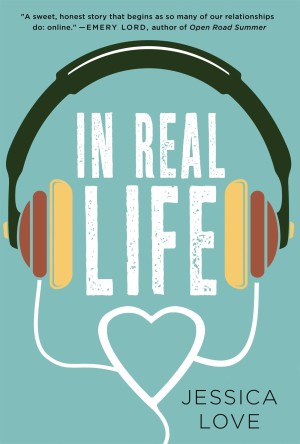 In Real Life
Publication date:
March 1, 2016
240 pagesFormat:
eARC
MY BEST FRIEND'S WEDDING meets THE HANGOVER - for teens - in this YA novel about a high school student who meets her online BFF and discovers how many secrets he has left unshared.

Hannah Cho and Nick Cooper have been best friends since 8th grade. They talk for hours on the phone, regularly shower each other with presents, and know everything there is to know about one another.

There's just one problem: Hannah and Nick have never actually met.

Hannah has spent her entire life doing what she's supposed to, but when her senior year spring break plans get ruined by a rule-breaker, she decides to break a rule or two herself. She impulsively decides to road trip to Vegas, her older sister and BFF in tow, to surprise Nick and finally declare her more-than-friend feelings for him.

Hannah's romantic gesture backfires when she gets to Vegas and meets Nick's girlfriend, whom he failed to mention. And it turns out his relationship status isn't the only thing he's been lying to her about. Hannah knows the real Nick can't be that different from the online Nick she knows and loves, but now she only has one night in Sin City to figure out what her feelings for Nick really are, all while discovering how life can change when you break the rules every now and then.
Affiliate Disclosure: This post contains affiliate links. In plain English, this means that I may receive a small commission (at no cost to you) if you purchase something through the links provided. This small income goes back into my blog, so I can continue to create fun content for you. I appreciate my readers and make it my goal to be upfront and honest. Thank you for supporting my blog!
Book Review:
In Real Life was so freaking cute! It will take you back to the time when you experienced your first love. You know, when you were a ball of nerves and wanted to know if the other person liked you as much as you liked them? Well imagine that scenario but the other person is your best friend in the whole wide world and you've never met him/her before. That's the situation poor Hannah is in.
Nick and Hannah are two best friends who've never met but talk online and on the phone nearly everyday. After four years, both have started to develop feelings for the other, but are afraid to admit it and ruin their friendship. Despite living only 300 miles away, they've never met face-to-face. Though both know just about everything about each other. Or so they think. As someone who's always walked on the straight and narrow, her friend and sister think she's crazy when she suggests driving to Vegas on the fly to finally meet her Nick.
As I read this book I kept thinking that this book reminded me of a much tamer version of the movie Hangover. Lo and behold that's what the publisher is marking it as—"My Best Friend's Wedding meets The Hangover." Perfect comparison! Though, the characters in this book don't really go on a wild and crazy Vegas tirade like the men in that movie, but for straight-laced Hannah what she does do is pretty out there for her.
If he's kissing someone who isn't me, I should be kissing someone who isn't him. It's only fair.
You guys know that I really love beta males—the ones who are kind of quiet, super sweet, and tend to be on the sensitive side. Nick is totally that guy! But he has his flaws. He sort of lied to Hannah about a few things, but I liked that the author gave him some cracks. Otherwise, he would be perfect and no one likes plastic characters.
As I read, I felt the indecision, the anxiety, and the "how do I handle this" feelings that Hannah had upon meeting Nick. When she got to Vegas, things didn't exactly goes as she'd planned. And my heart went out to her. The moments between her and Nick were filled with awesome teenage angst. I ate it up.
They have created this impossible distance neither of us can cross. I'm not sure what to do. Or what I want to do. Can I still be friends with him?
Do I still want to be?
Tied into this story is also a coming-of-age story. Hannah has always been one to follow the rules. She doesn't do anything without forethought. This trip to Vegas was her way of breaking the rules and breaking out of shell she's lived in. She learns to take a leap into the scary unknown and I really liked her story arc.
One thing that I had to overlook in order to enjoy the book as much as I did is the author's explanation for why Nick and Hannah had never met. I had a hard time believing that Hannah's mom was the reason why Nick and Hannah had never met in the middle. One would think after four years of daily conversations the teens' parents would have chatted a bit, arranged something, and agreed to meet up.
I would recommend this book to you if you really liked Lola and the Boy Next Door. I kind of got Lola/Cricket vibes when I was reading this book. The writing and dialogue definitely lends itself to a younger audience, but as someone outside the intended audience, I still enjoyed it. In Real Life was a pleasant surprise and I would totally read it again!
4 stars
* I received an advanced copy from the publisher in exchange for an honest review. This did not affect my opinion of the book in any way.