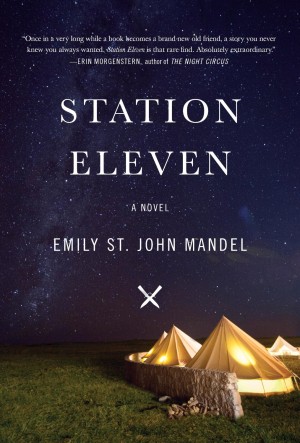 Station Eleven
by
Emily St. John Mandel
Published by
Knopf
,
Random House
Publication date:
September 9, 2014
Genres:
Fiction
,
Post Apocalyptic
Narrator:
Kirsten Potter
Length:
10 hrs and 41 mins
333 pagesFormat:
Audiobook
An audacious, darkly glittering novel set in the eerie days of civilization's collapse, Station Eleven tells the spellbinding story of a Hollywood star, his would-be savior, and a nomadic group of actors roaming the scattered outposts of the Great Lakes region, risking everything for art and humanity.

One snowy night Arthur Leander, a famous actor, has a heart attack onstage during a production of King Lear. Jeevan Chaudhary, a paparazzo-turned-EMT, is in the audience and leaps to his aid. A child actress named Kirsten Raymonde watches in horror as Jeevan performs CPR, pumping Arthur's chest as the curtain drops, but Arthur is dead. That same night, as Jeevan walks home from the theater, a terrible flu begins to spread. Hospitals are flooded and Jeevan and his brother barricade themselves inside an apartment, watching out the window as cars clog the highways, gunshots ring out, and life disintegrates around them.

Fifteen years later, Kirsten is an actress with the Traveling Symphony. Together, this small troupe moves between the settlements of an altered world, performing Shakespeare and music for scattered communities of survivors. Written on their caravan, and tattooed on Kirsten's arm is a line from Star Trek: "Because survival is insufficient." But when they arrive in St. Deborah by the Water, they encounter a violent prophet who digs graves for anyone who dares to leave.

Spanning decades, moving back and forth in time, and vividly depicting life before and after the pandemic, this suspenseful, elegiac novel is rife with beauty. As Arthur falls in and out of love, as Jeevan watches the newscasters say their final good-byes, and as Kirsten finds herself caught in the crosshairs of the prophet, we see the strange twists of fate that connect them all. A novel of art, memory, and ambition, Station Eleven tells a story about the relationships that sustain us, the ephemeral nature of fame, and the beauty of the world as we know it.
Affiliate Disclosure: This post contains affiliate links. In plain English, this means that I may receive a small commission (at no cost to you) if you purchase something through the links provided. This small income goes back into my blog, so I can continue to create fun content for you. I appreciate my readers and make it my goal to be upfront and honest. Thank you for supporting my blog!
4/15/2018 – HUGE SALE! This book is a 70% off for TODAY ONLY! Buy the Book!
Book Review:
A famous actor reciting the final lines of his life dies onstage.
A woman looking out over an seemingly infinite sea towards a fleet of shipping boats, ponders a fictional world and its parallel to her own life.
After twenty years of being without the comforts of our modern day, a fiercely strong woman, travels with a Shakespearian troupe and orchestra through the ruins of civilization. Everyday is a fight for survival.
A man who, only after the death of one of the world's most famous actors, finds his happiness through pain.
A man spends most of professional life analyzing others but failed to look at himself.
"…we were not meant for this world. I returned to my city, to my shattered life and damaged home, to my loneliness, and tried to forget the sweetness of life on Earth."
Jeevan. Clark. Arthur. Miranda. Kirsten.  These are just some of the characters Emily St. John Mandel created in this moving story about the end of the world, survival, and hope when all is lost. I finished this book late at night, and after I finished I couldn't turn away from this story and these characters.
On the night before the end of the world, famous actor Arthur Leander gives the last performance of his life. This was the beginning of the end. A highly contagious strain of the swine flu swiftly spread rapidly all over the world, killing people within two days of contact and wiping out 99% of the world's population.
Mandel's novel unfolds alternating between the past and the present time, providing a start contrast between the Old World and the New World. Twenty years after the Georgia flu, Kirsten travels with a Shakespearean troupe and orchestra from settlement to settlement performing King Lear, A Midsummer Night's Dream, and other Shakespearean classics because "Survival is Insufficient." This group of people are the closest thing to family for each other but they don't always get along.
"But what made it bearable were the friendships, of course, the camaraderie and the music and the Shakespeare, the moments of transcendent beauty and joy when it didn't matter who'd used the last of the rosin on their bow or who anyone had slept with, although someone—probably Sayid—had written "Sartre: Hell is other people" in pen inside one of the caravans and someone else had scratched out "other people" and substituted "flutes."
Kirsten keeps a copy of a tattered graphic novel called, "Station Eleven" penned by "M.C." given to her as a child. It's about a physicist Dr. Eleven who, along with several others, escaped to a Space Station after an alien race took over Earth. The vessel is perpetually traveling through space away from the former comforts of Earth, yet those of the Undersea long to go back to the "sweetness of life on Earth."
I loved the parallels between the pages of Station Eleven and the world after the flu. (I would like to actually read that novel. Can someone make that happen?).
What I found to be quite remarkable was Mandel's writing and her ability take the reader completely into a scene, describing the smallest most seemingly insignificant thing and giving it life. Mandel chooses these isolated moments in the character's lives that, at the moment, are inconsequential, but over time have a deeper meaning to the characters and the story as a whole. The narrators of this haunting tale are several people, all of whom are connected to the Arthur Leander in some way. This book reminded me of the TV show Lost with the way the reader learns a little bit about how each character ticks through a series of flashbacks.
First we only want to be seen, but once we're seen, that's not enough anymore. After that, we want to be remembered.
Mandel weaves several themes throughout the book: survival, preservation, remembrance versus forgetting.  Not only was this a story of survival in the sense of staying alive, but it was also about the preservation of history. Of things, places, events, culture, music.  There was a civil war of sorts between the characters over forgetting the old world and keeping its memory alive. Memory is hope but it is also pain.
What I mean to say is, the more you remember, the more you've lost.
I really wish Mandel would have given the reader more insight into V, maybe a snippet View Spoiler »of her book « Hide Spoileror even her point-of-view.
This character-driven novel left me with a sense of longing and hope for these characters. Station Eleven is the best book I've read in 2015 so far. It's one that I really want to reread and I hope you enjoy it as much as I have!
Audiobook Notes:
This is the first audiobook I've listened to narrated by Kirsten Potter. She was absolutely fantastic. She had the perfect voice for all of the characters.  One thing I will say about listening to this book was that it was hard for meet to keep track with where the novel was in time. The chapters flip back and forth in time, often without marker. Eventually, I would figure out where we were in the story. But if you're like me and zone off a bit when listening to audiobook, you may find yourself rewinding quite a bit. I switched back and forth between reading and listening and eventually settled on reading most of it. I do want to go back and listen to the story as a whole now that I know how it all ends.
5 stars — A Favorite of 2015
Amazon: US • UK • CAN | iBooks | GR
*I borrowed the audiobook and ebook from my library.
Favorite Quotes:
"I regret nothing."
"They are always waiting, the people of the Undersea. They spend all their lives waiting for their lives to begin."
"She was thinking about the way she'd always taken for granted that the world had certain people in it, either central to her days or unseen and infrequently thought of. How without any one of these people the world is a subtly but unmistakably altered place, the dial turned just one or two degrees."
"Miranda is a person with very few certainties, but one of them is that only the dishonorable leave when things get difficult."