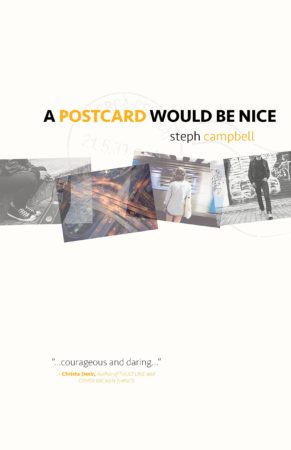 A Postcard Would Be Nice
by
Steph Campbell
Published by
Self-Published
Publication date:
November 21, 2016
Genres:
Coming of Age
,
Young Adult
252 pagesFormat:
eARC
Source:
ARC via author
Seventeen-year-old Oliver Wu remembers four things about Saturday night.

1. He remembers going to the party and seeing Paloma, the girl he's had a crush on for years.
2. He remembers the disappointment he felt when Paloma left early, just when he was sure his bravery had paid off.
3. He remembers the room spinning and someone helping him up the stairs.
4. He remembers waking up next to Tarryn, a girl he barely knows, with his clothes on the floor.

There's just one notable memory missing.
Oliver doesn't remember saying yes.

When Tarryn laughs off Oliver's panic and tells him he should take her out for breakfast, he doesn't say no. He stops himself from saying no to Tarryn for weeks because he's waiting for what never comes—an honest answer about what happened that night.

With his friends shutting him out, and the rumors swirling, Oliver is turning into himself and just trying to make it through the rest of his senior year with his head down.

But the one person that Oliver wants to hide the truth from more than himself, Paloma, is the one person who won't back down and accept his changed behavior. Oliver opening up to Paloma not only means facing what happened that night—it means airing a truth that could easily rip Paloma's world wide open, too.
Affiliate Disclosure: This post contains affiliate links. In plain English, this means that I may receive a small commission (at no cost to you) if you purchase something through the links provided. This small income goes back into my blog, so I can continue to create fun content for you. I appreciate my readers and make it my goal to be upfront and honest. Thank you for supporting my blog!
In the United States, every two minutes someone is sexually assaulted. Two minutes! Steph Campbell brings awareness to the issue of sexual assault in her newest young adult novel, A POSTCARD WOULD BE NICE. But she talks about it in a way that isn't as widely discussed—sexual assault of a male. Through the characters, she poses questions to the reader, taking readers through the eyes of a teenage boy trying to come to terms with what happened to him.
Oliver Wu and his friends have a pact to not drink, smoke, or have sex. They're pretty straight-laced guys. After his band performs at a party, he walks Paloma home—a girl he's been pining over since middle school—and goes back to the party to wait for his friends. But unbeknownst to Oliver, the water he drank at the party was laced. He wakes in bed with a random girl who was either confused as he was or a terrible person. He doesn't know which. Already introverted, Oliver retreats into himself after rumors spread at school and starts to get to know Paloma, the girl who just may be as messed up as he is.
There is so much discussion over sexual assault media, but most of the discussions revolve around female sexual assault survivors. I appreciated that Campbell used this novel to highlight male sexual assault. The way Campbell portrayed the immediate aftermath of Oliver's assault was moving for me and I felt it.
The romantic subplot was difficult for me to completely believe and connect to. Paloma is a girl that Oliver has known since middle school but she transferred to a different school after their 8th-grade year. It's been four years since they've really spoken, aside from their two-word conversations when she comes to the museum where he works. In the beginning, Oliver is telling the audience about how he's pined over her for so long, but I wasn't really able to feel or connect to their love story. Because of that, much of the book with Paloma and Oliver hanging out getting to know each other didn't really resonate with me.
I also had a hard time truly believing that a group of teenage boys would make a pact to not drink, smoke, or have sex for no reason. That's not to say that things like that don't happen, as I'm sure there are religious reasons or just boys who make choices not to do those things. But the idea of a group of boys making a pact wasn't completely believable.
It was really hard for me to completely understand why, in the midst of emotional trauma, Oliver continued to respond to Tarryn's text messages and accept her invitations to meet-up after what happened. From their brief encounter the next morning he could tell that she didn't feel the weight of what she took from him. He wasn't going to get an answer from her. I am not Oliver, so perhaps that's where I'm having the issue, but I would have told her to get lost. In the end, he was able to piece together what had happened to him without talking with Tarryn.
I wish that there had been more exploration and delving into psychological effects following the rape. Like I said earlier, I really felt Oliver's confusion and hollowness in the days following the assault. After that, Oliver's feelings weren't really mentioned much aside from him refusing to talk to Paloma about it. Maybe that was the point, though. The book was written in first person, so maybe Oliver didn't want to talk to the reader about it either.
The revelation into Paloma's deep dark secret was something think the story could have done without. It almost felt like this was added to bring more depth and brokenness to the story. To me, this felt superfluous and unnecessary.
Overall, I liked some moments in this book. I thought the use of postcards was a cute touch and therapeutic way for the characters to work through their feelings without the pressures of face-to-face discussions. Even though the book didn't work for me completely, I really liked that this novel discusses a less-talked about side of sexual assault.
* Thank you to the author for providing me with an advance copy for review.