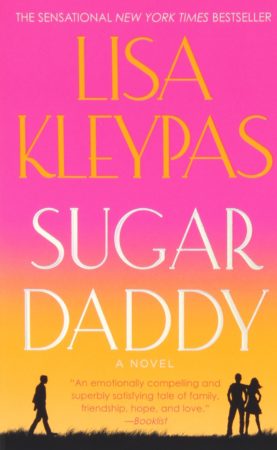 Sugar Daddy
by
Lisa Kleypas
Published by
St. Martin's Press
Publication date:
March 6, 2007
Genres:
Coming of Age
,
Contemporary Romance
384 pagesFormat:
eBook
Source:
Borrowed
She's from the wrong side of the tracks...

Liberty Jones has dreams and determination that will take her far away from Welcome, Texas—if she can keep her wild heart from ruling her mind. Hardy Cates sees Liberty as completely off-limits. His own ambitions are bigger than Welcome, and Liberty Jones is a complication he doesn't need. But something magical and potent draws them to each other, in a dangerous attraction that is stronger than both of them.

He's the one man she can't have...

When Hardy leaves town to pursue his plans, Liberty finds herself alone with a young sister to raise. Soon Liberty finds herself under the spell of a billionaire tycoon—a Sugar Daddy, one might say. But the relationship goes deeper than people think, and Liberty begins to discover secrets about her own family's past.

Will they find their hearts' desires or will heartbreak tear them apart?

Two men. One woman. A choice that can make her or break her. A woman you'll root for every step of the way. A love story you'll never forget.
Affiliate Disclosure: This post contains affiliate links. In plain English, this means that I may receive a small commission (at no cost to you) if you purchase something through the links provided. This small income goes back into my blog, so I can continue to create fun content for you. I appreciate my readers and make it my goal to be upfront and honest. Thank you for supporting my blog!
Lisa Kleypas's contemporary romance debut, SUGAR DADDY, is a blend of a coming-of-age story and a love story. Liberty Jones's voice is charming and I felt immediately connected to her and her story from page one.  Though, I felt frustrated with how the romance (or should I say romances) was handled. By the end I was left feeling a bit Dr. Jekyl/Mr. Hyde: I liked it but I felt really disappointed.
As a young teen, Liberty is a fighter and views the world with a maturity far beyond her years. She and her mother live in a trailer park in the small town of Welcome, Texas. Sadly, her teen years are filled with struggles and personal tragedy. The one constant in her life is Hardy Cates, who's two years her senior and despite the very real connection between them Hardy refuses to go there with Liberty.
Liberty falls hard for Hardy and him for her. But Hardy's dreams are too big for his hometown and takes a job outside of Welcome, leaving his family and Liberty behind in favor of better opportunities. Her tenacity and sheer determination propel her through some very hard times. She lands a job at a top salon in Houston. It's there she meets the salon's most famous high-profile client Churchill Travis, and the two strike up a friendship, leading many of her coworkers to believe she's taken a sugar daddy.
After years of friendship, he invites her to work for him at his home. Churchill's eldest son, Gage, is less than friendly and almost hostile. But he changes his tune after she selflessly nurses him back to health. Upon realizing that she's not there for his father's money, Gage sees Liberty for who she really is—a really nice, caring woman. After years of dating men who never make her feel the way Hardy did, her relationship with Gage is intense and passionate.
The story spans from when Liberty is 13 to 24 years old. Like I said earlier, Liberty's voice is completely charming, so much so that I wanted to be her best friend. I loved her character from beginning to end. The beginning of the novel read almost like a contemporary young adult novel, as we meet 13-year old Liberty, see her awkward years, and watch her fall in love the first time. Aside from my love of Liberty, I really liked the pacing of the novel. I never felt bored and didn't feel like I was reading large portions of filler, just thrown in for word count.
But overall I felt like we had two completely different stories here. The story with Liberty growing up and her missed-opportunity love story with Hardy and the story with grown-up Liberty and the Travises. Neither one felt entirely explored.
The romances with Hardy and later with Gage each had moments I liked but also different elements that were lacking. Kleypas spends a large portion of the novel introducing the reader to young Liberty, her family, and the folks in Welcome.  In that, she builds great friendship between Hardy and Liberty, laying the foundation for a believable and compelling romance between Hardy and Liberty, but one that never went anywhere.
Instead of having "the one that went away come back" she takes the novel in a completely different direction with the introduction of Gage's character over halfway through the novel. This relationship seemed to come out of left field and in realtime felt really rushed and underdeveloped.
The author's attempt at a "conflict" in the final quarter of the book didn't have the intended emotional impact on me because I didn't believe it. In order for Liberty's choice to make sense, the author had to make one character super unlikable—and fast. This just felt like a really cheap copout. Because of this character assassination, I wasn't upset with who Liberty ended up with, but more upset with the lost potential of the story.
I know it might sound like I loathed this book. I didn't. I just felt really conflicted. I enjoyed reading the novel and had fun reading it. In the end, all I can say was, "I liked it but…."
For those of you that read Sugar Daddy, should I read the next book in the Travis Family series?
* I borrowed this from my local library. I love the library so much!