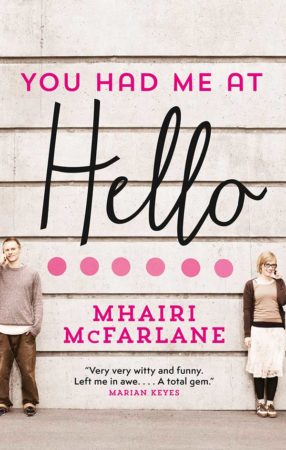 You Had Me At Hello
by
Mhairi McFarlane
Series:
You Had Me At Hello #1
Published by
Avon
Publication date:
November 8, 2012
Genres:
Romantic Comedy
Narrator:
Julie Hesmondhalgh
Length:
10 hrs and 25 mins
464 pagesFormat:
Audiobook
,
eBook
Source:
Purchased
What happens when the one that got away comes back? Find out in this sparkling debut from Mhairi McFarlane.

'Think of the great duos of history. We're just like them.'
'You mean like Kylie and Jason? Torvill and Dean? Sonny and Cher?'
'I think you've missed the point, Rachel.'

Rachel and Ben. Ben and Rachel. It was them against the world. Until it all fell apart. It's been a decade since they last spoke, but when Rachel bumps into Ben one rainy day, the years melt away.

They'd been partners in crime and the best of friends. But life has moved on: Ben is married. Rachel is not. Yet in that split second, Rachel feels the old friendship return. And along with it, the broken heart she's never been able to mend.

Hilarious, heartbreaking and everything in between, you'll be hooked from their first 'hello'.
Affiliate Disclosure: This post contains affiliate links. In plain English, this means that I may receive a small commission (at no cost to you) if you purchase something through the links provided. This small income goes back into my blog, so I can continue to create fun content for you. I appreciate my readers and make it my goal to be upfront and honest. Thank you for supporting my blog!
"The problem is, after all these years, I can't think of anyone I'd more like to slowly go off, see get senile and die than Ben."
Two former best friends reconnect after not seeing each other for ten years. She's newly single and he's….married. Quick-witted characters, an endearing heroine, and a love story with history come together to make a romantic comedy that I totally fell in love with. I'm two for two with Mhairi McFarlane's novels. YOU HAD ME AT HELLO was delightfully romantic with generous dose of laughs and heartfelt moments. I enjoyed it from beginning to end.
Ten years earlier at university, Rachel and Ben were best friends. Rachel had a boyfriend and Ben had, well, several ladies. But something broke up their friendship and they hadn't seen each other again until they bump into each other. Freshly single after ending her 13-year relationship (and new engagement), seeing Ben drums up all the not-so-best-friendy things she felt for him at university. The dashing and good looking Ben is very married and very unavailable. Timing sucks, right?
"Some people end up with their soul mates, like Mindy and Ivor. Some people end up with partners they can work at being happy with, like Caroline and Graeme. Some get second chances at getting it right, like Rhys and Claire. Some people get who they deserve, like Lucy and Matt….Other people, of which I might be one, end up on their own. And that's fine. I'll be all right."
The story is told through flashbacks to Ben and Rachel's time at university and the present time ten years later. I had such a blast reading this book. Rachel's character was so relatable to most women. She's hit 30, has a few extra pounds, and hopes no one calls her on it. Her career as a court reporter is going well, save for her male co-worker who dances around sexual harassment in the work place. She has a group of hilarious friends who would probably help her bury a body if she ever needed it.
One of the standing themes in this book is settling and comfort. Often times in life it's easy to fall back on things we're used to instead of taking that new job opportunity, putting yourself out there romantically, or making that extra connection. When Rachel and Ben see each other again, Rachel has just taken the leap of faith, turned over a new leaf, and started a new life. Meanwhile, Ben appears to have taken the safe route with his current wife. Over the course of the novel, we as a reader can glean that Ben's marriage isn't built on the same intensity of devotion he felt towards Rachel.
All of Ben and Rachel's hangouts in the present are either with Ben's wife present or brief work lunches, both respecting Ben's marital boundaries. But it's apparent that whatever feelings they had at university haven't completely evaporated.
"The whole world is one table by a window in a café-bar in Manchester and the person sitting opposite me. If joy could be seen by the Hubble, tonight scientists would record a peculiar iridescence on an island north of the equator."
There was a bit of slight book anxiety reading this book. I rooted for Ben and Rachel but felt conflicted over Ben's marriage. McFarlane didn't use a cheap tactic to make readers hate Olivia, like paint her as an evil villain or have her cheat on Ben with another character. She handled the situation gently. The dinner party scene gives great insight on the health of Olivia and Ben's marriage, even before Rachel got into the picture.
I love a good romantic comedy with a love story that has some history. This one fit the bill for me and was exactly what I was wanting. The writing was good, the characters were enjoyable, and my reading experience was really fun. There is a follow-up novella that I read right after this, After Hello.
* I purchased this book myself.