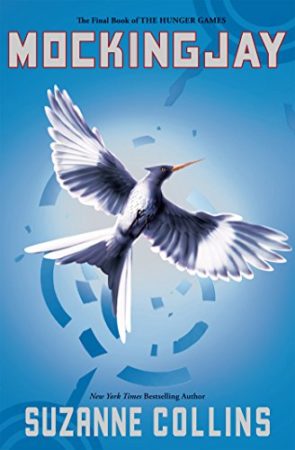 Mockingjay
by
Suzanne Collins
Series:
The Hunger Games #3
Published by
Scholastic
Publication date:
August 24, 2010
Genres:
Dystopian
,
Young Adult
Narrator:
Carolyn McCormick
Length:
11 hrs and 43 mins
392 pagesFormat:
Audiobook
Source:
Borrowed
The third book in Suzanne Collins's phenomenal and worldwide bestselling Hunger Games trilogy is now available in paperback.

"My name is Katniss Everdeen. Why am I not dead? I should be dead."

Katniss Everdeen, girl on fire, has survived, even though her home has been destroyed. There are rebels. There are new leaders. A revolution is unfolding.

District 13 has come out of the shadows and is plotting to overthrow the Capitol. Though she's long been a part of the revolution, Katniss hasn't known it. Now it seems that everyone has had a hand in the carefully laid plans but her.

The success of the rebellion hinges on Katniss's willingness to be a pawn, to accept responsibility for countless lives, and to change the course of the future of Panem. To do this, she must put aside her feelings of anger and distrust. She must become the rebels' Mockingjay - no matter what the cost.
Affiliate Disclosure: This post contains affiliate links. In plain English, this means that I may receive a small commission (at no cost to you) if you purchase something through the links provided. This small income goes back into my blog, so I can continue to create fun content for you. I appreciate my readers and make it my goal to be upfront and honest. Thank you for supporting my blog!
How come no one warned me that I would be a emotional wreck after reading MOCKINGJAY? The ending of this book has to be one of the best and most emotional endings to a series I've ever experienced. This series is very difficult to read, as it deals with heavy subject matter that's bleak. But there is hope at the end of this novel that gave me comfort that these characters will be okay.
Prior to jumping into the series, I got the feeling that Mockingjay was rather polarizing. Several readers told me that this book was disappointing, so had that in the back of mind before starting. We all have different opinions, which is what makes reading so great. Personally, I loved the final installment. It has a different tone from the previous two books. I've venture to say that Mockingjay is even more depressing and dark than The Hunger Games or Catching Fire.
My dear Katniss Everdeen. I didn't think it was possible for her to go through more but she did. She's one of the strongest female heroines out there. She reacts to adversity with a heartfelt maturity and a fiery ferocity that is unparalleled. For younger readers, she's the kind of heroine you want them to look up to. She's flawed yet she stays true to herself despite going through horrible things.
I never really subscribed to the idea that Gale was for Katniss. Maybe if I got to know the "before" Katniss—the girl who hunted in the woods with her best friend, who took care of her little sister, and her biggest worry was her mother's depression and withdrawal from society. Perhaps if that was the girl of the series, I would think otherwise. But the girl on fire we met in the Games and in the world after, is not the same person. That girl who went through the horrors of the arena and lived to tell about it is not Gale's—she's doesn't belong to anyone. Peeta is the only person who truly knows that person.
The end of this book killed me. When she goes back to District 12 in such a delicate and fragile emotional state, it broke my heart. As a reader, I was still in shock at all that happened to her in District 13. Suzanne Collins is such a phenomenal writer because she made me feel every bit of pain and shock that Katniss felt. She was finally able to process all that has happened to her, all of it catching up to her at once.
I'd recommend this series to everyone, even if you don't read young adult. It's emotional, hard to read at times, and has unforgettable characters you want to root for. This is truly one of my favorite series.
* I borrowed the audiobook from the library.