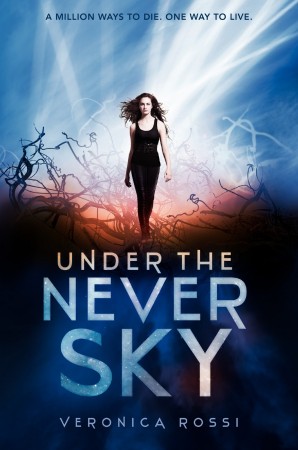 Under the Never Sky
by
Veronica Rossi
Published by
HarperCollins
Publication date:
January 3, 2012
Genres:
Dystopian Romance
,
Young Adult
374 pagesFormat:
eBook
Source:
Purchased
Exiled from her home, the enclosed city of Reverie, Aria knows her chances of surviving in the outer wasteland-known as The Death Shop-are slim. Then Aria meets an Outsider named Perry. He's wild-a savage-and her only hope of staying alive.

Perry needs Aria, too; she alone holds the key to his redemption. Opposites in nearly every way, Aria and Perry must accept each other to survive. Their unlikely alliance forges a bond that will determine the fate of all who live under the never sky.
Affiliate Disclosure: This post contains affiliate links. In plain English, this means that I may receive a small commission (at no cost to you) if you purchase something through the links provided. This small income goes back into my blog, so I can continue to create fun content for you. I appreciate my readers and make it my goal to be upfront and honest. Thank you for supporting my blog!
Book Review:
I've been wanting to read Under the Never Sky for so long, and I'm glad that I finally picked it up. Veronica Rossi's debut blends together a dystopian world with peril at every corner, memorable characters, and a sweet romance between two teens from totally different worlds.
As a Dweller, Aria has lived her entire life under the sanctuary of the Pods. In the Pods, plants are chemically altered, humans are genetically perfected, and nothing bad happens. People can escape "the real" into what's called "Realms", alternate realities in which you can be anything you want to be.
But the problem with this is that these people are completely sheltered from the cruelty of the outside world, where aether storms (electrical chemical storms) threaten the Outsiders (those who live outside the pods). People like Perry. Perry has a good heart and wants to do right by everyone, especially his little nephew, Talon. So what happens when Aria is suddenly exposed to the outside world where there is "a million ways to die"? You'll have to read to find out!
My favorite part about this book was the relationship between Aria and Perry. Much of the book is focused on them getting to know one another and learning to trust one another.  Dwellers and Outsiders are natural enemies. But both Perry and Aria are forced to leave their own lives and are thrust into the harsh elements outside the Pods and outside the protection of Perry's tribe. They can't stand each other, but they have to work together to find the people they love. Both had to earn the other's respect and I love watching that happen. And of course I loved watching them fall in love.
I loved Perry! As I've said before, one of the reasons I love young adult is because (most of the time) the heroes are not mega alpha douchebags. Perry was the perfect example of a strong hero with an almost-innate need to protect and help others. There were several times throughout their journey that he could have left Aria behind but he couldn't do it. Even though he didn't like her at all (at first), he protected her, nursed her wounds, and made sure she had food. All of these things made me love him.
I thought Rossi did a great job giving the reader bits and pieces of the world without dumping a ton of information onto the reader and, in effect, drowning them in world building. I loathe info dumping.   Though, there were some elements of the world that I wish had been explained more, like the whole fractioning business, the aether storms, what happened during the Unity. I was able to deduce what these things were after awhile, but I really wanted a little more detail.
There was one awkward moment that I was both happy and creeped out about. That was the scene where Aria got her period for the first time. On one hand, I was glad that this was actually talked about in a dystopian novel. On the other, it was soooooo awkward because Perry is a Scire and has a heightened sense of smell. He knew she was menstruating because he could smell it. Um…gross but props for it being brought up?
I always love it when books begin with a ton of action and leave the protagonist in a precarious position. That's what happens in Under the Never Sky. This book had great momentum and it kept me interested from beginning to end.
You'll definitely want to have Into the Still Blue ready when you get to the end Whoa! One note about the ending: I loved it!  It didn't really end on a cliffhanger in the sense that there was "action, action, action, and then an 'oh crap' moment." To me this ending felt like we were interrupted in the middle of something anticipated, like you exhaled and then suddenly couldn't take your next breath. Thankfully, all the books are out. 🙂
* I purchased this book myself.