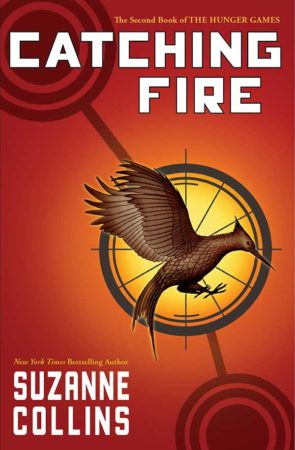 Catching Fire
by
Suzanne Collins
Series:
The Hunger Games #2
Publication date:
September 1, 2009
Genres:
Young Adult
Narrator:
Carolyn McCormick
Length:
11 hrs and 41 mins
391 pagesSource:
Borrowed
,
Purchased

Against all odds, Katniss Everdeen has won the annual Hunger Games with fellow district tribute Peeta Mellark. But it was a victory won by defiance of the Capitol and their harsh rules. Katniss and Peeta should be happy. After all, they have just won for themselves and their families a life of safety and plenty. But there are rumors of rebellion among the subjects, and Katniss and Peeta, to their horror, are the faces of that rebellion. The Capitol is angry. The Capitol wants revenge.

Affiliate Disclosure: This post contains affiliate links. In plain English, this means that I may receive a small commission (at no cost to you) if you purchase something through the links provided. This small income goes back into my blog, so I can continue to create fun content for you. I appreciate my readers and make it my goal to be upfront and honest. Thank you for supporting my blog!
I didn't think the Capitol could get any crueler and then I read CATCHING FIRE. The second installment of this international phenomenon is the kind of thrilling that kept me on the edge of my seat!
President Snow isn't happy with how the 74th annual Hunger Games ended, with Katniss and Peeta's public display of rebellion to the citizens of Panam. Now on their national tour, the country's favorite star-crossed lovers must keep up the appearances of unending love and devotion or their families will face the Capitol's wrath.
Filled with surprises at every turn, this is the sort of book you will want to clear your day to finish. If I had my choice, I would have read it all in one sitting; it was that good. The characters are fantastic and the story grabbed me from the beginning.
Suzanne Collins's command of her craft is admirable. Like I said in my review of The Hunger Games, I love the characters in this series. All are nuanced and expertly developed. Katniss is a strong heroine who's multifaceted and complex. There are no stock characters here. Even in a character like Finnick, who we meet in Catching Fire, he seems like he could simply be the comic relief but underneath his funny armor he is vulnerable.
The message of privilege, rebellion, and resistance at the face of oppression reverberates throughout this series. I cannot wait to read the conclusion, which I've heard has a different tone than the first two books. I hope everyone in Panem fights and rises from the ashes, better than they were before.
* I own the paperback of this book but borrowed the audiobook from my local library.