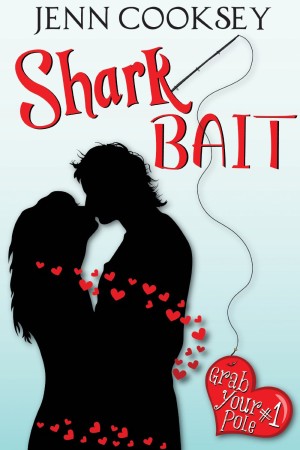 Shark Bait
Series:
Grab Your Pole #1
Publication date:
June 1, 2012
318 pagesFormat:
eARC
Previously homeschooled Camie Ramsey is being shoved into the shark-infested waters of public high school, where even helium filled, penguin bespeckled arm floaties likely won't help keep her inexperienced, fifteen-year old head above water in that rip current of hormones and emotions.

Camie's worldly wisdom might be severely lacking (i.e., the closest she's come to being kissed was sitting too close to the TV whilst Jake Ryan leaned in to give Samantha that fateful 16th birthday kiss), but she does understand her only hope for survival is if she's thrown some kind of "social" life preserver before she sinks like a freaking rock. However, what will her fate be when she endeavors to flag down the only lifeguard on duty, the enormously popular and ridiculously beautiful Tristan Daniels? The most sought after and virtually most unattainable guy in school who not only makes Camie's heart flatline on a recurring basis, he's also the one guy who seemingly doesn't know she exists.

Feeling like an inept piece of chum that could ultimately be swallowed by Jaws, can Camie get Tristan to rescue her from floundering in the treacherous deep, or is she destined to be Shark Bait?
Affiliate Disclosure: This post contains affiliate links. In plain English, this means that I may receive a small commission (at no cost to you) if you purchase something through the links provided. This small income goes back into my blog, so I can continue to create fun content for you. I appreciate my readers and make it my goal to be upfront and honest. Thank you for supporting my blog!
Book Review:
I didn't read the synopsis for this one.  I went in blind, having no idea what this book was about.  And from page one, I was drowning in pure unadulterated awesomesauce.  Shark Bait is so hilarious.  This is her debut and I am so impressed.
After being homeschooled practically her whole life, Camie is tossed in with the lions, aka public school.  She has to find her way around the political system of high school.  Within minutes of stepping foot into that treacherous place, she runs into her future husband, Tristan Daniels.  Tristan is a mystery who needs his own decoder ring.
"I turned to face him and realized with a sizzling jolt of over-active and under-used hormones, it wasn't Paul who was deserving my intended, full-body expression of thanks. WHOA. Insert choice expletive here _______, because I got nothin'. In fact, I consciously told myself to close my mouth and thenI surreptitiously checked my chin for slobber."
Thankfully, Kate, one of Tristan's friends, befriends Camie and helps her navigate through the stormy seas of high school (are you all tired of the water-themed puns?).  Tristan doesn't date. He doesn't pay attention to girls at school, and he most certainly doesn't kiss and tell.  But Kate notices something different the moment he laid eyes on Camie.
Yeah, like I'm gonna choose walking home over getting a ride with Kate, who I'm rapidly starting to not only like a lot, but who I'm also realizing might just be the key to unlocking the treasure chest that is Tristan.
I liked this book.  I was laughing out loud for a good portion of it.  Being inside Camie's head was hilarious.  She said and did a lot of things that surprised the hell out of me.  And let me just say that her social life in high school was way more exciting than mine.  Kate and Camie's mission to get Tristan to take notice was one of my favorite parts of the book.  They know (or should I say Katie knows) exactly what to do to make him squirm.
Camie and Tristan were fantastic together.  Their mutual obsession with Buffy, random 80's movies, and music was downright adorable.  I was pulling for them, even through all the BS that went on.  The supporting characters were equally wonderful.  Tristan's best friends, Kate and "Dear Jeff" added a lot to the story, and I loved their relationship.  This review wouldn't be complete without me mentioning Camie's sister, Jill.  All I'm going to say is that this twelve-year old girl packs a punch and is a little firecracker.  Team Jill (because you don't want to get on her bad side).
*I was given a copy of this book in exchange for an honest review