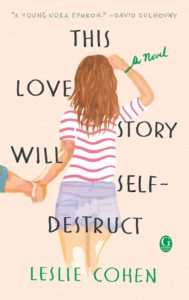 This Love Story Will Self-Destruct
by
Leslie Cohen
Published by
Gallery Books
Publication date:
January 23, 2018
Genres:
Contemporary Romance
,
Women's Fiction
336 pagesFormat:
eARC
Source:
Publisher
This is the classic tale of boy meets girl: Girl…goes home with someone else.

Meet Eve. She's a dreamer, a feeler, a careening well of sensitivities who can't quite keep her feet on the ground, or steer clear of trouble. She's a laugher, a crier, a quirky and quick-witted bleeding-heart-worrier.

Meet Ben. He's an engineer, an expert at leveling floors who likes order, structure, and straight lines. He doesn't opine, he doesn't ruminate, he doesn't simmer until he boils over.

So naturally, when the two first cross paths, sparks don't exactly fly. But then they meet again. And again. And then, finally, they find themselves with a deep yet fragile connection that will change the course of their relationship—possibly forever.

Follow Eve and Ben as they navigate their twenties on a winding journey through first jobs, first dates, and first breakups; through first reunions, first betrayals and, maybe, first love. This is When Harry Met Sally reimagined; a charming tale told from two unapologetically original points of view. With an acerbic edge and heartwarming humor, debut novelist Leslie Cohen takes us on a tour of what life looks like when it doesn't go according to plan, and explores the complexity, chaos, and comedy in finding a relationship built to last.
Affiliate Disclosure: This post contains affiliate links. In plain English, this means that I may receive a small commission (at no cost to you) if you purchase something through the links provided. This small income goes back into my blog, so I can continue to create fun content for you. I appreciate my readers and make it my goal to be upfront and honest. Thank you for supporting my blog!
THIS LOVE STORY WILL SELF-DESTRUCT is an all-consuming read. Leslie Cohen's debut rendered me completely useless on a snowy Sunday in April (yes, April. Spring is drunk). This book had the perfect balance of funny and light-hearted moments with depth and emotion. Highly recommended for seekers of "can't put it down" reads.
Eve and Ben meet in college in Columbia University. They're opposites but you know what they say about that, right? Eve is a free-spirited and artsy aspiring music journalist while Ben is an analytical engineering student. Despite meeting multiple times in college, Eve can't seem to hold onto his name. The reader is dropped throughout moments in their twenties. Flash-forward three years after they first meet, Eve works at a restaurant and is dating a guy who is more interested in the drugs part of "sex, drugs, and rock 'n roll." Even more time passes and they run into each other again, but this time sparks fly.
Eve's self-destructive behavior is the product of her troubled and tragic childhood. Her father walked out on her mom and sister and never looked back. Her mother perished in the 9/11 attacks. Her fear of abandonment and attachment has gotten her in trouble in past relationships. She always seems to pick the wrong guy, until Ben. Ben is the ying to her yang. He is well-adjusted, level-headed, and brings a sense of calm to her neurotic tendencies. I really loved them as a couple. I love Ben's patience with Eve and how supportive he is.
This book is very much about Eve coming to terms with her past but it's also a story of just how powerful the good kind of love can be. There was a part of Eve that identified with so completely. There is a scene that she experienced between her father that I connected with on such a personal level. I totally understood Eve's character and reluctance to jump into something completely due to fear.
New York City is a secondary character in this novel, pushing and pulling Eve in different directions. Her past is tethered to different parts of the city. When she moved away, the city called her back. Ultimately, she found herself in the city where she experienced so much pain. I really liked experiencing the culture and the landscape of the city.
It seems like my streak of finding great debuts continues into 2018. I read most of this book in one day because I simply couldn't put it down. Will Ben and Eve end up together or will Eve's propensity to self-sabotage ruin them? Cohen is a yet another author I'm going to keep an eye on.
* Thanks to Gallery books for proving me with an early copy for review. Receiving this book for free did not affect my review.