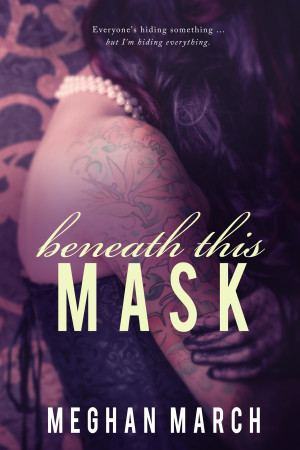 Beneath this Mask
Series:
Beneath this Mask #1
Publication date:
September 29, 2014
Format:
eARC
My name is Charlotte Agoston, and I'm a runner. Not the 'let's go for a jog and slap a 26.2 sticker on your bumper' kind of runner; I'm the kind of runner who takes off when her father is staring down the barrel of a guilty verdict that carries a 175-year sentence for perpetrating the largest fraud in the history of the world. That's right. Bernie Madoff was an amateur compared to Alistair Agoston.

Faced with living under a cloud of suspicion and constant questioning by the FBI, I ran. I'm making a new life in New Orleans as Charlie Stone. I traded my future in New York high finance for tattoos, booze, a few friends who don't ask questions, and one giant mutt named Huckleberry Finn. Everything is simple and uncomplicated until Simon Duchesne—former hotshot Navy fighter pilot, NOLA's favorite son, city councilman, and rumored congressional hopeful—walks into my life.

The flashing cameras he attracts threaten to expose everything I'm hiding, but I can't seem to stay away. Why are the most dangerous ideas always the most seductive?

In trying to get lost, I found myself. And then I found Simon. He loves me, and he doesn't even know my real name. I'm going to break his heart, but mine will shatter right along with it. This is our story.

Will we be strong enough to face the consequences of revealing what's beneath this mask?
Affiliate Disclosure: This post contains affiliate links. In plain English, this means that I may receive a small commission (at no cost to you) if you purchase something through the links provided. This small income goes back into my blog, so I can continue to create fun content for you. I appreciate my readers and make it my goal to be upfront and honest. Thank you for supporting my blog!
Review:
This is author Meghan March's second novel. It's the first book I've read by her and I liked it! Beneath this Mask was sexy, edgy, and emotional.  I am looking forward to the next book in the series, which is Con's book!
Charlotte Agoston is on the run from her past. Her family name was publicly tarnished. Everyone knows who she is. After her father was convicted of stealing billions of dollars from thousands of innocent people, she decides the only way to move forward is to hide her identity. And run far away. She flees to one of the best places on Earth, New Orleans, Louisiana.
The novel picks up nearly a year after she started her new life as "Charlie." Charlotte Agsoston wore designer studs. While Charlie wears tattoos and converse shoes proudly. Working in Voodoo Ink, a local tattoo parlor, her plan to stay out of the public eye is going extremely well until a certain someone waltzes right into the tattoo shop and charms the pants off of her.  Simon Duchesne.
Simon's family is very affluent and influential in the city. His father is a Congressman but is stepping down after his term ends, leaving Simon to start his own political career.  Basically, Simon is exactly the type of person she needs to stay away from, but everything she wants and desires.  He's a sexy former Navy fighter pilot who cares deeply for everyone around him.
I loved the push and pull of Simon and Charlie's relationship. When she found out who he is and learned of his family's rather public image, she wanted to run.  But Simon is a good chaser.
"I want to see you again. Just dinner. Or drinks. Your choice."
"I think you should go. You're losing your friends."
"I'll catch up. Just give me your number. Please, Charlie."
Both Simon and Charlie have ghosts in their pasts.  As the two of them get closer (and trust me, they get really close *wink*), Simon starts to trust Charlie with one of his secrets. But Charlie is scared to share hers.  Before long, she realizes her heart is in too deep with Simon.  He makes her want to stay and she allows herself be caught up in him, regardless of the consequences, all because of the way he made her feel.
What I liked the most was Simon Duchesne. He was the swoon-worthy type of hero I love the most. He was sweet, thoughtful, and very protective of Charlie. From early on, Simon knew that this seductive woman was going to change his life, he just didn't know how.  Even though she really didn't give much away about herself, he took what she gave him and held it close to him.  I love that he stood by her even though he didn't find out the truth about her past until later on.
The dialogue between the two of them was filled with heat and intensity. See?
"If I fuck you tonight, are you going to throw me out on my ass as soon as we're done and never call me again?" 

I bit my lip. Damn. He should be a freaking interrogator instead of a politician. But I wasn't going to lie to him. At least not about this. "Probably."

 His face fell and he released my chin and backed away. "Then, no."
As you can tell from the synopsis, Meghan's writing style is quirky and fun. I really liked Charlie's voice; it's almost I was listening to a good friend tell me her life story.  This is part of what made this book such an enjoyable read and almost relatable despite the not-so mundane circumstances.
I would recommend this book if you're looking for a new adult romance with a feisty heroine and a sweet, protective hero with an abundance of sexy dialogue.
* I received an advance copy from the author in exchange for an honest review.