I received this book for free from ARC via NetGalley, Purchased in exchange for an honest review. This does not affect my opinion of the book or the content of my review.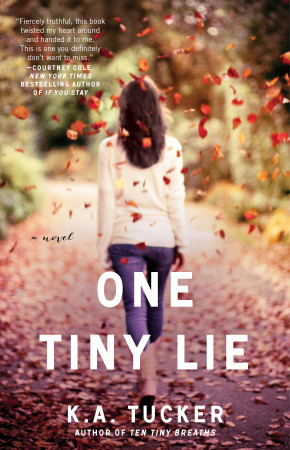 One Tiny Lie
by
K.A. Tucker
Series:
Ten Tiny Breaths #2
Published by
Atria
,
Simon & Schuster
Publication date:
June 11, 2013
Genres:
New Adult
,
Romance
337 pagesFormat:
eARC
Source:
ARC via NetGalley, Purchased
Livie has always been the stable one of the two Cleary sisters, handling her parents' tragic death and Kacey's self-destructive phase with strength and maturity. But underneath that exterior is a little girl hanging onto the last words her father ever spoke to her. "Make me proud," he had said. She promised she would...and she's done her best over the past seven years with every choice, with every word, with every action.

Livie walks into Princeton with a solid plan, and she's dead set on delivering on it: Rock her classes, set herself up for medical school, and meet a good, respectable guy that she's going to someday marry. What isn't part of her plan are Jell-O shots, a lovable, party animal roommate she can't say 'no' to, and Ashton, the gorgeous captain of the men's rowing team. Definitely him. He's an arrogant ass who makes Livie's usually non-existent temper flare and everything she doesn't want in a guy. Worse, he's best friends and roommates with Connor, who happens to fits Livie's criteria perfectly. So why does she keep thinking about Ashton?

As Livie finds herself facing mediocre grades, career aspirations she no longer thinks she can handle, and feelings for Ashton that she shouldn't have, she's forced to let go of her last promise to her father and, with it, the only identity that she knows.

 
Affiliate Disclosure: This post contains affiliate links. In plain English, this means that I may receive a small commission (at no cost to you) if you purchase something through the links provided. This small income goes back into my blog, so I can continue to create fun content for you. I appreciate my readers and make it my goal to be upfront and honest. Thank you for supporting my blog!
Book Review:
After the tragic death of their parents, Kacey and Livie were forced to grow up fast.  In Ten Tiny Breaths, we saw Kacey struggle with the trauma of losing her parents.  For years, Kacey bottled up her emotions and behaved badly, and it all came crashing down.  Through Kacey's point-of-view, it appears Livie dealt with her parents' death extremely well, much better than her sister.
However, everything is not as it seems.
One Tiny Lie takes place a few years after Ten Tiny Breaths.  Livie is on her way to Princeton for college, fulfilling her father's dream of attending his alma mater.  She has maintained a spotless academic record and has never gone through any teenage rebellions.  Concerned that Livie hasn't really dealt with their parents' deaths, Kacey recommends that she chat with Dr. Stayner, Kacey's therapist.
Dr. Stayner is not your typical "lay-down-on-the-white-couch-and-let's-talk" therapist.  His tactics and methodologies are anything but conventional.  In fact, they border on crazy.  The summer before college, he  subjects Livie to a summer full of dares and tasks to complete, and she excels at all of them.  For as long as she can remember, Livie has wanted to be a pediatric oncologist, but these weekly chats with Dr. Stayner make Livie question what she really wants for her future.  Her whole life has been building to this one goal of becoming a doctor, but is this what she really wants?
Kacey takes Livie to her first college party to initiate her into college life. What Livie doesn't know until later is that this is part of Dr. Stayner's therapy plan.  Essentially, Dr. Stayner gives Livie a prescription for tequila and debauchery.  Craziness ensues in the form of stolen Jell-O shots.  Livie meets Ashton, the hot-shot captain of the Princeton rowing team and said Jell-O shot thief.  After a night of drunken make-out sessions, Livie and Ashton are drawn to each other.  The problem is that Ashton is not available and has a sort of playboy reputation on campus.  Livie eventually moves on with Connor in hopes of forgetting about Ashton.
What I loved about Ashton and Livie was their chemistry.  There are very few book couples that give me this feeling.  I couldn't get enough of them and I just wanted them to just BE TOGETHER. Every time they were together there were sparks and feel-good fizzies.  I just wanted to scream, "Just do it already!"   When a scene with them ended, I couldn't wait until I had more Livie and Ashton time.  The romance between the two of them had them forbidden aspect that I loved.  Ashton was in a daddy-arranged relationship with a girl, but he wasn't in love with her.  And Livie was in a relationship with Connor, the safe guy.  There was a (sort-of) love-triangle in it, so if that sort of thing bothers you you should probably stay clear of it.
Aside from the romantic aspect of their relationship, I loved seeing them work out their problems with each other and with themselves.  As Livie struggles to find her identity in something other than being a doctor, Ashton is there to sweetly support her.  The things Ashton  does for Livie are extremely selfless and show exactly how he feels about her.
Ashton and Livie are one of the most passionate and unforgettable couples in a book that I have read this year.  I will rereading One Tiny Lie up again and again and again.
Favorite quotes:
"1.) I'm brilliant
2.) I'm charming
3.) I'm hung like a thoroughbred
4.) I've stopped all philandering
5.) I'm highly skilled, as you've learned the other night.
P.S. Stop staring at my hands. I know what you want me to do with them."
"I feel as though I've entered some strange twilight zone where everything I know has been turned upside down."
 * I received an advanced copy from the publisher in exchange for an honest review.

About the Author: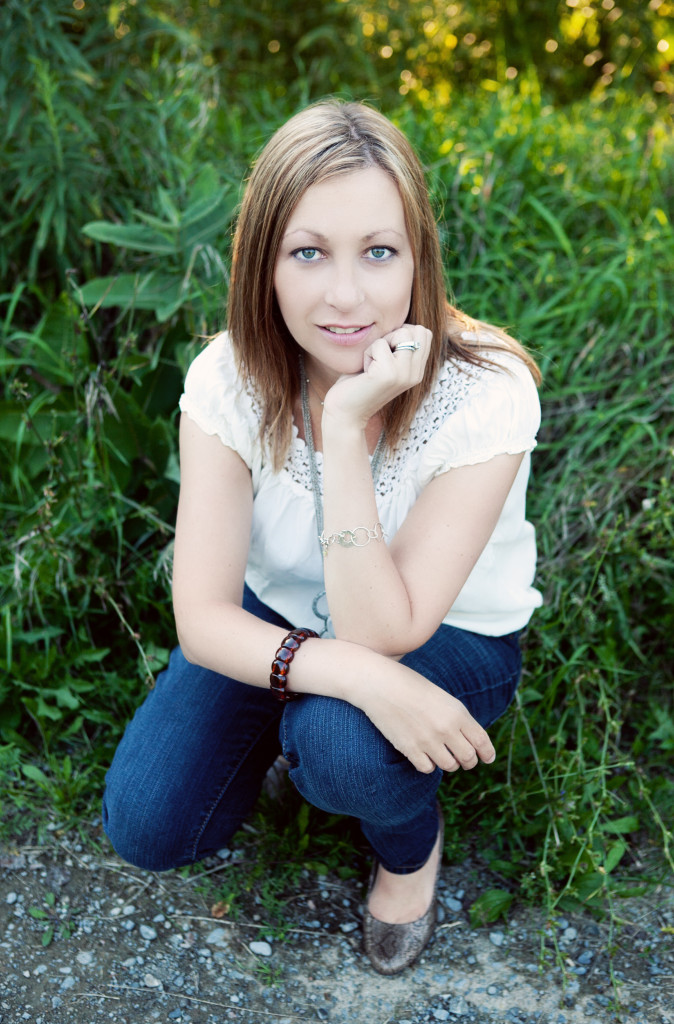 Born in small-town Ontario, Kathleen published her first book at the age of six with the help of her elementary school librarian and a box of crayons. She is a voracious reader and the farthest thing from a genre-snob, loving everything from High Fantasy to Chick Lit. Kathleen currently resides in a quaint small town outside of Toronto with her husband, two beautiful girls, and an exhausting brood of four-legged creatures.
Follow Kathleen:
Facebook | Twitter | Website | Blog | Goodreads
Giveaway
Enter to win one of 3 SIGNED Galleys from Atria Books