What I'm Digging is a feature in which I share things I'm loving with you. This can range from jewelry to clothes to home decorations. Anything goes! Oh and there is always a book featured that I enjoyed!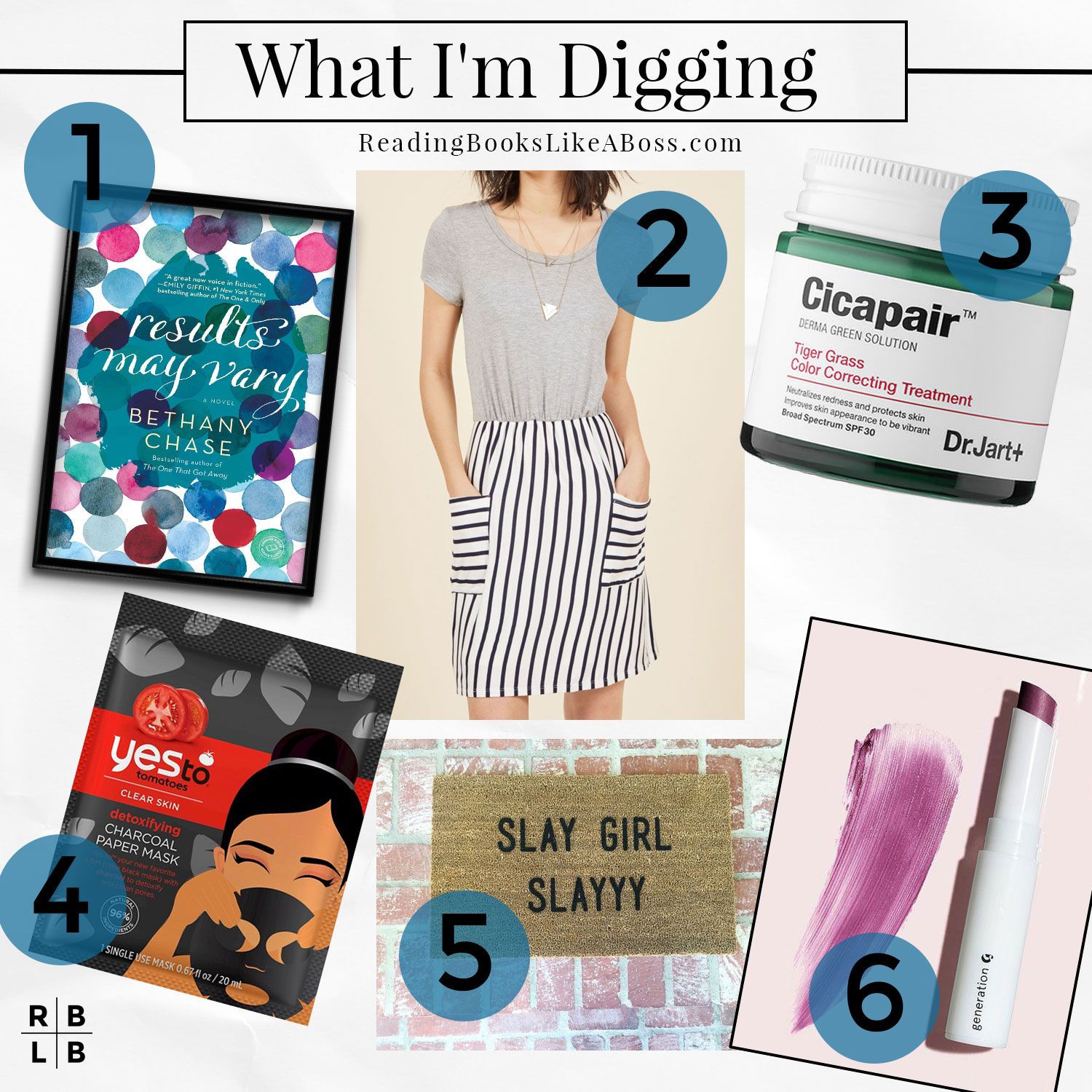 Affiliate Disclosure: This post contains affiliate links. If you purchase something through one of the links in the post, I may receive a small commission from the sale. Thank you! ♥
[show_shopthepost_widget id="2600720″]
1.) RESULTS MAY VARY by Bethany Chase
This book was one of my favorite books of 2016! One of the most memorable things about this book is how it made me feel—angry, nervous, anxious, sad, and hopeful. It's about a woman who finds out that her husband of ten years is cheating on her with another man and how she handles that huge blow. Check out the #FirstLines of the novel:
"There are these two little words I know, that we all know; we learn them so early that we can't remember when we did. They have a gravitational attraction to each other, I would say: the one word love, and the other word story. 'Cause you can have a story without love, sure; but when it comes to the kind of love you fall in, whether it's a slow glide or a blind plunge over the edge…you can't have a love without a story.
I thought I knew mine."
Amazon: US • UK • CAN | iBooks | My Review | Q&A w/ Bethany Chase
2.) Comings and Easygoings Twofer Dress
I'm so going to order this dress. It's the perfect spring dress and looks super comfortable!
Purchase: Comings and Easygoings Twofer Dress, ModCloth
3.) This AMAZING color-correcting moisturizer
This one is for all you ladies (or guys) out there who have redness. I ordered this moisturizer a couple of months ago and it's definitely a holy grail product. It neutralizes the redness in my face and preps the skin for foundation. It's not a tinted moisturizer but I'd be happy with going out with just this one. I really love it!
Purchase: Dr. Jart+ Cicapai Tiger Grass Color Correcting Treatment SPF 30, Sephora
4.) Yes to Tomatoes Charcoal Mask
My mom and my little brother came to visit about a month ago and decided it would be fun for us to do these masks. I thought these were going to be the kind that hardened and then hurt like a b*tch when you went to take them off but they weren't. I was a little disappointed.
Anyway, our faces felt all tingly and refreshed after them and I will definitely repurchase. These are a really great Friday night luxury treat yo'self sort of thing (but on a budget).
Purchase: Yes to Tomatoes Charcoal Mask, Ulta
5.)  "Slay Girl Slayyy" Welcome Mat
I saw this on Etsy and fell in love with it. Thought I'd share. 🙂
Purchase on Etsy: Slay Girl Slayyy Welcome Mat, Seller: ShopJosieB
6.) Get Lips like Anastasia Steele
Confession: After I saw Fifty Shades Darker, I couldn't get over how amazing Dakota Johnson's makeup looked, most notably her lip colors. I was dying to know what she was wearing!
So when the makeup artist for the film revealed what she used, I went on a little hunt to find them and spent a little too much money. Whoops!
Pictured in the "What I'm Digging" photo above is the Glossier Generation G lip stain in Jam and I freaking LOVE this color. Don't let the swatch on their website freak you out. It's a really pretty berry color and I've been wearing it just about everyday. It goes on like a stain but it's not drying and it stays on for a long time.
Here are of the lipsticks I purchased that were used in the film:
What are you digging right now?