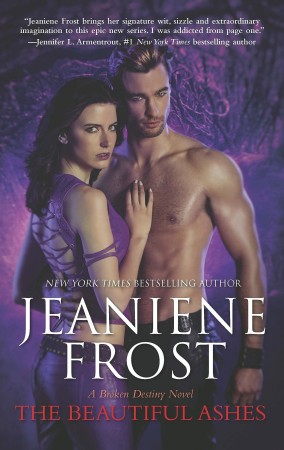 The Beautiful Ashes
Series:
Broken Destiny #1
Publication date:
August 24, 2014
Length:
8 hrs and 21 mins
304 pages
In a world of shadows, anything is possible. Except escaping your fate.

Ever since she was a child, Ivy has been gripped by visions of strange realms just beyond her own. But when her sister goes missing, Ivy discovers the truth is far worse—her hallucinations are real, and her sister is trapped in a parallel realm. And the one person who believes her is the dangerously attractive guy who's bound by an ancient legacy to betray her.

Adrian might have turned his back on those who raised him, but that doesn't mean he can change his fate…no matter how strong a pull he feels toward Ivy. Together they search for the powerful relic that can save her sister, but Adrian knows what Ivy doesn't: that every step brings Ivy closer to the truth about her own destiny, and a war that could doom the world. Sooner or later, it will be Ivy on one side and Adrian on the other. And nothing but ashes in between….
Affiliate Disclosure: This post contains affiliate links. In plain English, this means that I may receive a small commission (at no cost to you) if you purchase something through the links provided. This small income goes back into my blog, so I can continue to create fun content for you. I appreciate my readers and make it my goal to be upfront and honest. Thank you for supporting my blog!
Book Review:
The Beautiful Ashes is the first book in Jeaniene Frost's newest series set in a world where angels and demons are in battle with each other. Ivy Jenkins has lost everything in a small amount of time: her adoptive parents were killed and her little sister has been kidnapped. But circumstances get worse when she finds out that those responsible are demons who want one thing—her. A mysterious man named Adrian comes to her rescue after a run in with a demon's minion. All of the hallucinations she'd seen her whole life makes sense after Adrian reveals something supernatural about her biological family's past, leaving Ivy with a weighty responsibility. Adrian and Ivy work together despite fate working against them as they search for her sister and hallowed weapons that can save humanity.
The Beautiful Ashes was enjoyable, but it won't be one that leaves a lasting impression on me. There were some funny moments between the hero and heroine, but Ivy and Adrian lacked the kind of chemistry that Jeaniene Frost has delivered in the past.
What The Beautiful Ashes does well is immersing the reader in an interesting fantasy world with characters that were fun to get to know. I like it when outside forces create a roadblock for the heroine and hero's relationship, such as the case here. Adrian had a rather brooding nature, but despite his own ties to the demon realms he has an inherent sense of good and evil. And he chooses to be good. I liked to see him struggle with that.
I had to get past Ivy and Adrian's rather sudden—and baseless—attraction to each other. Ivy has experienced a tremendous loss, something that would throw any twenty-year-old into a state of shock and despair. Instead of having a normal reaction to such trauma, she's wondering what it would be like having Adrian's taut toned body on top of hers in the middle of finding out that demons are looking for her. It didn't ring true to me.
The ending felt contrived with the way the author set up the events leading into the sequel. The conclusions that Ivy draws as a result these events were a little ridiculous and made the ending feel generic.
* I borrowed the ebook & audiobook from my local library.