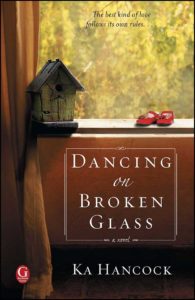 Dancing on Broken Glass
by
Ka Hancock
Published by
Gallery Books
,
Tantor Audio
Publication date:
March 3, 2012
Genres:
Romance
,
Women's Fiction
Narrator:
Amy Landon
,
Zach Villa
Length:
13 hrs and 45 mins
418 pagesFormat:
Audiobook
Source:
Borrowed
A powerfully written novel offering an intimate look at a beautiful marriage and how bipolar disorder and cancer affect it, Dancing on Broken Glass by Ka Hancock perfectly illustrates the enduring power of love.

Lucy Houston and Mickey Chandler probably shouldn't have fallen in love, let alone gotten married. They're both plagued with faulty genes—he has bipolar disorder, and she has a ravaging family history of breast cancer. But when their paths cross on the night of Lucy's twenty-first birthday, sparks fly, and there's no denying their chemistry.

Cautious every step of the way, they are determined to make their relationship work—and they put it all in writing. Mickey promises to take his medication. Lucy promises not to blame him for what is beyond his control. He promises honesty. She promises patience. Like any marriage, they have good days and bad days—and some very bad days. In dealing with their unique challenges, they make the heartbreaking decision not to have children. But when Lucy shows up for a routine physical just shy of their eleventh anniversary, she gets an impossible surprise that changes everything. Everything. Suddenly, all their rules are thrown out the window, and the two of them must redefine what love really is.

An unvarnished portrait of a marriage that is both ordinary and extraordinary, Dancing on Broken Glass takes readers on an unforgettable journey of the heart.
Affiliate Disclosure: This post contains affiliate links. In plain English, this means that I may receive a small commission (at no cost to you) if you purchase something through the links provided. This small income goes back into my blog, so I can continue to create fun content for you. I appreciate my readers and make it my goal to be upfront and honest. Thank you for supporting my blog!
One of the signs of a great book is how it affects you emotionally. When I say that, I don't mean that it makes you cry necessarily but rather how invested you are in the characters and their journeys. With DANCING ON BROKEN GLASS, I felt everything. I rejoiced with Lucy and Mickey in their happiness and cried with them when they went through some of the most terrifying moments of their lives. I was totally with Lucy and Mickey the whole way, which also made me ride the tumultuous waves of emotions that is this book.
Without giving away anything important, this book is about a married couple, Mickey and Lucy. For part of the book, the story alternates through the present—when they've been married for 11 years—and the past —how they fell in love. They've had their fair share of struggles over the years but their unyielding love for each other helps them persevere through the darkest of times. Mickey and Lucy have not hit the genetic jackpot. Mental illness pulses through Mickey's family tree. His bipolar disorder can (and does) leave him chemically out of whack, leading him to the psychiatric unit at Egmont. Meanwhile, Lucy's family has been cursed with cancer, an illness she and her sister have already beat once. Due to faulty family genetics, both decide that it's best that they don't have children. But Lucy's body has other ideas and they're blessed with a pregnancy, which marks the beginning of the hardest journey of their lives.
I truly loved everything about this book—the writing, the characters, the plot. Ka Hancock's writing style is simple yet emotionally effecting and evocative. I loved Lucy and Mickey so much that through their heartbreak, my heart broke. I don't cry often in books but my morning commute was often viewed through blurry water-logged eyes. As I read this book, I felt an ever-present sense of dread lurking close by, much like the specter Lucy first met as a child. This feeling didn't really go away until the very end—an ending I both saw coming but didn't want to believe.
I've never written a book but I would imagine that creating compelling and three-dimensional protagonists is one mountain to climb. But also crafting the same qualities in the side characters is another thing altogether. All of the side characters in this book have their own distinct and nuanced personalities and problems. Lucy's sisters, Lily and Priscilla, are two of the most important people in her life and play a huge part in this novel. Lily has struggled with infertility. While corporate lawyer Priscilla has spent most of her life believing her late mother wasn't proud of her, whose pain has manifested itself in her sometimes cold and distant personality. I loved these women. I even loved Lily's sweet husband, Ron. Really, I loved all the wonderful citizens of Brinley Township.
Most of all, I loved how Lucy and Mickey loved each other. While this book is sad, it's also a story of hope and proof of the power of love—a love so pure that it can give you strength when you think you have nothing left to give. Their love for one another is pure, unconditional, and without end. It's that healing type of love that keeps on giving. I felt all of this as the reader, which is such a testament to just how fantastic Hancock's writing is. She was able to convey all of this to the reader in a beautiful way.
This book was recommended to me by my book friend, Crysti. I get it now. I get your persistence and the constant reminders for me to read this book. Dear readers, I am now going to be that person who shouts at you to read Dancing on Broken Glass because it's just that good. I love fiction that centers on married couples (think After I Do and Forever, Interrupted by Taylor Jenkins Reid). Dancing on Broken Glass  is now one of all-time favorite books.  Thank you, Ka Hancock, for this treasure of a book.
Audiobook Comments:
The narrators of this book were really pleasant to listen to. We do get some of Mickey's perspective peppered throughout Lucy's first-person narrative. It was nice to see the shift in narrators during these parts. Overall, I really enjoyed this listening experience. I don't really have anything negative to say about the audiobook production at all!