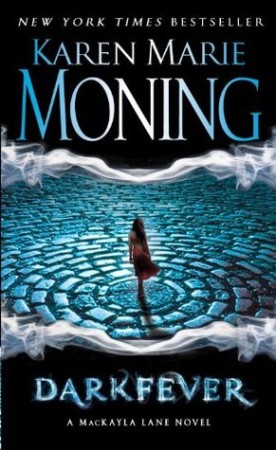 Darkfever
by
Karen Marie Moning
Series:
Fever #1
Published by
Delacorte Press
,
Random House
Publication date:
October 31, 2006
Genres:
Romance
,
Urban Fantasy
382 pagesFormat:
eBook
Source:
Purchased
"My name is MacKayla, Mac for short. I'm a sidhe-seer, one who sees the Fae, a fact I accepted only recently and very reluctantly.

My philosophy is pretty simple - any day nobody's trying to kill me is a good day in my book. I haven't had many good days lately. Not since the walls between Man and Fae came down. But then, there's not a sidhe-seer alive who's had a good day since then."

When MacKayla's sister was murdered, she left a single clue to her death - a cryptic message on Mac's cell phone. Journeying to Ireland in search of answers, Ma is soon faced with an even greater challenge: staying alive long enough to master a power she had no idea she possessed - a gift that allows her to see beyond the world of man, into the dangerous realm of the Fae...

As Mac delves deeper into the mystery of her sister's death, her every move is shadowed by the dark, mysterious Jericho...while at the same time, the ruthless V'lane - an alpha Fae who makes sex an addiction for human women - closes in on her. As the boundary between worlds begins to crumble, Mac's true mission becomes clear: to find the elusive Sinsar Dubh before someone else claims the all-powerful Dark Book - because whoever gets to it first holds nothing less than complete control both worlds in their hands...
Affiliate Disclosure: This post contains affiliate links. In plain English, this means that I may receive a small commission (at no cost to you) if you purchase something through the links provided. This small income goes back into my blog, so I can continue to create fun content for you. I appreciate my readers and make it my goal to be upfront and honest. Thank you for supporting my blog!
Review:
For months and months, several friends have been pushing me to read the Fever series.  "Megan, you've got to read this series! You've got to meet Jericho Barrons." "OMG, Megan! You haven't read this series?  I wish I could unread them so that I could experience them for the first time!"  Then when I started, several Goodreads friends were all, "I am so jealous of you right now."  All of these declarations of love had me interested.  There are not many books that have this affect on people, so I knew I had something special here.  Most of all, I wanted to see what all the fuss was about over Jericho Barrons.  Now I understand, people.  I understand.
Twenty-two year old MacKayla Lane is a Georgia peach through and through.  She spends her days sunbathing and painting her fingernails and her nights bartending at The Brickyard.  When her older sister and best friend, Alina, is murdered in Ireland, her peaceful world was shattered.  Immediately, she travels to Dublin in an effort to track down her sister's murderer.  But upon her arrival, what she uncovers does little to ease the painful loss.
Alina's last voicemail to Mac, mere hours before her death, warned Mac of something dangerous and sinister, implored her to find the Sinsar Dubh, and told Mac she doesn't know what she is.   Mac's research on the Sinsar Dubh leads her to Barrons Books and Baubles, a bookstore on the outskirts of Dublin adjacent to a seemingly abandoned part of Dublin.  She meets Jericho Barrons, the owner of the bookstore, who upon hearing Mac utter "Sinsar Dub", tells her to go home or stay in Dublin and die.  Mac refuses to run away, determined to get justice for Alina.  Ultimately, she and Barrons work together on a common goal:  find the Sinsar Dubh, a book of the dark court of the Fae said to hold the deadliest of magic.
After spending a couple of weeks in Dublin, Mac finds out what she is.  She is a sidhe-seer, one who can see through the fae glamour and see what they truly are.  But she is even more special than a sidhe-seer, she holds another special ability.  One that Barrons finds rather useful.  Barrons' reasons for wanting this book remain unknown, while Mac just wants to find who killed her sister.
Jericho Barrons is a whole lot of man.  Six two, dark hair, golden skin and dark brooding eyes Jericho is quite different from the men Mac dated in the past.
He was intensely masculine. He was sexual. He attracted. There was an omnipresent carnality about him, in his dark eyes, in his full mouth, in the way he stood. He was the kind of man I wouldn't flirt with in a million years.
He is sophisticated and cultured, smart, domineering, and fiercely protective.  There is a lot of mystery surrounding him.  He gives little away to Mac in Darkfever, even when asked directly.  He expertly evades any direct questions about himself, often answering question with questions.
Even though you find out little about him, there was something innately alluring about this character.  Everyone around him, even the most dangerous men in this book, seem to recognize how powerful he was.  I had some reservations about Barrons prior to reading this series.  I'd heard that Barrons was described as an alpha male and if you've read any of my posts, you'll know that over-the-top alpha male characters are not my cup of tea.  Jericho Barrons is my kind of alpha male.  Strong, witty, and exuding confidence, I can't help but want to learn more about him and find out what he is.
"Sometimes, Ms. Lane," he said, "one must break with one's past to embrace one's future. It is never an easy thing to do. It is one of the distinguishing characteristics between survivors and victims. Letting go of what was, to survive what is."
I've heard this series has one of the best slow-burning romances, which are my favorite. I love getting to know the hero and heroine, watching them get to know one another, and then seeing how their relationship develops over the course of several books.  I can see that this relationship is going to be built on a strong foundation of respect and loyalty. Already, I'm enjoying the dynamic between Mac and Barrons.  Mac, the "perky rainbow," surprised Barrons,  treating him in a way he isn't accustomed to.  I loved seeing moments of surprise flicker on Barrons's face.
I do believe I'm being dismissed. I can't recall the last time I was dismissed.
Barrons takes Mac under his wing, teaching her how to protect herself against the Dark Fae.   What I loved about the relationship development between Mac and Barrons is that Barrons doesn't breathe down her back. He isn't there to protect her from every bit of harm.  He wants her to find her own strength and fight, instead of her expecting him to always save her.  Bits of the Georgia Mac chip away and this new stronger fighter Mac shines through. Even in the first book, you can see just how much she's changed.  I've heard that Mac's character development over the series is astounding.
"Back then, I was so blind to everything that was going on around me. Back then, I was twenty-two and pretty and up until the month before, my biggest concern had been whether Revlon would discontinue my favorite Revlon Pink nail polish, which would be a disaster of epic proportions . . . "
Now that I'm finished, I have so many questions and am dying to know what is next for Mackayla "Mac" Lane and Jericho Barrons Darkfever is a fantastic introductory novel.  Since I haven't read many urban fantasy novels or many straight-up fantasy, for that matter, it's easy for me to get bogged down in the world building.  That was not the case for this book.  Karen Marie Moning's storytelling is effortless, feeding the reader pieces of the world she builds while creating this very interesting (and from what I've heard) and deeply respectful relationship between Mac and Barrons.
4 stars