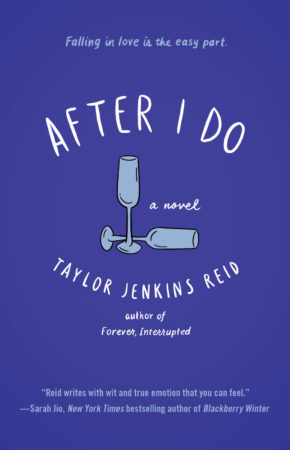 After I Do
Publication date:
July 1, 2014
Genres:
Romance
,
Women's Fiction
352 pagesFormat:
eARC
Source:
Publisher
From the author of Forever, Interrupted—hailed by Sarah Jio as "moving, gorgeous, and at times heart-wrenching"—comes a breathtaking new novel about modern marriage, the depth of family ties, and the year that one remarkable heroine spends exploring both.

When Lauren and Ryan's marriage reaches the breaking point, they come up with an unconventional plan. They decide to take a year off in the hopes of finding a way to fall in love again. One year apart, and only one rule: they cannot contact each other. Aside from that, anything goes.

Lauren embarks on a journey of self-discovery, quickly finding that her friends and family have their own ideas about the meaning of marriage. These influences, as well as her own healing process and the challenges of living apart from Ryan, begin to change Lauren's ideas about monogamy and marriage. She starts to question: When you can have romance without loyalty and commitment without marriage, when love and lust are no longer tied together, what do you value? What are you willing to fight for?

This is a love story about what happens when the love fades. It's about staying in love, seizing love, forsaking love, and committing to love with everything you've got. And above all, After I Do is the story of a couple caught up in an old game—and searching for a new road to happily ever after.
Affiliate Disclosure: This post contains affiliate links. In plain English, this means that I may receive a small commission (at no cost to you) if you purchase something through the links provided. This small income goes back into my blog, so I can continue to create fun content for you. I appreciate my readers and make it my goal to be upfront and honest. Thank you for supporting my blog!
Book Review:
I knew from the beginning of the book that After I Do was going to be something special.  And it was.  I absolutely loved this book from the first page to the last.
After I Do was an emotional and intense read and yet such a quiet story.  Taylor Jenkins Reid is a powerful writer. Her words have the ability to cut right to your core.  A few of my friends who have read this book and are married say that it's like Reid crawled into their heads because everything was so real.  This is one of my top favorite books of 2014.
Lauren and Ryan have been married for eleven and a half years.  They used to be in love.  They used to be unable to go sleep at night after a fight.  They used to think each others' flaws were endearing.  After the honeymoon phase wore off and the shiny fresh paint started to fade, their moments of wedded bliss became few and far between.  They fought about who should call the plumber and whether they should have Pizza or Ethiopian food. They fought about everything.  Both come to realization that they don't love one another.  In fact, they don't like each other. Can't stand each other, even.
So each of them decide to take a year off of their marriage.  They cannot contact one another and both can do whatever they want.
What surprised me was how attached I became to Ryan and Lauren's love story.  The first chapter gives the reader a glimpse into the current state of Ryan and Lauren's marriage with a simple fight, a fight that I'm sure every married couple has had at some point.  Every word was laced with venom, resentment, and, to some extent, hatred, like they were exchanging verbal punches—whose punch was packed with the most force.  You could feel the years of unspoken and festered retorts coming to the surface after years of keeping it in.
"Honestly, Lauren," Ryan says, his voice now perfectly calm, "I did not want you to go with me. I haven't wanted you to go someplace with me in months."
Immediately, after that first short yet weighty chapter, Reid takes the reader back more than eleven years to when they first met.  From there you get small snippets of their life from the first time they kissed, to when they first had sex, the proposal, the honeymoon and so on.  In just a few short chapters, she made me absolutely fall in love with their love story.  I was rooting for them.  Having read the synopsis, I knew what was coming, but I wasn't prepare for the emotional turmoil that was this book.
"I marveled at how well he understood my body. I didn't need to tell him what I wanted. He knew. He knew how to kiss me. He knew where to put his hands, what to touch, how to touch it."
What I loved so much about this book was that the story didn't rely on these grand dramatic over-the-top moments.  Ryan and Lauren's love story was just so normal and relatable.  What drove my heart up into my throat were these quiet, everyday, mundane moments that we all could experience.  Even though I am not married and have not experienced the problems Lauren and Ryan did, I felt like I could completely feel the emotions that both of them were feeling every step of the way.
He's going to kiss someone else, if he hasn't already. He's going to touch her. He's going to want her in a way that he no longer wants me. He's going to tell her things he never told me. He's going to lie there next to her, feeling satisfied and happy. She's going to remind him of how good it can feel to be with a woman. And while all of this is happening, he's not going to be thinking about me at all. And there's not a thing I can do to stop it.
Reid captures a very real glimpse at what marriage is.  Like I said earlier, some of the things Ryan and Lauren said to each other in the beginning were so gut-wrenching.  After they split up, Lauren and Ryan's thoughts of one another started to finally come to the surface.  I won't reveal how, but the truth was painful.  These simple moments were filled with so much weight and emotional.  I had to put the book down several times to absorb what was happening.  Through all of the muck and pain, I rooted for Ryan and Lauren.  I wanted them to fight for their marriage.  But there were times when I lost all hope for them because they lost hope.  My heart was ripped out of my chest with a few simple words.
Taylor Jenkins Reid is such a beautiful storyteller and gripping writer.  Her ability to take this couple's fragile marriage and make the reader feel so deeply about both characters was wonderful.  I will definitely go back and read her debut, Forever, Interrupted, which is going to be a movie!!  I will read anything she writes!
5 stars — FAVORITE OF 2014
*I received a copy from the publisher in exchange for an honest review.