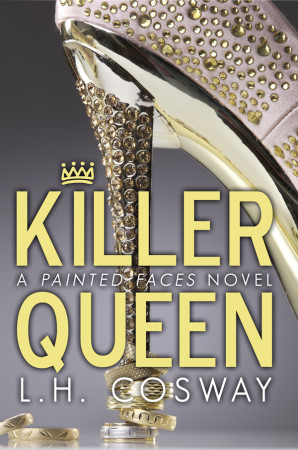 Killer Queen
by
L.H. Cosway
Series:
Painted Faces #2
Published by
Self-Published
Publication date:
October 20, 2014
Genres:
New Adult
,
Romance
Format:
eARC
Source:
ARC via author
Willkommen, Bienvenue, Welcome…

Come inside The Glamour Patch club to see the star of our show, Miss Vivica Blue.

Do you want to read my diary you nosy little devils? Have a glass of champagne (you'll need it) and get comfortable because you're in for some crazy shenanigans brought to you straight from the horse's mouth.

I can be whatever you want me to be: boy, girl, a little bit of both.

If you have a problem with a man in a dress then best be off with you. If males in make-up give you the willies, then I'll say au revoir and don't let the door hit you on the way out.

So, who are we left with? Ah, a fine collection of curious souls. I want to tell you a tale of love, because those are the most glorious kind. I want to tell you about real love, a love that transcends labels and gender stereotypes.

The moment I first laid eyes on my Freda I knew that we were kindred. Well okay, I also knew I wanted to get her into her pants, but that's beside the point. My world was a grey place. I was at my lowest ebb. Then she came along and patches of colour began to spring forth. One day the daffodils were yellow and before I knew it, colour was everywhere, lighting up my life.

Love is not about how we appear on the outside, it's about the soul contained within.

Our story was not a conventional one, but it was ours, and that's what made it shine.

Killer Queen is a companion novella to L.H. Cosway's contemporary romance, Painted Faces. It contains scenes that take place before, during and after the original story. It can also be read as a standalone.
Affiliate Disclosure: This post contains affiliate links. In plain English, this means that I may receive a small commission (at no cost to you) if you purchase something through the links provided. This small income goes back into my blog, so I can continue to create fun content for you. I appreciate my readers and make it my goal to be upfront and honest. Thank you for supporting my blog!
Book Review:
I read Painted Faces early last year at my friend Brenna's recommendation.  She told me that I was going to love Freda's character.  And boy did I love her.  But I also fell in love with Nicholas, or as Fred so affectionately calls him, Viv.  
Fred and Viv's love story has always stayed with me and I recommend it to anyone looking for a dose of something different and immensely addictive.  When Painted Faces came to a close, Fred and Viv's love story was fully complete and resolved. Though, the selfish part of me longed for more glimpses into their unconventional and beautiful love story. L.H. Cosway made my reader dreams come true when she announced she was writing this novella.
This novel made me fall in love with Nicholas even more (as if that was even possible).  In Killer Queen, you get a bit more of Nicholas' back story that was glossed over in Painted Faces.  You learn more about his tragic breakdown in France prior to moving to Dublin to work at the Glamour Patch.  Before meeting Fred, Nicholas was drowning in pain, women and alcohol.  But this isn't your typical "ladies man turned good storyline."  It's so much more than that. It's about a man finding love when he wasn't really looking, but he not only found love he found a best friend and someone to call home.
Perhaps this is why I wanted to be with Fred so desperately. When she was around I forgot about my guilt. She made me feel cheerful, light, and yes, incredibly horny. It could very well have been my sex drive overriding my melancholy.
Nicholas is a man who is a little bit tortured by his past and by the loss of his mother.  I found Nicholas's forward and pushy ways to be so endearing. They were a way for him to cover up his emotional fragility.  Falling for someone was unchartered territory for Nicholas, so when he meet Freda, he isn't quite sure what to do with those feelings.  The ways in which he goes about showing Freda his love are not the most traditional methods, but Nicholas is not your normal man.
"Who would have thought it, huh? A bloke who wore dresses and lipstick on a regular basis was going on alpha male. There was definitely a touch of irony in there somewhere."
I absolutely LOVE Nicholas' unique voice and sense of humor. If you were to give me ten quotes from different male characters in books, I would be able to pick the one that flew out of his mouth in a second.  He said some of the cheekiest, most hilariously delicious things in Killer Queen.
No, not a negligee, you saucy little devils.
"I was drunk enough to start wielding them like a crazy ex-wife who just got shafted in the divorce settlement and was now out to draw blood."
Sprinkled throughout the book were several expanded and new scenes with Fred, Nicholas and the gang.  Soon after Nicholas and Freda meet, Freda comes home to find Nicholas having pizza with Nora, Harry, and Sean just like they're old chaps.
"Viv, you cow. Would you take my grave as quick?" she teased.
I gave her my most dazzling smile. "Sorry Fred, the pizza was delicious. I couldn't resist." I paused and dropped my voice low, making sure my double meaning couldn't be missed. "I'm sure I can figure out a way to pay you back."
"Be careful there Viv, or you'll end up bankrupt. You already owe Dortea a visit to her lady garden."
What I love most about this story is how captivated and drawn in I was to Fred and Viv's love story.  Whenever I read Painted Faces, I felt positively giddy towards the end when both of the character came to their senses.  I've gone back and read that book multiple times and each time I get the butterflies and a crazy smile on my faces.  Killer Queen was like a walk down memory lane, reigniting those old feelings once again as I visit my old friends.
"Are those the dulcet tones of Leonard Cohen I hear? You are a true cliche of sadness, Viv."
Killer Queen was sweet and heartwarming and it delivered tons of sexiness and steam.  What makes sex scenes truly hot for me is when an author can make you feel the emotions the characters are feeling (no, not that—get your mind out of the gutter).  I mean, you can feel the emotional connection that formed over the course of their friendship. With Freda and Nicholas there were so many things left unsaid for a long time that left this spark and incredible tension between the two of them. It made those intimate scenes between the two of them sizzle.
"I need you, too," I replied with an extreme level of intensity and then I was coming inside her. It was the best thing I'd ever felt; it made me feel the most crazed but at the same time the most sane I'd ever been in my life. I let my face fall to her neck. It was my safe place, my refuge. I could have lived forevermore between the beauty mark on her neck and the freckle on her collarbone quite happily."
Do you have a favorite scene from Painted Faces that you were dying to read in Killer Queen?  Chances are Cosway has covered in this one.  From the "Combine Harvest scene" to the "Occupado Bathroom scene" to the "One Day Like this scene", we get to see all of those through Viv's point of view which I loved.  What shocked me was just how early on Nicholas fell for Viv.  Had I not read Painted Faces first, it may not have had quite the impact it had on me.  Knowing that he was struggling with the depth of his feelings from the beginning just pulled at my heart strings even more.
I truly loved Killer Queen.  Nicholas' charm and emotional fragility and Freda's quick wit and sense of humor shine in this novel.  Their chemistry is intense and palpable. I will reread these two books for a long time to come just so that I can visit these two.  Cosway has penned a beautiful companion to Painted Faces while infusing the story with newness.
4 stars
* I received a copy from the author in exchange for an honest review.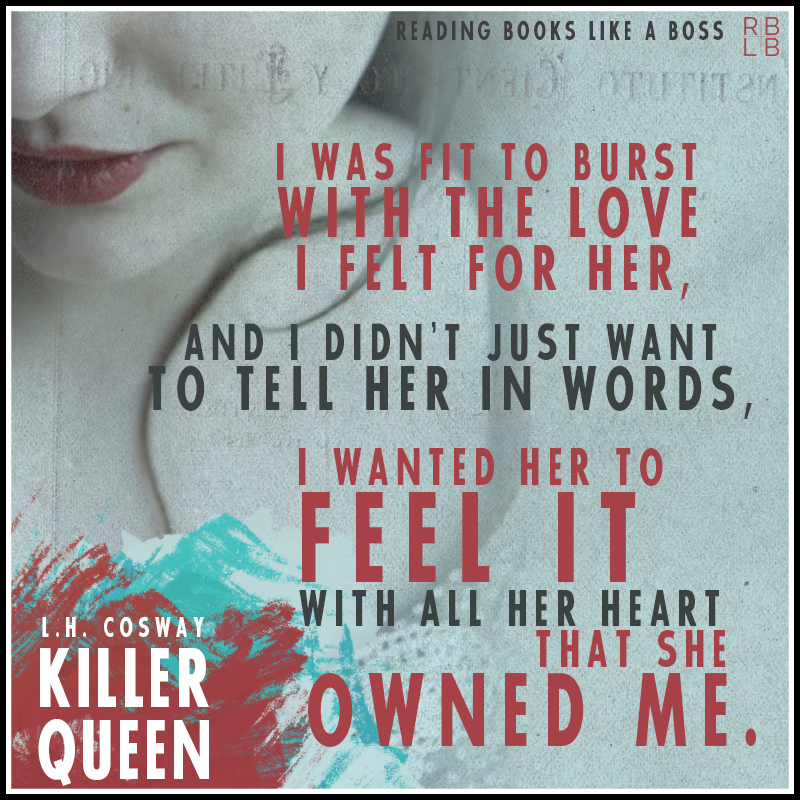 My Favourite Literary Heroes by L.H. Cosway
I'm not sure what exactly makes a perfect literary hero for me. I guess when I know, I just know.
With a lot of my favourites, they feel true to life. They make me laugh. They make me swoon. They aren't perfect, in fact, far from it, and that's what makes me warm to them. My favourite YA hero is Graves from Lili St. Crow's Strange Angels series. I loved how he started out as this awkward, uncomfortable in his own skin, slightly shy teenager and over the course of the books gained the confidence of a man.
Second to Graves is Magnus Bane from Cassandra Clare's Mortal Instruments. The moment he was introduced in the first book I knew I adored him. What's not to love about a glittery skinned warlock with cat's eyes wearing a pair of hot pants? Plus, his dialogue makes me laugh out loud.
In adult supernatural fiction, I like Clay Danvers from Kelley Armstrong's Bitten. I can literally hear his Southern twang when I read him. I fell in love with Dex Foray when I stumbled across Karina Halle's Experiment in Terror series. In fact, I love him so much I've been holding off on reading the final two books because I'm just not ready to say goodbye yet.
And last but not least, we have contemporary romance. I'm kind of in love with all of Penny Reid's heroes from her Knitting in the City series. I might be a bit of a book slut for them, but my favourite is Alex from Love Hacked. He's young but wise beyond his years. I also absolutely adore Mal Ericson from Kylie Scott's Play. He's hilariously funny, a little bit weird and completely adorable. He reminds me of a hyper puppy in the form of a very sexy drummer.
And I'll end this post with a list of honourable mentions:
Giveaway
Prize one:
Signed copy of Killer Queen, Killer Queen tote bag, Limited edition MAC Rocky Horror Make-Up, Rocky Horror Picture Show Soundtrack CD signed by Nicholas.
Prize two:
Signed copy of Killer Queen & Killer Queen tote bag.
 Teasers from Killer Queen by L.H. Cosway:
Feel free to take these and share on Facebook, Twitter, Pinterest, Tumblr, etc.