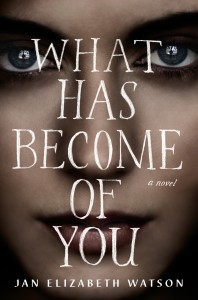 What Has Become of You
by
Jan Elizabeth Watson
Published by
Dutton Adult
Publication date:
May 1, 2014
352 pagesFormat:
eARC
What if a teacher's most promising pupil is also her most dangerous? A tautly plotted psychological thriller, as intelligent as it is mesmerizing

What Has Become of You follows Vera Lundy, an aspiring crime writer and master of self-deprecation who, like many adults, has survived adolescence but hasn't entirely overcome it. When she agrees to fill in for a private school English teacher on maternity leave, teaching The Catcher in the Rye to privileged girls, Vera feels in over her head. The students are on edge, too, due to the recent murder of a local girl close to their age.

Enter Jensen Willard. At fifteen she's already a gifted writer but also self-destructive and eerily reminiscent of Vera's younger self. As the two outcasts forge a tentative bond, a sense of menace enfolds their small New England town. When another student, new to the country, is imperiled by her beliefs, Vera finds herself in the vortex of danger—and suspicion.

With the threat of a killer at large, the disappearance of her increasingly worri-some pupil, and her own professional reputation at stake, Vera must thread her way among what is right by the law, by her students, and by herself. In this poignant page-turner, populated with beguiling characters and sharp social insights, coming-of-age can happen no matter how old you are.
Affiliate Disclosure: This post contains affiliate links. In plain English, this means that I may receive a small commission (at no cost to you) if you purchase something through the links provided. This small income goes back into my blog, so I can continue to create fun content for you. I appreciate my readers and make it my goal to be upfront and honest. Thank you for supporting my blog!
Review:
What Has Become of You is part mystery, part psychological thriller, and part character study.  With this book, I stepped out of my romance genre comfort zone and into something a little different.  I was drawn into the sound of this book.  I am a huge fan of character studies.  I love getting to really truly know a character's innermost thoughts to the point that I could predict what they would or wouldn't do even if it's not on the page.
The story centers around a semi-reclusive woman named Vera Lundy.  At nearly forty years old, Vera does not have a steady job, despite being Princeton educated; She has no car and no friends.  Most of the minutes on her telephone are used talking to her worried mother.  As an aspiring non-fiction writer, she spends a lot of her free time researching serial killers and expanding on her fascination with a local murder that when she was a child.  I found her to be a rather sad individual, almost like she hasn't found her purpose in life.  After her job the local community college ends, she gets a temporary job teaching English at a local all-girls college preparatory school.
Vera is a very anxious and somewhat socially awkward person. It takes all that she has to get in front of a group of high school girls and teach.  The first book she is assigned to teach is The Catcher in the Rye by J.D. Salinger.  But before she even starts her first day of teaching, she gets an email from a student named Jensen Willard, explaining that she has already read the book but looks forward to meeting Vera.  Part of the students' assignment is to write weekly journal entries in response to their assigned reading.  The class is composed of several girls—most of their families are wealthy.  But one student is different than the rest.
Jensen is a scholarship student.  Her family is not wealthy.  It doesn't take long for Vera to see just how brilliant she is.  Her journal entries are reflective, incredibly detailed, and sometimes disturbing.  Often times, she discusses in detail her problems with her classmates.  She talks about her boyfriend and her feelings of inadequacy about dating someone so smart.  She even starts to bring up pieces of Vera's personal life, revealing that she's done her own background check.  Jensen's lengthy entries captivate Vera and remind her of her own high school years—a time she'd rather not remember.  They remind Vera of herself.
While this is going on, one of Vera's own students is murdered causing citywide panic and an investigation to find out who did this. THis wasn't the first murder either.  All of the clues begin paint a really scary picture all pointing to one person—Vera.
I found many parts of the book to be rather slow, especially in the beginning.  The book is written in Vera's point-of-view but in third person and is very character focused.  The more interest Vera takes in Jensen (and vice-versa), the more the story picked up for me.  Once the murder investigations started and more of Jensen's journal entries were revealed, I enjoyed the story more.  I was a bit unsatisfied in the ending, only because I wanted a little more closure  I liked this novel, but overall it was a little too slow-paced for me.
3 stars
* I received a copy from the publisher in exchange for an honest review.