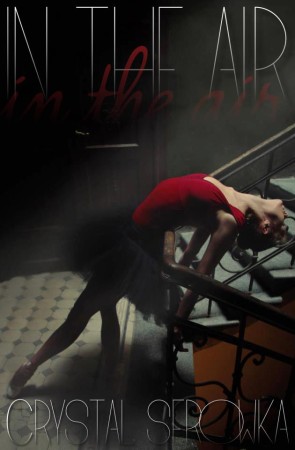 In the Air
by
Crystal Serowka
Series:
The City #1
Published by
Self-Published
Genres:
New Adult
Format:
eARC
It all began on a New York City sidewalk. It was so surreal. Juilliard, the enormous brick building that held my dreams and the possibilities of my future. I was prepared for the challenges ahead. What I didn't expect was to lose my focus the second I met him. Living the dance was no longer the only important thing in my life.

The City opened my eyes, but he transformed me.

Two dancers. One big city. He was determined to make a new start. She was ready to make it in the ballet world. Neither expected love to play a part in achieving their dreams. They also didn't expect it to be so destructive. Samson and Natalia took the leap anyway, not worrying about the fall.
Affiliate Disclosure: This post contains affiliate links. In plain English, this means that I may receive a small commission (at no cost to you) if you purchase something through the links provided. This small income goes back into my blog, so I can continue to create fun content for you. I appreciate my readers and make it my goal to be upfront and honest. Thank you for supporting my blog!
Book Review:
"If we hadn't agreed to take things slow, I would kiss you senseless right now, in the middle of this sidewalk, hoping everyone would stop and stare."
In the Air was a absolute treat to read!  I enjoyed every pirouette, plié, and tondue. When I saw that this book was about two ballet dancers at Julliard in New York, I knew I had to read it.  And look at the book cover! It's absolutely gorgeous.
Having just lost her father to cancer, Natalia is still a little numb when she begins her freshman year at Julliard.  Her mother isn't exactly the most loving, supportive person; in fact she's quite the ice queen.  Mommy Dearest is more concerned with the number of practice hours Natalia has logged than her daughter's well-being.Of course, her freshman experience wouldn't be complete without a random potluck roommate. Enter Kingsley.  At first, Kingsley came across as a rude, crazy bitch.  I thought Kingsley was going to make Natalia's life a living hell.  Boy was I wrong!  She ended up being one of my favorite characters.  Kingsley is one of those people you don't want to cross who you want to be your best friend because she'll have your back.  And guess what, errybody?  The second installment of the "In the Air" series is going to Kingsley and Wren's book!  *yes yes yes dance*
"Those stares you were giving each other were hotter than the last porno I watched."
Natalia meets Samson outside of school, and they don't exactly hit it off. Okay, Natalia hates him.  Samson is everything she doesn't want–preppy clothes, cocky attitude, and he calls her "doll".  As luck would have it, they are paired as partners in dance class, and Natalia is less than thrilled.
"Don't get too excited being this close to me. It will only happen when we're dancing."
"You don't seem to like me very much."
"You don't miss a thing."
Natalia and Samson play cat and mouse.  Natalia wants nothing to do with him, but Samson is a persistent little bugger.  The chemistry between Natalia and Samson was off the charts.  Their back and forth banter dripped with sexual tension.  I LOVED THAT!
"If she only knew how much control she actually had, she could easily have me begging just to be near her."
But just as Natalia begins to come around, Samson drops a bomb.  And I was all…*GASP*…Oh no, he didn't!!  YES HE DID!!  (I'm not going to tell you what the bomb is.  You'll have to find out for yourself).  This is the part where I got really super frustrated with Samson.  I felt like he could have handled the situation much better.  But then again, Natalia wasn't completely innocent either.  Their shenanigans cancel each other out, right?
I assumed this book was going to be dual POV, but I was pleasantly surprised to find that there were four POVs.  Now before you let that turn you off, let me tell you that the book is primarily in Samson and Natalia's POV.  But Aubrey and Kingsley's POV is sprinkled in there for good measure. I loved seeing the story told from these other outside POVs.  It helped me connect with these secondary characters and made me more sympathetic towards them.
One thing I liked about In the Air was that it kept my interest without being OTT (over-the-top) dramatic.  I hate it when books throw in a plot twist just to shock me, especially when the twist makes absolutely no sense. The way Serowka describes New York, the school, and the general surroundings made me feel like I was there seeing it all.
3 stars
* I received a copy from the author in exchange for an honest review.