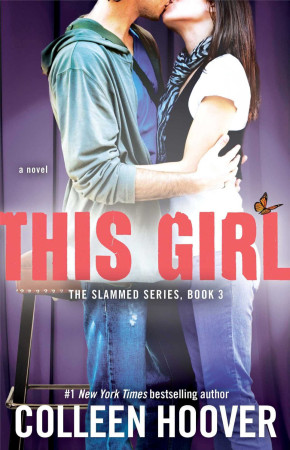 This Girl
by
Colleen Hoover
Series:
Slammed #3
Published by
Atria
,
Simon & Schuster
Publication date:
April 30, 2013
Genres:
New Adult
,
Romance
304 pagesFormat:
eARC
Source:
ARC via NetGalley
There are two sides to every love story. Now hear Will's.

Colleen Hoover's New York Times bestselling Slammed series has brought countless readers to their knees with a whirlwind of love, passion, and heartache.

Layken and Will's love has managed to withstand the toughest of circumstances and the young lovers, now married, are beginning to feel safe and secure in their union. As much as Layken relishes their new life together, she finds herself wanting to know everything there is to know about her husband, even though Will makes it clear he prefers to keep the painful memories of the past where they belong. Still, he can't resist his wife's pleas and so he begins to untangle his side of the story, revealing for the first time his most intimate feelings and thoughts, retelling both the good and bad moments, and sharing a few shocking confessions of his own from the time when they first met.

In This Girl, Will tells the story of their complicated relationship from hispoint of view. Their future rests on how well they deal with the past in this final installment of the beloved Slammed series.
Affiliate Disclosure: This post contains affiliate links. In plain English, this means that I may receive a small commission (at no cost to you) if you purchase something through the links provided. This small income goes back into my blog, so I can continue to create fun content for you. I appreciate my readers and make it my goal to be upfront and honest. Thank you for supporting my blog!
Book Review:
This Girl is the third and final book in Colleen Hoover's Slammed series.  I view it more of a companion novel than a full third book in the series since many scenes are flashbacks in Will's point-of-view.  Slammed and Point of Retreat were some of the first books I discovered back in 2012 that helped me discover this wonderful book community.  While I love them so much, I didn't really think this final book was necessary but I still enjoyed it.
This Girl is told in a series of flashbacks.  Will and Lake are on their honeymoon together, reminiscing about the good times and reflecting on the more difficult times they've spent together.  I really liked seeing some of my favorite scenes from Slammed through a different pair of eyes.  Will was absolutely gone from the first moment Layken and fall pulled the moving truck in the house across the street.  Part of what made Slammed so great was seeing this kind of pure love mixed with this forbidden love element.  I really enjoyed seeing how Will processed his feelings and his duty to care for his little brother.
I liked that Hoover wrote a couple more poems for this book.  The poems in this series are part of what made it so memorable and added so much emotion and intensity to the story.  One of the things Hoover does well is make you feel
"She'd love you as much as I love you
She'd make me promise to one day make you my wife."
My favorite moments of this book were the new scenes added, especially the scene after Lake's poem at the end of Slammed.  I always wondered what happened right after Layken pours out her heart on stage, thinking Will wasn't there.  I loved it because it punctuated what was already a heart-stopping and life-changing night for the both of them.  That scene was freaking hot (and funny)!!
While there were new scenes that I liked, there was so much repeated material.  There wasn't mysterious surrounding Will's character that necessitated his POV.  Was this book fun to read? Absolutely.  This Girl gave readers the chance to say a final farewell to Will and Layken and to see them reminiscing about some of their highest and lowest moments.  I liked it but having read Slammed more than once, this book was superfluous.
3 stars
* I received an advance copy from the publisher in exchange for an honest review.