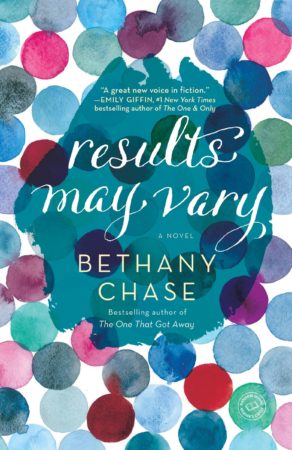 Results May Vary
by
Bethany Chase
Published by
Ballantine
Publication date:
August 9, 2016
Genres:
Romance
,
Women's Fiction
352 pagesFormat:
ARC
Source:
Publisher
From Bethany Chase—whom bestselling author Emily Giffin calls "a great new voice in fiction"—comes a wise and delightfully relatable novel about a woman's journey to rebuild her life, and her heart, after a stunning betrayal.

Can you ever really know the person you love?

She never saw it coming. Without even a shiver of suspicion to warn her, art curator Caroline Hammond discovers that her husband is having an affair with a man—a revelation that forces her to question their entire history together, from their early days as high school sweethearts through their ten years as a happily married couple. In her now upside-down world, Caroline begins envisioning her life without the relationship that has defined it: the loneliness of being an "I" instead of a "we"; the rekindled yet tenuous closeness with her younger sister; and the unexpected—and potentially disastrous—attraction she can't get off her mind. Caroline always thought she knew her own love story, but as her husband's other secrets emerge, she must decide whether that story's ending will mean forgiving the man she's loved for half her life, or facing her future without him.

Compassionate and uplifting, Results May Vary is a bittersweet celebration of the heart's ability to turn unexpected troubles into extraordinary strength.

Affiliate Disclosure: This post contains affiliate links. In plain English, this means that I may receive a small commission (at no cost to you) if you purchase something through the links provided. This small income goes back into my blog, so I can continue to create fun content for you. I appreciate my readers and make it my goal to be upfront and honest. Thank you for supporting my blog!
* I have an excerpt from Chapter 1 to share with you below my review. You'll want to know what happens next after you read it!
Book Review:
As I'm writing this review, I'm sitting here deep in my feelings. So I apologize in advance for my lack of eloquence (not that I normally have that anyway). This book is one of my favorite reads this year and it was truly a joy to read. I stayed up way past midnight TWO NIGHTS IN A ROW. If you know me, you know that I am a 31-year old grandma who likes her sleep. I couldn't put this book down. I mean, just read the first few lines of the book:
"There are these two little words I know, that we all know; we learn them so early that we can't remember when we did. They have a gravitational attraction to each other, I would say: the one word love, and the other word story. 'Cause you can have a story without love, sure; but when it comes to the kind of love you fall in, whether it's a slow glide or a blind plunge over the edge…you can't have a love without a story.
I thought I knew mine."
We meet Adam and Caroline, two high school sweethearts turned happily married couple. Or so Caroline thought. She discovers her husband had an affair with a man. What follows is the unraveling of her heart and maybe even her marriage, causing her to delve deep into herself and often times just allow herself to feel the loss.
"Is that what this was, he'd gotten bored? Was this even the first time? Were there others? How many? For how long? Suddenly, the room was closing in on me. Everything I'd ever counted on and trusted about my marriage, my husband, had been ripped out from under me, washed away like a bridge too flimsy for a storm."
RESULTS MAY VARY is heartbreaking, uplifting, painful, and romantic. I enjoyed the experience of reading this book—that feeling of being on edge, not knowing what's going to happen next. I don't want to give anything away, but there are romantic moments in this book, but I still wouldn't call this a romance. It's a women's fiction novel with romantic elements and I just love how the "romancey" part of this book was done.
As a reader, I appreciate a mix of complexity and simplicity in writing. I don't need to be wooed with an overabundance prose or violently shaken with plots meant to shock. I much prefer to be rocked and lulled with writing that is pieced together with care, forethought, and skill. Writing that is clean and simple but packs an emotional punch. Bethany Chase's writing in RESULTS MAY VARY is an example of what I love.
The author really made me feel Caroline's emotions; it felt so real. I can't imagine experiencing that sort of bone deep betrayal from someone you trusted so completely. The thought of living her life without her husband—her rock and best friend of more than 16 years—was incredibly painful and scary.
My feelings towards Adam were mixed throughout the novel, which I think is exactly what the author wanted to portray. The reader sees Adam only through Caroline's filter, and her opinions change as the novel progresses. I went from adoring him, to being so mad, to understanding, and then back to anger.
"What in the name of god had he done to us?"
Some of Adam's actions could be seen as emotionally manipulative, but I had to remember that his character had his own emotional journey—much of which the reader wasn't privy. His affair shook Caroline to her core but it also forced him to come to his own truth. I would have liked to have seen a little bit more of his journey.
The book is told through Caroline's perspective, so the reader is only seeing her side of the story and feeling her feelings. In women's fiction, I think it's important to remind yourself that you are not the heroine. What you would do in the heroine's shoes probably wouldn't be what she would do. But that doesn't excuse all of the heroine's possible bad choices. It's the author's job to make the reader understand the heroine's motivations. In this novel, I understood how Caroline felt, how deep the betrayal ran, and why she made the choices she did.
Most of all, I loved the message of the book. You can never predict where life may take you, no matter how carefully you try to plan your future. You might think you have everything planned out with goals waiting to be achieved. You want to have this many kids, this big of a house, and have this sort of job. But one day, the rug may be pulled out from under you; leading you down a path you would not have chosen, maybe even to bigger and greater things. It's what you do that defines you. You might discover parts of yourself you didn't know existed and dust off the parts that were long suppressed by all your plans.
"You're never going to have a predictable result. Not in how it gets made, or how people feel about it."
One more thing—the quotes under the chapter headings were so great and perfectly chosen! They set the stage and tone for what was to come. Read this book!
* I received a copy from the author and the publisher in exchange for an honest review. This did not affect my opinion.
EXCERPT
From Chapter 1 of Results May Vary
(scroll through to read the excerpt)
1
We two, you know have everything before us, and we shall do very great things—I have perfect faith in us.
—Katherine Mansfield to John Middleton Murry, May 18, 1917
There are these two little words I know, that we all know; we learn them so early that we can't remember when we did. They have a gravitational attraction to each other, I would say: the one word love, and the other word story. 'Cause you can have a story without love, sure; but when it comes to the kind of love you fall in, whether it's a slow glide or a blind plunge over the edge … you can't have a love without a story.
I thought I knew mine.
Adam and I had promised we would grow old together, and we had already started to. The finest creases had etched themselves into the tender skin at the corners of his eyes, delicate as spider silk. They weren't visible most of the time; only in our bed, when the sunlight elbowed in on us and my eyes opened to his face. I remember brushing my fingertips against them, the morning of the day I found out, in the stillness after I switched off my alarm. I remember the little pat on the butt he gave me as I hurried out the door to work. The way he nodded when I reminded him to be ready to leave by two, so we could make it to the city on time.
Because the thing that kills me the most, when I think about that day, is how damn eager I was to get there. The three of us were spilling along the Chelsea sidewalk through the early evening warmth, dodging across Twenty-first Street in front of an oncoming delivery van, hurrying to the gallery because the opening had started twenty minutes ago and the crowd around the photographs would be starting to thicken. I was walking so fast that I stubbed the toe of my favorite wedges on a piece of fractured concrete, and the ugly scratch across the cream leather made me soirritated, because at that moment, it was the most upsetting thing I could imagine going wrong all evening.
I had been looking forward to it all week. A trip into the city with Adam: the long drive from the Berkshires, down the lush green tunnel of the Taconic Parkway, then meeting up with Jonathan for this gallery opening, followed by dinner at some new restaurant in the Meatpacking District that one of Jonathan's chef buddies had opened. I could hardly wait for the people watching: the gallerinas with their sleek ponytails, and the collectors, and the wannabe collectors, and all the other art world acolytes that would be idling around the party, drifting up to and away from conversations like fireflies in my yard. I would wear my new sundress and glow with quiet, familiar pleasure at the pride Adam took in me when we were out together. There was my pride in him, too; I loved to watch him hold the whole dinner table in thrall to one of his stories. After the meal, we'd stumble home to our little walk-up apartment at one o'clock in the morning and fall asleep after some tipsy sex, lulled by the distant horns of the cabs on Ninth Avenue.
And, of course, I was excited to meet Patrick, the photographer whose show it was—I'd had a migraine the night of the party for his representation with Jonathan's girlfriend's gallery a few months back, though I'd made Adam go without me. I've thought about that, since: whether things would have turned out differently if I'd been by Adam's side that very first night. I've wondered it more than once. I've wondered what would have happened if I'd missed the night of the opening, too. But the thing about what-ifs is that you can drive yourself crazy, spinning your thoughts around and around until you're dizzy; and for all that, you only ever end up in the same place you're standing. All you can work with is what happened. What might have happened only haunts you.
So the night of Patrick's show, I was hurrying.
Beside me, Jonathan was hurrying, too; his girlfriend was going to be pissed at him for being late, because Jonathan is the kind of man you want to show off when you're dating him. Look what I snagged! I captured him myself, from the wild.
But Adam, I remember, was quiet. I wonder now what was shuffling through his brain as we careened toward the party. He must have been nervous. His mind must have been one long unsettled stutter of It's going to be fine; he's not going to say anything. He has no reason to say anything. He won't say anything. He wouldn't. He won't. I honestly believe that Adam had no idea what was about to happen, because as selfish as he is, as heedless and self-indulgent and emotionally greedy as I now know him to have been, he has never actually been mean.
It seems strange now that I didn't notice how quiet he was being, but of course there's no reason I would have paid it any particular attention on that particular walk on that particular evening. I do remember, though, that he didn't laugh at the comment Jonathan made about Patrick's name when we spotted it on the poster in the gallery's window.
"By the way," Jonathan said, pointing at the poster, "Patrick Timothy? Alicia told me his real name is Patrick Rubinowitz. But apparently that didn't sound cool enough."
"WASP-washing one's ethnic surname is a time-honored tradition, Jonathan," I said.
"Yeah, for actors and musicians. Artists are usually a little more real than that."
"Maybe you just don't understand," I said. "Your last name is five letters long."
"True," he said, and swung open the door to the end of my marriage as I knew it.