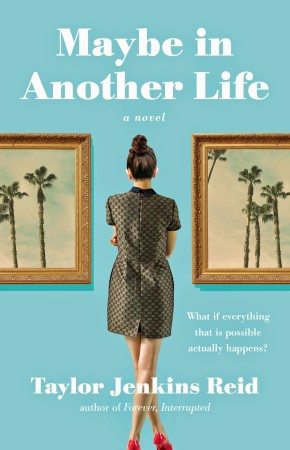 Maybe in Another Life
Publication date:
July 7, 2015
Length:
9 hrs and 8 mins
352 pagesFormat:
eARC
From the acclaimed author of Forever, Interrupted and After I Do comes a breathtaking new novel about a young woman whose fate hinges on the choice she makes after bumping into an old flame; in alternating chapters, we see two possible scenarios unfold—with stunningly different results.

At the age of twenty-nine, Hannah Martin still has no idea what she wants to do with her life. She has lived in six different cities and held countless meaningless jobs since graduating college. On the heels of leaving yet another city, Hannah moves back to her hometown of Los Angeles and takes up residence in her best friend Gabby's guestroom. Shortly after getting back to town, Hannah goes out to a bar one night with Gabby and meets up with her high school boyfriend, Ethan.

Just after midnight, Gabby asks Hannah if she's ready to go. A moment later, Ethan offers to give her a ride later if she wants to stay. Hannah hesitates. What happens if she leaves with Gabby? What happens if she leaves with Ethan?

In concurrent storylines, Hannah lives out the effects of each decision. Quickly, these parallel universes develop into radically different stories with large-scale consequences for Hannah, as well as the people around her. As the two alternate realities run their course, Maybe in Another Liferaises questions about fate and true love: Is anything meant to be? How much in our life is determined by chance? And perhaps, most compellingly: Is there such a thing as a soul mate?

Hannah believes there is. And, in both worlds, she believes she's found him.
Affiliate Disclosure: This post contains affiliate links. In plain English, this means that I may receive a small commission (at no cost to you) if you purchase something through the links provided. This small income goes back into my blog, so I can continue to create fun content for you. I appreciate my readers and make it my goal to be upfront and honest. Thank you for supporting my blog!
Book Review:
"What I'm getting at here is that I know there may be universes out there where I made different choices and they led me somewhere else, led me to someone else. And my heart breaks for every single version of me that didn't end up with you."
I just loved the ending (or maybe I should say endings) to Maybe in Another Life. This book was such a unique reading experience. Once again, Taylor Jenkins Reid takes readers on an emotional journey with characters that left me with a smile on my face.
Hannah Martin just moved back to her hometown of Los Angeles from New York. For the last several years she has moved from city to city working random jobs. But none of the places have felt like the place she could call home. Nothing was the right fit. She moves in with her best friend, Gabby and her husband Mark who seem to have it all together. The perfect house, the perfect marriage, stable jobs. They have everything Hannah doesn't have.
"My life may be a little bit of a disaster. I may not make the best decisions sometimes. But I am not going to lie here and stare at the ceiling worrying the night away.
Instead, I go to sleep soundly, believing I will do better tomorrow. Things will be better tomorrow. I'll figure this all out tomorrow.
Tomorrow is, for me, a brand-new day."
Hannah's flightiness and indecisive nature has led her to this point in her life. A metamorphosis from the old Hannah to this new person. She wants a car, a job, and an apartment. She wants to make roots. To celebrate her homecoming, she goes out with Gabby where she runs into Ethan, her high school boyfriend. At one point in her life, he thought Ethan was the one. At the end of the night, she has a choice: go home with him or go home with Gabby. At that moment, the book splits in two parts leading readers down two different paths in Hannah's life.
This book was a lot of fun to read mostly because I haven't read anything like it. Reid's novels always have a message woven into the characters and the pages. In Maybe in Another Life, the message I took away is that you are the captain of your life, the choice chooser. You are in full control of your own choices. There may be certain moments in your life that will happen no matter what choices you make.
With Hannah, the moment that changed the course of her life was a simple yes or no question, which led me to wonder how many simple question could be a dividing line in my own life. What if I had chosen differently? What things would be different and what things would stay the same?
"The difference between life and death could be as simple and as uncomfortably slight as a step you take in either direction."
I had so many thoughts while reading this book:
Geez, Hannah's parents are kind of jerks. Who leaves their teenage daughter in L.A. and moves to London for their other daughter?
Gabby's husband Mark is a little too straight-laced for her.
Ethan is so freaking adorable.
Oh crap, Henry is freaking adorable too.
OH MY GAWD, which life do I love more?
Everyone needs a Gabby.
Charlemagne is such a cute name for a little dog!
One thing about Reid's characters in her books: they are so relatable. They are real, everyday people who make mistakes, bad choices, have bad thoughts, and imperfections. They are not glamorized or beautified to a point of unbelievability. They are weak in some moments and surprising strong in others. And I think that's what makes her books so appealing to me as a reader. I can see bits of myself in her characters and can identify with them.
This book is different emotionally from her other books.  With Forever, Interrupted, we met a widow who, after a whirlwind romance, lost her husband of merely a week. In After I Do, it was a married couple on the brink of divorce who decides to take a year off from one another with no communication allowed. In Maybe in Another Life, we meet a girl ready to get her life on track, to find the right fit for her and the reader gets to see two results of one of her choices. The subject matter in her latest novel lends itself to a quieter story, one that didn't leave me bawling into my pillow or with knots in my stomach. While I did enjoy this book, I didn't have the sort of visceral reaction I had to her previous two novels.
While this book didn't deal with super heavy subject matter like Reid's other novels, there were still so many moments that left me anxious and nervous. Due to the parallel storylines, certain things were revealed in one story before being revealed in another. AND IT MADE ME SUPER ANTSY. I enjoyed knowing little things existed and seeing how (or if) they appeared and how (if) it would affect the outcome(s).
I liked the whole concept behind this book. The idea that somewhere in a countless number of universes there is an infinite number of us living out every possible choice we have ever had. Living an innumerable number of lives. What if I had chosen to play soccer instead of picking up the clarinet in seventh grade? What if went to prom my junior year of high school? What if I didn't go to Hawaii in college? How cool would it be to have a glimpse at some of those outcomes like we had with Hannah!!
The idea that the universe has its way of working itself out is something I have always believed in. That certain points in your life are a will happen and everything else is left to chance and free-will. There were moments in Hannah and Gabby's lives that stuck regardless of whether Hannah said yes or no to Ethan. And you'll just have to read to see what they are.