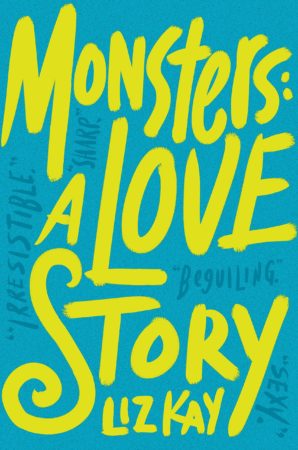 Monsters: A Love Story
by
Liz Kay
Published by
G.P. Putnam's Sons
Publication date:
June 7, 2016
Genres:
Adult
,
Romance
Narrator:
Allyson Ryan
Length:
10 hrs and 33 mins
368 pagesFormat:
Audiobook
Source:
Publisher
Stacey Lane feels like a monster. Tommy DeMarco is one.

Since her husband died eight months ago, Stacey's been a certified mess—a poet who can't write anymore, a good mother who feels like she's failing her kids. She's been trying to redefine herself, to find new boundaries.

Tommy has no respect for boundaries. A surprisingly well-read, A-list Hollywood star, Tommy's fallen in love with Stacey's novel-in-verse—a feminist reimagining of Frankenstein, no less. His passion for the book, and eventually its author, will set their lives on a collision course. They'll make a movie, make each other crazy, and make love—but only in secret. And all with a vodka—or wine, or scotch—in hand.

As Stacey travels between her humdrum life in the suburbs of Omaha and the glamorous but fleeting escape Tommy provides, what begins as a distracting affair starts to pick up weight. It's a weight that unbalances Stacey's already unsteady life but offers new depth to Tommy's. About desire, love, grief, parenthood, sexual politics, and gender, Monsters: A Love Story is a witty portrait of a relationship gone off the rails, and two people that are made for each other—even if they're not so sure they see it that way.
Affiliate Disclosure: This post contains affiliate links. In plain English, this means that I may receive a small commission (at no cost to you) if you purchase something through the links provided. This small income goes back into my blog, so I can continue to create fun content for you. I appreciate my readers and make it my goal to be upfront and honest. Thank you for supporting my blog!
Monsters: A Love Story was one of those books that I picked up on a whim and then couldn't stop reading/listening to it. Stacey and Tommy's relationship is explosive and destructive, funny and sweet all at the same time. While there were several moments where I felt completely frustrated as a reader, the entertainment level was really high.
Stacey is a widowed mother of two whose best selling novel gets the chance at the big screen. Tommy DeMarco, one of Hollywoods hottest actors, purchased the rights and is on board to produce the movie. Traveling between meetings in Los Angeles and her quiet home of Omaha, Nebraska, Stacey has to balance these two opposite versions of herself—her role as a mother and her "something" with Tommy. These two major chemistry together but their time together is brief but heavy and very real. The thing is neither of them can admit to each other their true feelings.
This book is high on angst and romantic tension but also on depth. Liz Kay explores Stacey's journey as a single mom and how she struggles to overcome her grief while parenting two sons and trying further her career. It's not easy and I think she captures that difficulty well. Tommy's character is more the cliche movie star who sleeps around type of guy—not that original. He has a teenage daughter with her own issues and he is have a hard time knowing how to parent her.
This is a love story, albeit one with a long road with lots of curves and potholes. But where both characters ended up was in a good place (I will neither confirm nor deny a HEA). The romance is sweet and steamy and like Stacey, I couldn't wait for her to see Tommy again. This novel spans two years, from the time they meet until things end, which isn't what I had expected but ended up liking.
I didn't like either of these characters at many times because I was so freaking frustrated with them. They are self-destructive and make dumb decisions as grown adults. Like I've said before, I don't have a problem with unlikable characters, but I do need to understand their motivations. Here, some of the things Stacey did to avoid her feelings I did not get at all. It just didn't make sense to me. The same can be said for Tommy. And while we're on the subject of character traits—what was up with Stacey's obsession with health food? I was bombarded with food comments at every corner.
Monsters in the Afterlife is the novel-in-verse inside of this novel, the themes of which is feminism and sexual politics. The author translated those themes into this novel, but I felt like it was heavy-handed at times. I don't mind books with these types of messages but I need it to be woven into the story and not feel like it was so "in your face."
Bottomline: I would totally recommend this story to romance readers who enjoy angst and the back-and-forth but also want a story with depth. This has that age-old trope of woman falls in love with a movie star but here the woman doesn't fall at his feet; she makes him work for it. The synopsis describes this book as a "cracklingly funny" but I didn't think it was, but maybe it just wasn't my brand of humor.
Audiobook comments:
I don't really have much to say audiobook wise. This audiobook was narrated by Allyson Ryan and she did a great job. This isn't an audiobook where the narrator will ruin it for you. I love Allyson's narration. Her male character voice for Tommy was easily distinguished between her voice for Stacey and it didn't sound ridiculous like some female narrators' male character voices. I highly recommend this audiobook and this narrator!
* I received this audiobook from the publisher in exchange for an honest review. This did not affect my opinion.