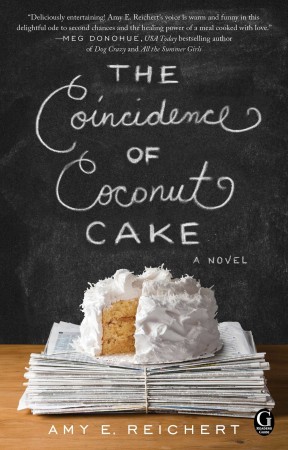 The Coincidence of Coconut Cake
by
Amy E. Reichert
Publication date:
July 21, 2015
336 pages
Witty yet gruff British transplant Al is keeping himself employed and entertained by writing scathing reviews of local restaurants in the Milwaukee newspaper under a pseudonym. When an anonymous tip sends him to Luella's, little does he know he's arrived on the worst day of the chef's life. The review practically writes itself: underdone fish, scorched sauce, distracted service—he unleashes his worst.

The day that Al's mean-spirited review of Luella's runs, the two cross paths in a pub: Lou drowning her sorrows, and Al celebrating his latest publication. As they chat, Al playfully challenges Lou to show him the best of Milwaukee and she's game—but only if they never discuss work, which Al readily agrees to. As they explore the city's local delicacies and their mutual attraction, Lou's restaurant faces closure, while Al's column gains popularity. It's only a matter of time before the two fall in love…but when the truth comes out, can Lou overlook the past to chase her future?

Set in the lovely, quirky heart of Wisconsin, THE COINCIDENCE OF COCONUT CAKE is a charming love story of misunderstandings, mistaken identity, and the power of food to bring two people together.
Affiliate Disclosure: This post contains affiliate links. In plain English, this means that I may receive a small commission (at no cost to you) if you purchase something through the links provided. This small income goes back into my blog, so I can continue to create fun content for you. I appreciate my readers and make it my goal to be upfront and honest. Thank you for supporting my blog!
The Coincidence of Coconut Cake has an alluring premise with a "secret identity" love affair between a restauranteur and a harsh food critic. But ultimately the book was just okay and rather bland.
Al is a food critic known for his scathing reviews of local restaurant. He gives Lou's restaurant a less than stellar review under a pseudonym after visiting on a night where Lou was off her game. Though neither of them realize who each other are until much later on in the book when they're in a relationship. Al cannot wait to leave Milwaukee until he meets a newly single Lou. She takes Al on several "nondates" in an effort to show him the beauty and charm of Milwaukee.
What I really liked in the book was getting a cultural tour of Milwaukee, Wisconsin. Reading this book made me want to take a vacation and go up there to meet the sweet people, experience the various festivals, taste all the cheeses, and drink all the beer.
The author set a great foundation for the book. The publisher's description of a foodie's You've Got Mail was spot on. The characters had the potential to be really wonderful. When I finished, I didn't really feel much towards the main characters or the story as a whole. The characters I felt the most for was the elderly couple who were regulars at Luella.
This book focuses on Lou's journey of achieving her dream of running a successful restaurant and finding happiness. Part of that journey is meeting and falling in love with Al. What I didn't like was how the author tried to create chemistry between Al and Lou. Instead of taking the time to build up these characters' relationship and leave the reader to experience it, it seemed like the author took shortcuts. The first several times Al and Lou meet up, both characters note feeling a spark, a tingle, and/or "the zings". Also, both characters repeatedly remark on how each other smells, what they're wearing, or their hair. These two things didn't work for me and didn't help me feel connected to their romance.
The last 40% or so I found myself skimming a lot because I didn't feel engaged in the story. The book isn't very long, I just got bored. Those who love their books with a side of food may enjoy this book more than me. The romance and the heroine's journey didn't captivate or hold my attention.
* I received an advanced copy from the publisher in exchange for an honest review.