Where Sea Meets Sky by Karina Halle is an upcoming spin off from her bestselling new adult debut, Love, In English. It's Joshua Miles' story, Vera's brother.  Check out the beautiful cover! I love the colors!!
✥ ✥ ✥ ✥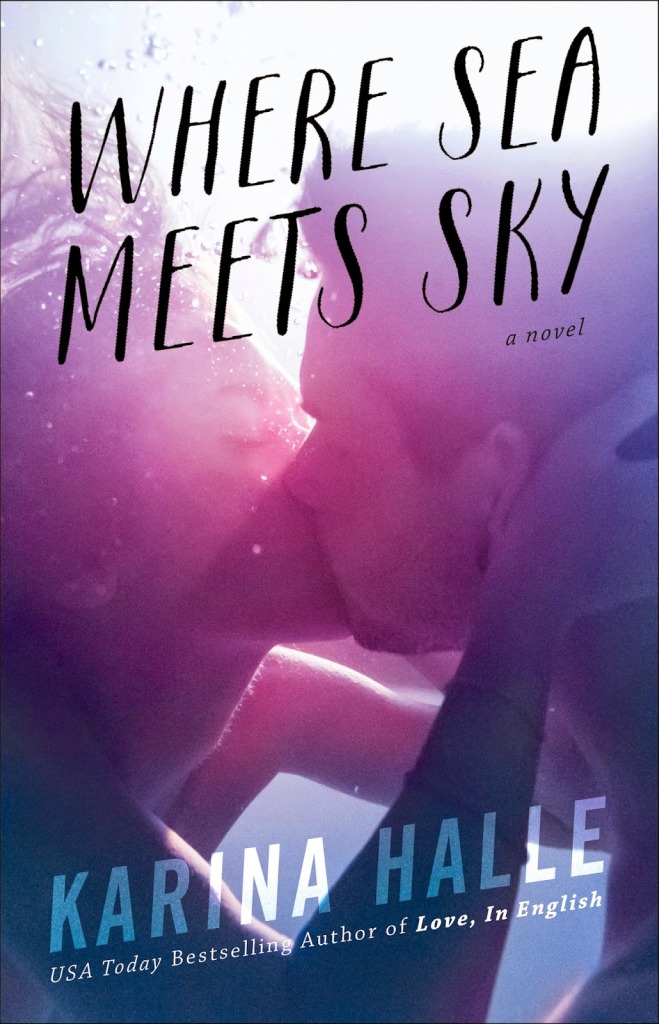 ✥ ✥ ✥ ✥
WHERE SEA MEETS SKY
Joshua Miles has spent his early twenties spinning his wheels. Working dead-end jobs and living at home has left him exhausted and uninspired, with little energy to pursue his passion for graphic art. Until he meets Gemma Henare, a vivacious out-of-towner from New Zealand. What begins as a one-night stand soon becomes a turning point for Josh. He can't get Gemma out of his head, even after she has left for home, and finds himself throwing caution to the wind for the first time in his life.
It's not long before Josh is headed to New Zealand with only a backpack, some cash, and Gemma's name to go on. But when he finally tracks her down, he finds his adventure is only just beginning. Equally infatuated, Gemma leads him on a whirlwind tour across the beautiful country, opening Josh up to life, lust, love, and all the messy heartache in between. Because, when love drags you somewhere, it might never let go—even when you know you have to say goodbye.
Add on Goodreads
Release date: March 31, 2015

Read my Review of Love, In English
PRE-ORDER:
Amazon: http://amzn.to/1suErW4
Apple iBookstore: http://bit.ly/Zgxbwu
Barnes & Noble: http://bit.ly/1vjfOhC
Blio: http://bit.ly/1CrHKzR
Books-a-Million: http://bit.ly/1ubRnOF
Google ebookstore: http://bit.ly/Zwstkk
IndieBound: http://bit.ly/1w9vvaf
✥ ✥ ✥ ✥
EXCERPT
Vancouver
Josh
            I get an erection the moment I first lay eyes on her. She looks like no one I've ever seen before. Tall, curvy, with thick superhero thighs and a round ass, showcased in black Lycra that hugs every slope. Her big, high breasts and small waist are accentuated by her white tank top. Her body has just enough meat for me to grab a good hold of, and I imagine running my hands over her hills and valleys. I want to imagine more than that, but I'm horny as hell as it is and my erection is already inappropriate, considering I'm in public and all.
            She finally looks my way, aware that I've been staring like an idiot. She catches my gaze, her eyes twinkling a vibrant yellow, her pupils large and wet. She smirks at me, causing a shower of glitter to rain from her cheeks, and brushes her purple hair over her shoulder before she bends over to slide a gun out from the harness strapped to her boot.
            I try not to stare into the blinding sun of her tanned cleavage. I try to think of something clever to say to her. Something along the lines of, "I think I know who you are, but shouldn't you have one eyeball instead of two?"
            But it's she who comes over to me, gun comfortably in her hand, and stops only a foot away. When she smiles at me, I see fangs.
            Now I'm really confused. At least I know what to say now.
            "Who are you?" I ask her, happy that my voice is hard and deep. I hope it makes her think of sex.
            She raises a perfect brow and up close I'm struck by how bronzed her skin tone is. I don't think it's makeup. Not many people in Vancouver manage to keep their tan into the fall.
            "You don't know?" she asks. She has an accent. I immediately want to say she's from England but that's not it. It's not Australia either.
            "I thought I did," I say. "But your eyes and fangs are throwing me all off."
            "I'm vampire Leela, from Futurama."
            I grin at her, happy that I was half-right. "Shouldn't you just have one eyeball then?"
            She reaches into her other boot and effortlessly pulls out an eye mask. It's painted white, with a black pupil in the middle. She waves it at me. "I put it on for photos but I can barely see out of it. I walked into a wall, twice." She raises two fingers for emphasis. "I figured I'll just be a vampire the rest of the time."
            I can seriously listen to her talk all day. "I don't remember any episode where Leela turned into a vampire." Maybe it hinted at my secret nerd-boy status, but I watched the cartoon Futurama religiously.
            She wets her lips for a moment and I try my hardest not to adjust my boxer briefs underneath my costume. "I like to think she'll become a vampire in future episodes. Or maybe she was one once and Matt Groening scrapped the idea. I believe characters have more to their lives than the lives we are shown."
            "Kind of like people," I say, hoping I come across as somewhat profound.
            She gives me a slight nod – indicating I'm not as profound as I thought – and looks me up and down. "I just had to come over here to tell you you're the best-dressed guy here. I mean, that must have taken some effort."
            I grin at her. "Game of Thrones, fan?" I ask.
            Another sly nod. "Of course. But who doesn't love Khal Drogo?"
            "Last year I dressed up as the author George R.R. Martin," I tell her. "People kept mistaking me for Ernest Hemingway, even though I was carrying a bucket of fried chicken around with me and had a pillow stuffed down my shirt."
            "So you went for something sexier…" she says as she lets her eyes trail over my body, which automatically makes me stand up straighter. I haven't left much to the imagination. Jesus sandals, weird billowy pants that I think some granola dude dropped off at the thrift store, plus a leather corset over my abs and leather cuffs on my forearms. My upper body is bare and covered with bronzer and streaks of blue paint and I found a black wig with a long braid down the back. It kind of works. I guess if you don't know the show, I look like some sparkling warrior who wears too much eye-makeup.
            "Hey, girls can't be the only ones to slut it up at Halloween."
            She raises her brow.
            And once again, my foot goes in my mouth. "I mean, not that you're dressed slutty or anything, I just mean–"
            She laughs. "Don't worry about it," she says with a wave of her hand. "Everyone here is dressed slutty. That's what the holiday is all about, isn't it? Pretending to be someone else? This is actually my first Halloween, so I'm feeling a little overdressed. Or super nerdy." She looks around her at the drunk girls—referees and fairies and nurses in wonderfully indecent outfits—and shrugs.
            "I wholeheartedly disagree," I say, trying not to ogle her all over again. I pause. "Wait, your first Halloween?"
            "First proper Halloween. The North American kind. We don't really celebrate it the way you guys do."
            I cross my arms, insanely curious now. "And who is we?"
            "New Zealand," she says. "I'm from Auckland."
            "Nice," I say, "I was going to ask if you were from New Zealand."
            Her lips twitch and she gives me a shake of her head. "No you weren't."
            "Well, I definitely wasn't going to ask if you were from Australia. I know how you feel about that."
            For a moment her features look strained, then it passes. "Kind of like if I asked if you were American."
            "Exactly."
            "So," she muses and steps closer. She lays her hand on my bicep and I suck in my breath. "Are the tattoos real?" She removes her hand and peers at her palm which is streaked with bronze shimmer shit. "Because your tan sure isn't."
            Damn, I hope I'm not blushing. I clear my throat. "The tattoos are real, I assure you. I needed a bit of, um, help to get that Dothraki tan going on."
            "And this?" She reaches for my face and I am frozen in place while she gently fingers my goatee and beard. She grabs the end of it, which I had attempted to braid, and gives it a little tug.
            "Ouch," I say, though it doesn't really hurt. It turns me on instead. Big surprise.
            "So it is real," she says. She sounds impressed.
            I shrug. "I had a month to grow it in. I say, it's all or nothing. But tomorrow everything is getting shaved off."
            She frowns and lets go. "Pity. I love a scruffy guy."
            I can't help but smile. "Lucky for you, I'm scruffy for at least twelve more hours."
            Her mouth twists into a wry smile. I realize I'm being kind of forward with her, but at the same time, she just felt my bicep and fondled my man hair. Then again, I've never been very good at reading women. Half of them seem to love my tats and black hair and piercings; the other half seem to think I'm a delinquent from Skid row.
            I'm wondering what she thinks about me when I realize I don't know her name.
            "I'm Josh, by the way," I say to her, holding out my hand.
            She gives me a surprisingly firm shake in return. "Gemma."
            "That's a beautiful name," I tell her. Even though I'm sincere, I'm aware that it's very much a pick-up line.
            Gemma snorts and it's absolutely adorable. "Right. Well, in New Zealand, Gemmas are everywhere."
            "But I bet they don't look like you." Okay, so now I'm totally swerving into pick-up line territory. I push it further. "Can I buy you a drink?"
            And there the question sits, floating between us, along with the haze of pot smoke that hangs in the air. The rejection might come fast, or if I'm lucky, not at all. But it's Halloween, I have a three-beer buzz going on, and I'm feeling pretty good.
            Still, when she nods and says, "Sure" I feel my whole body lift with relief.
Add on Goodreads
Release date: March 31, 2015

Read my Review of Love, In English
PRE-ORDER:
Amazon: http://amzn.to/1suErW4
Apple iBookstore: http://bit.ly/Zgxbwu
Barnes & Noble: http://bit.ly/1vjfOhC
Blio: http://bit.ly/1CrHKzR
Books-a-Million: http://bit.ly/1ubRnOF
Google ebookstore: http://bit.ly/Zwstkk
IndieBound: http://bit.ly/1w9vvaf
✥ ✥ ✥ ✥
About the Author: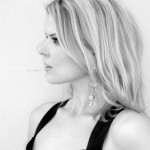 Karina Halle is a former travel writer and music journalist and the USA TODAY bestselling author of Love, in English, the Artists trilogy, and other wild and romantic reads. She lives in a 1920s farmhouse on an island off the coast of British Columbia with her husband and her rescue pup, where she drinks a lot of wine, hikes a lot of trails, and devours a lot of books.
Facebook | Twitter | Website | Instagram
✥ ✥ ✥ ✥