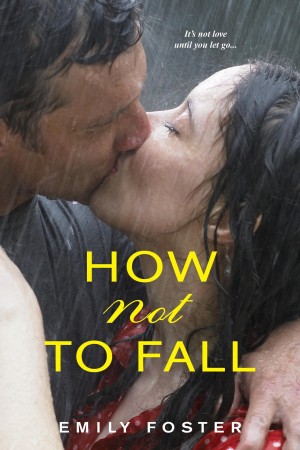 How Not to Fall
Publication date:
June 28, 2016
320 pages
Data, research, scientific formulae--Annabelle Coffey is completely at ease with all of them. Men, not so much. But that's all going to change after she asks Dr. Charles Douglas, the postdoctoral fellow in her lab, to have sex with her. Charles is not only beautiful, he is also adorably awkward, British, brilliant, and nice. What are the odds he'd turn her down?

Very high, as it happens. Something to do with that whole student/teacher/ethics thing. But in a few weeks, Annie will graduate. As soon as she does, the unlikely friendship that's developing between them can turn physical--just until Annie leaves for graduate school. Yet nothing could have prepared either Annie or Charles for chemistry like this, or for what happens when a simple exercise in mutual pleasure turns into something as exhilarating and infernally complicated as love.
Affiliate Disclosure: This post contains affiliate links. In plain English, this means that I may receive a small commission (at no cost to you) if you purchase something through the links provided. This small income goes back into my blog, so I can continue to create fun content for you. I appreciate my readers and make it my goal to be upfront and honest. Thank you for supporting my blog!
How Not to Fall is written by a New York Times Best Selling author of a non-fiction sexual education title. This book is her fiction debut. This book is very clearly written by someone with a Ph.D. in Health Behavior with a concentration human sexuality with its detailed and almost-clinical sexual descriptions. What the synopsis promised was a steamy forbidden romance between a college senior and her advisor, but what was delivered was an extremely derivative erotic romance that was lacking in story and characters.
Annabelle is on the verge of graduating college and going off to an intense graduate school dual degree program (PhD/MD). For the last two years she has been lusting over her advisor, Dr. Charles Douglas. With nothing to lose she asks him to sleep with her. At first, he declines, but agrees to talk to her about their "Thing" after she finishes finals. Following finals, they can ethically be together and Charles confesses he's been equally attracted to her. After finding out Annie is a virgin, Charles requests to go slow with start their no-strings sexual relationship. In the month leading up to Annie departure, she starts to fall for him. But ghosts of Charles past make it impossible to reciprocate her feelings.
I've mentioned before that I'm such a huge fan of forbidden romances, so when I came across this New Adult title I wanted to give it a try. In the beginning, I enjoyed Annie's witty inner dialogue and awkwardness; I was hopeful that I was going to enjoy this. But it didn't take long for me to get annoyed with her and the turn of events.
Charles is British and portrayed as being very restrained and awkward but with crazy sex appeal. Almost instantly, Charles turns into a sexual alpha male after finding out Annie was a virgin, chomping at the bit to teach Annie the sexual ropes. He confesses that he's wanted to sleep with her for over a year. The rest of the book is all sex scenes and a few fights on the topic of "I'm broken" and "You can't change me".
This book was very derivative of Fifty Shades of Grey to the point where I wondered if this was fanfiction, rather than a wholly original work as its being touted. This really bothered me. There were some differences to the characters, story, and setting. For example, Annie is much more confident than Ana and Charles isn't a dominant like Christian. But there are shockingly similar plot points, character traits, and situations taken from Fifty Shades of Grey. Here are just some of them:
Annie = Ana, Charles = Christian
Prior to starting their sexual relationship, Charles picks up a a drunk Annie and allows her to sleep peacefully with him.
Annie, like Ana, was a virgin yet becomes a sex goddess on her knees in from of Charles. After Annie's last final, Charles goes to town on Annie spend most of their time between the sheets.
He ties her up and brings out the Ben Wa balls in their sexual escapades.
For her graduation gift, Charles gives Annie a very valuable first edition book of Origin of Pieces. Annie struggles with whether to accept this gift.
Like Christian, Charles is emotionally broken from childhood trauma and won't allow himself to fall in love with anyone, leaving an in-love Annie frustrated and desperate to fix him.
View Spoiler »The ending of the book is her walking away from their relationship and asks him not to contact her. She moves away to go to grad school. The end of the book is a cliffhanger. « Hide Spoiler
But even putting the blatant similarities aside, there was really very little plot to the story. The author tried to inject plot with scenes outside the bedroom, including rock climbing and dancing lesson scenes but it wasn't enough to be compelling. The sex scenes were numerous, long, and highly descriptive to the point that I began to question whether this was new adult or erotica. Further, Charles's British dialogue was almost painful to read. His pet names for Annie were strange and archaic—"my termagant", "my shrew", and "my harpy". Charles social status as a viscount was also ridiculous and unnecessary.
I didn't know this going into the book but rather discovered about 60% in that this was going to be duology. The next installment of Charles and Annie's story is called How Not To Let Go and will be out later this year.
1 star
* I received an advance copy from the publisher in exchange for an honest review.