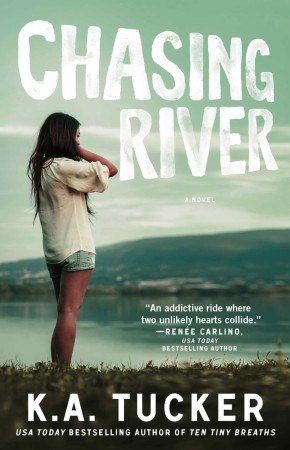 Chasing River
by
K.A. Tucker
Series:
Burying Water #3
Published by
Atria
,
Simon & Schuster
Publication date:
July 7, 2015
Genres:
New Adult
,
Romance
320 pagesFormat:
eBook
Source:
Borrowed
Armed with two years' worth of savings and the need to experience life outside the bubble of her Oregon small town, twenty-five-year old Amber Welles is prepared for anything. Except dying in Dublin. Had it not been for the bravery of a stranger, she might have. But he takes off before she has the chance to offer her gratitude.

Twenty-four-year-old River Delaney is rattled. No one was supposed to get hurt. But then that American tourist showed up. He couldn't let her die, but he also can't be identified at the scene—so, he fled. Back to his everyday life of running his family's pub. Only, everyday life is getting more and more complicated, thanks to his brother, Aengus, and his criminal associations. When the American girl tracks River down, he quickly realizes how much he likes her, how wrong she is for him. And how dangerous it is to have her around. Pushing her away would be the smart move.

Maybe it's because he saved her life, or maybe it's because he's completely different from everything she's left behind, but Amber finds herself chasing after River Delaney. Amber isn't the kind of girl to chase after anyone.

And River isn't the kind of guy she'd want to catch.
Affiliate Disclosure: This post contains affiliate links. In plain English, this means that I may receive a small commission (at no cost to you) if you purchase something through the links provided. This small income goes back into my blog, so I can continue to create fun content for you. I appreciate my readers and make it my goal to be upfront and honest. Thank you for supporting my blog!
Book Review:
K.A. Tucker  is an author whose books I will always pick up. They're fun to read and I usually enjoy them, but Chasing River didn't quite have the same suspenseful pull that the other books in the series had.
We met Amber Wells in Burying Water. While you can read Chasing River as a standalone I do believe you would be more familiar with Amber's background, friends, and family if you read Burying Water first, since those characters do show up in this book.
One of Amber's dreams was to travel the world, so she worked crazy shifts at the hospital in order to pay for her trip of a lifetime. She makes a long list of things to do when she's traveling with item number one being "to have a torrid affair with a foreigner." In Dublin, she gets more than what she planned when a mysterious Irishman protects her from a pipe bomb in the park. Determined to find the man who saved her, Amber searches high and low for a family crest she'd seen on her hero's t-shirt, which leads her to Delaney's, a local pub operated by Rowen and River Delaney. River knows exactly who the green-eyed American girl is the moment she walks in his pub. Panic sets in because River's presence in the park that day wasn't exactly random.
I didn't really like this book as much as the others in this series. The biggest thing that I couldn't really grasp on to was the instant attraction and connection between River and Amber. Repeatedly the reader is told how River can't stop thinking about Amber's green eyes or her beautiful toned legs, which made me believe that the readers were being primed for a relationship instead of just being left to experience it. I think due to the short length of Amber's stay in Dublin, the author had to speed up their relationship a bit. I understand that in real life "love at first sight" and "love after three dates" happen. But in books, I have to believe it and I have to feel it and I just didn't in this one.
K.A. Tucker had to have done tremendous amounts of research for this book in order to capture what it's like having a family member involved in the IRA and how this terrorist organization affects the lives of the people who live there. As informative as the book was to me, considering I wasn't up to speed with the political goings on in Ireland, I did feel like some of the history rich text was a little heavy at times and caused the story to drag. I didn't feel interested in the story until the 50% mark.
Up until this point, this series had an element of suspense woven into each book. This novel didn't leave me with uncertainty as to what was going to happen next or tension that I found in Burying Water and Becoming Rain. I didn't really find it that suspenseful at all.
I think my favorite moment of this book was when Sheriff Gabe Amber, "Get on a plane and fly somewhere—anywhere away from here and him." I liked that Amber didn't give up her dreams for a guy she just met. It really made me respect her. I also loved that River allowed her to be her own person and do what she wanted.
* I borrowed this eBook from my local library.