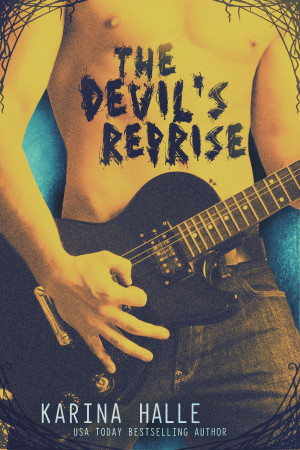 The Devil's Reprise
by
Karina Halle
Series:
Devils #2
Published by
Diversion Books
Publication date:
October 29, 2013
Genres:
Contemporary Romance
,
Horror
244 pagesFormat:
eARC
Source:
ARC e-book
Given a second chance, music journalist Dawn Emerson and guitarist Sage Knightly are reunited, only to have their lives threatened again by a demonic bargain. The sequel to THE DEVIL'S METAL, from USA Today bestselling author Karina Halle.

When Dawn Emerson got the chance to go on tour with her favorite metal band, Hybrid, she thought she landed the writing gig of the century. But what started off as a dream for the budding music journalist quickly turned into a nightmare that she and guitarist Sage Knightly barely escaped alive.

Now, months after they went their separate ways, Sage invites Dawn to accompany him on his first solo tour across Europe and write about it for Creem Magazine. But like the last tour, nothing is as easy as it seems. Sage is a broken man on the path to self-destruction and Dawn isn't sure if she's the right person to save him. And aside from having to pick up the pieces of their burgeoning relationship, they have to negotiate the mysterious new photographer assigned to Dawn's story, as well as vindictive promoters and demonic groupies they thought they'd never see again.

Because this time, it's Dawn who made a deal with the devil and the only thing worse than having to uphold a bargain with the prince of darkness is not remembering how you're supposed to pay it back.

It may be with their souls.

THE DEVIL'S REPRISE is the sequel to THE DEVIL'S METAL and the final book in this series.
Affiliate Disclosure: This post contains affiliate links. In plain English, this means that I may receive a small commission (at no cost to you) if you purchase something through the links provided. This small income goes back into my blog, so I can continue to create fun content for you. I appreciate my readers and make it my goal to be upfront and honest. Thank you for supporting my blog!
Book Review:
The Devil's Reprise is the long-awaited follow up with last year's spooky and sexy, The Devil's Metal.  In the first book, we met Dawn Emerson, a rock lover and aspiring music journalist.  She gets the job of her dreams and lands a gig with Cream magazine.  Her assignment is to follow around her favorite band, Hybrid, on their American tour.  Set during the 1970s during the height of the sex, drugs, and rock and roll era, you're taken on a journey back in time to where peace was the name and chilling was the game.  However, there was something evil lurking around Hybrid and Dawn was set on finding out what it was and it was all Sage Knightly's fault.
At the end of book one, Sage and Dawn parted ways.  Dawn went back to her dad and brother in Washington and Sage went back to his life of rock and roll, but without his former band, Hybrid.  Sage is flying solo and about to embark on his own European tour.  But he needs two things – a music journalist and a photographer to document the tour.  Who better to fill those shoes than Dawn Emerson and Maximus Jacobs?  (Experiment in Terror fans, did you catch that? MAXIMUS!)
The Devil's Reprise, picks up several months after Sage got out of his deal with the devil.  Since the emotional demise of Hybrid, Sage carries around a lot of guilt.  Sage's version of therapy is of the sexual nature – sex and lots of drugs.  Karina Halle is the master at drawing you in from the very first chapter.  Let me tell you, chapter one of Reprise will having you sweating, panting, and blushing all at the same time.  Threesomes anyone?
Dawn has her own issues to work through in this book.  Okay, maybe "issues" a bit of an understatement when we're talking about Satan himself coming after her.  Suddenly, her home life turned around for the better without explanation. Her dad quit drinking cold turkey and her brother's Tourette's Syndrome mysteriously disappeared. What's more, Dawn has a chilling encounter with something evil in the pasture during her going away party.  Could Dawn have made a deal with the devil like Sage did?   The bad omens don't end there. It gets much, much worse.
I've read a lot of other rock star books, but Sage Knightly is easily one of the sexiest and most alluring fictional rock gods.  Not only is he incredibly talented (in more ways than one), he will go to hell and back to protect the woman he loves.  In this book, you learn a lot more about the man behind the music, as it's told in both his and Dawn's POV.  For most of book one, you (and Dawn) were left wondering what was going on in that gorgeous head of his.  What we find out in The Devil's Reprise is both heartwarming and heartbreaking.  Sage missed Dawn (though you wouldn't know it from all the chicks he banged).  Sage has a rough rock and roll exterior, but on the inside he's just as insecure as Dawn is about where they lie as friends and as a couple.
"I tried to dream of Dawn, her beautiful face that pulled me out from so many buses, sun through so many clouds. Innocence, passion, life…even after everything she'd seen. Faith. In me.

I tried to dream of Dawn but dreams don't work that way, especially when you fall asleep with an empty bottle of whisky in your clammy hands."
Sage and Dawn are an insanely hot couple.  They have a crazy amount of chemistry and just click. The Devil's Reprise delivered a good dose of romantic tension and angst without it being over the top.  After they finally got together, the steam factor was off the charts.
"I made sure I kept eye contact with him, no matter how intimate was, and dug my fingers into his waist, driving him forward into me. His body never lost the rhythm that was so deeply engrained in him, always on beat, always in time."
When crazy and demonic things start to worsen and Sage realizes Dawn is in danger, he transforms in this amazingly protective man.  I loved that seeing that side of him come out unashamed.
"Fuck the tour! Fuck all of this. I'm not doing anything until we deal with Dawn." He looked at me with wide-eyes. "I am not going to lose you."
We meet some new characters, including Tricky and Garth, members of Sage's band.  Tricky was a little on the vile side, but I still really liked him. He's does a lot of drugs and a lot of chicks – mostly both at the same time. He's a multitasker. 😉  Right as Sage and company land in Paris, we meet Angeline.  I didn't like her from the beginning simply because she was coming on to Sage.  But also, Jacob didn't seem like a fan of her either.  She's was too perky and too nice.
One of the BEST parts of The Devil's Reprise (aside from the steamy sex scenes) was the bone-chilling, spooky scenes.  This book contains the scariest imagery Karina Halle has ever written.  I've read her entire Experiment in Terror series, which is classified as romantic horror, and this tops any of the scary scenes in those novels.  What made these scenes so terrifying were the way in which Halle describes them. Through her vivid descriptions, I could feel the sense of dread in those scenes.  It was so palpable. The hairs stood up on the back of my neck and got heeby geebies.  I don't know what Karina Halle has against bathrooms, but I'm here to tell you that I have a newfound fear of bathrooms after this book.  The bathroom scenes (yes, plural) were unsettling to say the least.
"'Sage!' I shrieked as fire-hot hands grabbed the back of shirt and started pulling me backward, keeping me out of reaching from the door handle. I tried to turn and kick but only fell to the ground that was now filling up with blood. The taps in the sink and in the bathtub kicked on by themselves, blood gushing out of them, the air filling with a copper tang."
I must mention how much I loved Jacob and Maximus in this story.  Those two loveable guys and Dawn make up the Devils series' GINGER TRIFECTA.  Both Jacob and Maximus are  Sage and Dawn's protectors, always around with a watchful eye and some comedic relief.  Jacob absolutely cracked me up.  He had no problem telling Sage to straighten up and get his head out of this ass. Maximus was equally enjoyable, especially since Experiment in Terror readers already know so much about him from that series.  It was hilarious to see that, like in the present, nicknames didn't escape Maximus in the '70's.  He dished the nicknames and Dawn dished them right back.
The Devil's Reprise wrapped up Dawn and Sage's story perfectly.  Although, I would mind seeing a little Dawn Sage/Maximus reunion in a future Experiment in Terror book or even in Maximus's upcoming novel.
3 stars
*I received an advance copy from the author in exchange for an honest review.
The Devils Series Reading Order
Book 1:  The Devil's Metal
Amazon | Goodreads
Book 2:  The Devil's Reprise
Out NOW!!!
Amazon | Goodreads
GIVEAWAY
1- $50 Redbubble Gift Certificate
1- $10 Amazon Gift Card
1- $5 Amazon Gift Card
a Rafflecopter giveaway


Like Reading Books Like a Boss on Facebook.