Idaho
by
Emily Ruskovich
Published by
Random House
,
Random House Audio
Publication date:
January 3, 2017
Genres:
Literary Fiction
Narrator:
Justine Eyre
Length:
10 hours and 35 minutes
320 pagesFormat:
Audiobook
,
eARC
Source:
Publisher
A stunning debut novel about love and forgiveness, about the violence of memory and the equal violence of its loss—from O. Henry Prize–winning author Emily Ruskovich.

Ann and Wade have carved out a life for themselves from a rugged landscape in northern Idaho, where they are bound together by more than love. With her husband's memory fading, Ann attempts to piece together the truth of what happened to Wade's first wife, Jenny, and to their daughters. In a story written in exquisite prose and told from multiple perspectives—including Ann, Wade, and Jenny, now in prison—we gradually learn of the mysterious and shocking act that fractured Wade and Jenny's lives, of the love and compassion that brought Ann and Wade together, and of the memories that reverberate through the lives of every character in Idaho.

In a wild emotional and physical landscape, Wade's past becomes the center of Ann's imagination, as Ann becomes determined to understand the family she never knew—and to take responsibility for them, reassembling their lives, and her own.
Affiliate Disclosure: This post contains affiliate links. In plain English, this means that I may receive a small commission (at no cost to you) if you purchase something through the links provided. This small income goes back into my blog, so I can continue to create fun content for you. I appreciate my readers and make it my goal to be upfront and honest. Thank you for supporting my blog!
Emily Ruskovich's IDAHO is haunting, atmospheric, and heartbreaking, yet manages to leave you wanting more of its beauty. Rarely does a book leave me with this persistent feeling of loss upon finishing, but Idaho did. Through beautiful prose, strong character development, and exquisite storytelling, Ruskovich delivers a novel that will stay with you.
Told in multiple points of view in a non-linear way, Ruskovich introduces you to Wade, Jenny, their two daughters, and Ann. Wade is now married to Ann but used to be married to Jenny, who is serving a life sentence for the death of her and Wade's daughter, May. Years later, Ann is still haunted by the events that lead up to May's death and their other daughter, June's, disappearance.
At its heart IDAHO is a story of grief and loss but also about what it means to forgive yourself, redemption, and accepting and giving love. IDAHO reads almost like a mystery novel, this element a faint pulse driving the novel. Ruskovich slowly and methodically reveals what happened that day on the mountain where May died and June disappeared. This one event shattered the lives of all involved and reverberated through people who weren't even present when it occurred, trickling down over decades and leaving a void in the lives of many.
Part of what makes it so emotionally effective is Ruskovich's prose. Her writing is striking, each word intentionally chosen to fit the scene and the mood. Additionally, Ruskovich's storytelling is also noteworthy. The story moves around in time, often switching perspectives, but this was necessary. She reveals pieces of characters' pasts with an exacting precision and the right time for the story as a whole. It was truly amazing.
It's hard to put into words how I feel about this book. Part of the awe of this book is the feeling you get upon finishing—a deep loss of these characters' lives and moments you've witnessed as a reader that you want to experience anew.
There is an inherent sadness and loss in Jenny's character. What made her character arc so effective was the way Ruskovich developed her character through the lens of her cellmate, Elizabeth. It was so brilliant. Even though we enter Jenny's mind, the reader isn't left with an answer as to why she did what she did. We can only speculate. I alternated between actually crying and being on the verge of tears when reading the scenes in the prison. Elizabeth and Jenny's relationship was so deeply moving to me, there's is relationship born out of the simple act of needing to love and be loved by another person in a cold sterile environment that's complete void of love.
If you're a reader who needs to have every question answered—the who, what, when, and most of all the why—then this may not be the novel for you. How May died is answered, but the reader is never given a clear, crisp picture, why it happened or what exactly happened that led to to it. But I don't think it's necessary important to the story at all. It's the fact that it did happen and it is the driving force for the story and these characters.
I recommend this novel without reservation to lovers of character-driven stories, to those who appreciate rich character development, and who delight in feeling moved. The ultimate goal of any writer—I think—is to make their readers feel something. I felt this novel immensely and the ending, while simple, was so full of meaning, heart, and hope.
* Thanks to Penguin Random House Audio for providing me with this audiobook for review.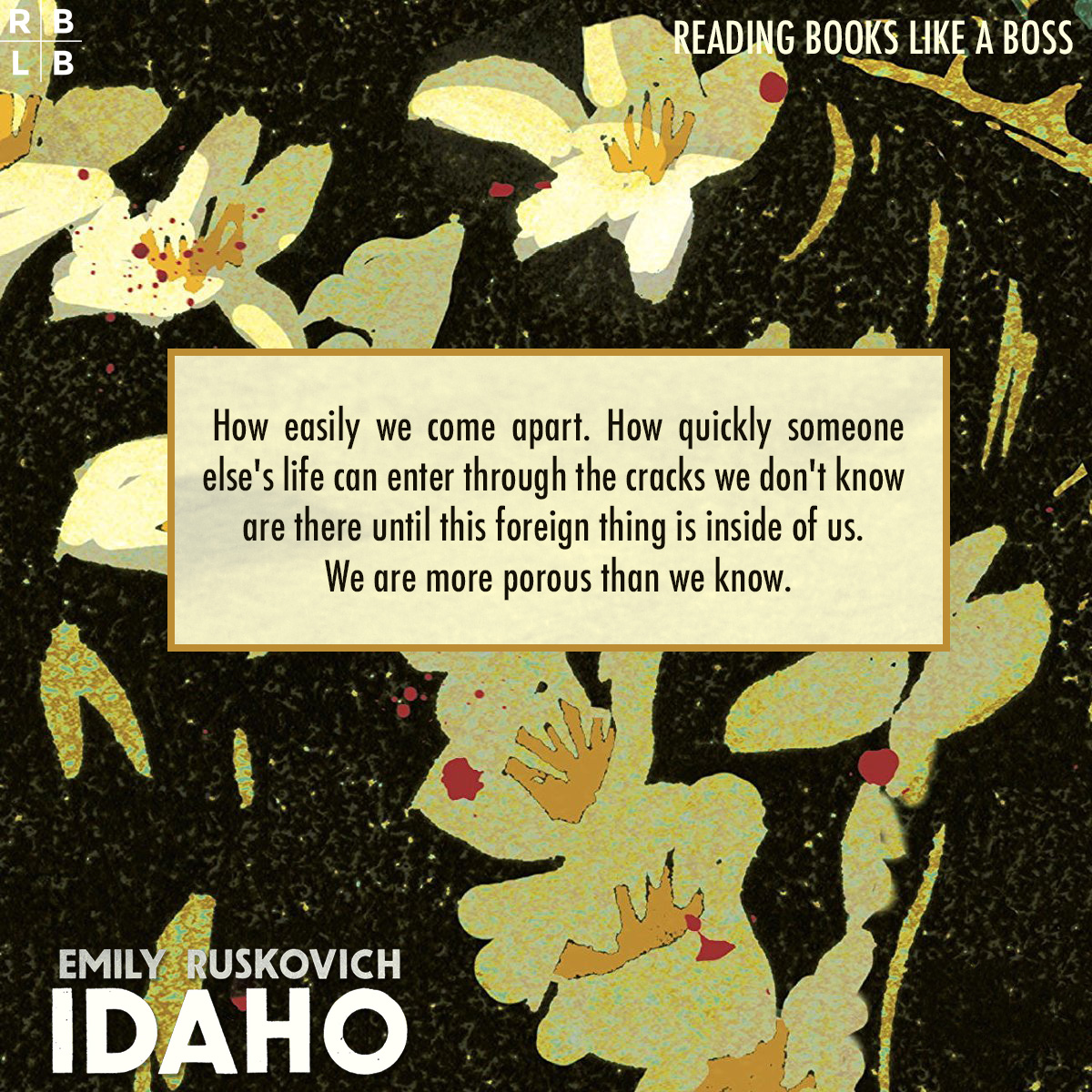 ---
GIVEAWAY
Since I loved this book so much, I partnered with Random House to give away a hardcover copy of Idaho. This book touched me and I still find myself thinking about. I want to share this gift with one of you. So if this sounds like something you'd like feel free to enter!
To enter: Please leave a comment on this review and tell me one thing that makes you happy (aside from books). This is open internationally. Giveaway will be open until March 21, 2017 at Midnight CST. Winner will be chosen at random through random.org. Givewaway has ended. 🙂
Winner:  Lindsie G.! Congrats!