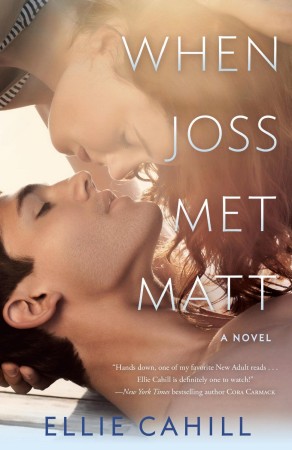 When Joss Met Matt
by
Ellie Cahill
,
Liz Czukas
Published by
Random House
Publication date:
February 24, 2015
Genres:
New Adult
,
Romance
368 pagesFormat:
eARC
Source:
ARC via NetGalley
Ellie Cahill is poised to coin the term "sorbet sex" with her charming twist on the age-old 'friends-with-benefits' story.

Dating can be fun, but it can leave a nasty taste in your mouth. For Joss, ever since her longtime boyfriend cheated on her, she doesn't want her last memory of a guy to be that jerk. Enter her college friend, Matt. They come up with a theory: after a bad break-up, a person needs to cleanse the palate with a little sorbet sex. Lovers for a night, but always back to being friends in the morning. The two can handle it because they have a contract: rules they wrote, rules they follow and rules they can sometimes bend. The arrangement works: everyone needs a little sorbet now and again … until it starts to be the only thing you want. And then Joss breaks the one rule they never wrote down: don't fall in love.
Affiliate Disclosure: This post contains affiliate links. In plain English, this means that I may receive a small commission (at no cost to you) if you purchase something through the links provided. This small income goes back into my blog, so I can continue to create fun content for you. I appreciate my readers and make it my goal to be upfront and honest. Thank you for supporting my blog!
Book Review:
I am such a junkie for friends-to-lovers storylines.  When I saw that Ellie Cahill's new adult debut featured that classic trope, I got so tickled at the prospect of finding another story to get swept away.  While I liked When Joss Met Matt, it didn't completely grab me like I'd hope it would.
The chapters alternate between the past from when Joss and Matt met to the present day. Both students at the University of Wisconsin, the two of them met in their dorm (how cute). Joss and Matt date, date, and date some more, ending up with a long line of discarded exes.
After Joss's boyfriend from home breaks up with her in the jerkiest way possible (seriously, just read it. UGH!), she is bound and determined to eradicate every memory of him. Joss and Matt devise a plan to help each other cope with future breakups. Everyone needs a little palette cleanser after a messy breakup, right? Sorbet sex is the perfect way to get over an ex and look for the next Mr. or Ms. Right.
Over the course of several years, Joss and Matt's little arrangement works wonders. Joss breaks up with a controlling asshole. Sorbet sex. Matt gets his heart broken for the first time. Sorbet sex. Joss's much older neighbor boyfriends ends it with her. Sorbet sex. Matt suffers a tragic loss. Sorbet sex. Fall in love. Wait, that wasn't part of the deal. As you can imagine, the lines get blurred. Feelings start to muddy up their perfect plan. Seven years into Sorbet Sex, Joss and Matt end up in the crazy world of "It's complicated."
I liked this book and was a huge fan of Matt Lehrer. Matt is the quintessential nice guy.  And while he isn't your typical swoony romantic guy, executing these grand displays of affection, his simple and sweet demeanor was enough to win me over. And Joss? She was just your normal, everyday girl trying to wade through the sea of losers. They both were. Joss and Matt were looking for love in all the wrong places when they had love in front of their face all along.
When Joss Met Matt is a sweet and subtlety sexy new adult romance. Ellie Cahill wrote the sexy times with a undertone of sexiness without being raunchy. However, I didn't feel the chemistry between Joss and Matt for a long time. Between their back story and the present day, I wasn't one-hundred percent feeling their connection until about halfway into the book. I really liked how it all ended and it left me with a big smile on my face. Matt and Joss weren't perfect but they were perfect for each other. It only took them seven years and countless bad relationships to realize it.
3 stars
* I received a copy from the publisher in exchange for an honest review.
Amazon: US • UK • CAN | iBooks | GR