OMGosh! I am jumping with joy today because I get to show this pretty cover to you all. I read Boomerang by Noelle August over the summer and it was truly a delightful read. Rebound is the second book in the series. I've been DYING to get to know Adam Blackwood and now February is so close!
Let me lay it out for you: Boomerang is Ethan and Mia's story. It's a one night stand gone wrong  Rebound is Adam and Allison's story. If you haven't read Boomerang yet, you have time!
Now feast your eyes on the cover. I love underwater shots! They're so pretty, so I'm pretty much loving this cover.
✥ ✥ ✥ ✥ ✥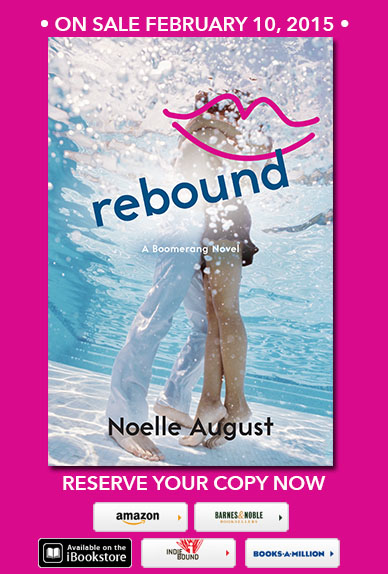 ✥ ✥ ✥ ✥ ✥
REBOUND
At Boomerang, one night can change everything…
Adam Blackwood has it all. At twenty-two, he's fabulously wealthy, Ryan Gosling-hot and at the top of his game in the business world. His life is perfect, until a scandal from his past resurfaces and threatens to knock the tech wunderkind down and throw his company, Boomerang, a hook-up site for millennials, into chaos.
Alison Quick, the twenty-one-year-old daughter of a business tycoon—and the very ex-girlfriend of Boomerang's former intern, Ethan—has a problem of her own. After nearly flunking out in her senior year of college, she has one chance to redeem herself to her father by proving that she deserves a place in his corporate empire. That means spearheading her father's plan to sink big money into Adam's company and launch it into the stratosphere—provided Adam has no skeletons in his closet.
When the two meet, their sizzling chemistry makes it tough to keep things strictly professional. But when Alison discovers Adam's secret, she knows she should bring it right to her father, who'll leverage it for his own gain and use it to ruin Adam. The only problem: she's falling for Adam—hard.
Will earning her father's approval come at the price of losing her first real love? Or can Adam and Alison leave behind past mistakes and conquer the world—together?
Rebound by Noelle August
Add on Goodreads

✥ ✥ ✥ ✥ ✥
BOOMERANG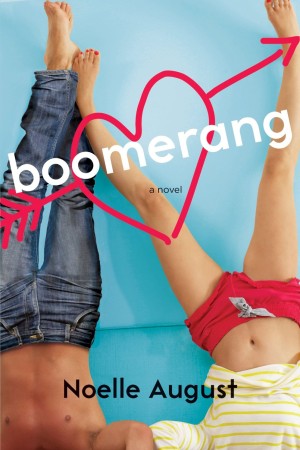 Boomerang
by
Noelle August
Series:
Boomerang #1
Published by
HarperCollins
,
William Morrow Paperbacks
Publication date:
July 8, 2014
Genres:
New Adult
,
Romance
304 pagesFormat:
eARC
Source:
ARC e-book
The first book in a sensational New Adult trilogy from Noelle August

Welcome to Boomerang.com, the dating site for the millennial gen with its no-fuss, no-commitments matchups, and where work is steamier than any random hook-up

Mia Galliano is an aspiring filmmaker. Ethan Vance has just played his last game as a collegiate soccer star. They're sharp, hungry for success, and they share a secret.

Last night, Ethan and Mia met at a bar, and, well . . . one thing led to another, which led to them waking up the next morning—together. Things turned awkward in a hurry when they found themselves sharing a post hookup taxi . . . to the same place: Boomerang headquarters.

What began as a powerful connection between them is treated to a cold shower courtesy of two major complications. First, Boomerang has a strict policy against co-worker dating. And second, they're now competitors for only one job at the end of summer.

As their internships come to an end, will they manage to keep their eyes on the future and their hands off each other, or will the pull of attraction put them right back where they started?
Affiliate Disclosure: This post contains affiliate links. In plain English, this means that I may receive a small commission (at no cost to you) if you purchase something through the links provided. This small income goes back into my blog, so I can continue to create fun content for you. I appreciate my readers and make it my goal to be upfront and honest. Thank you for supporting my blog!

Click on the Banner to read my review
✥ ✥ ✥ ✥ ✥
About Noelle August:
NOELLE AUGUST is an anagram for Veronica Rossi and Lorin Oberweger. Just kidding, it's a pen name!
VERONICA ROSSI is the author of the New York Times Best-selling UNDER THE NEVER SKY trilogy for young adults. The books are available in more than thirty countries and the film rights have been optioned by Warner Bros. Veronica completed undergraduate studies at UCLA and lives in Northern California with her husband and two sons. She is fond of dresses with pockets, fluffy dogs, and cheese and chocolate — but not together.
LORIN OBERWEGER began her storytelling career by captivating her first-grade class with tales of her summers on a kibbutz in Israel. Lorin had never been to Israel. While teacher/parent night put an end to her first experiments in fiction, she'd already caught the bug and eventually made a career of all things story. As a long-time independent editor and story development guru, Lorin's client successes range from small press publications to major bestselling novels. She's an award-winning author and has also worked behind the scenes as a ghostwriter on a variety of projects. Her work has received starred Kirkus reviews and glowing mentions in The New York Times. Oh, she did get to see a kibbutz, eventually, and found out she had it pretty much right all along.
Veronica and Lorin met at a writing workshop and just knew they were destined to create awesome things together.
Connect with Noelle August: