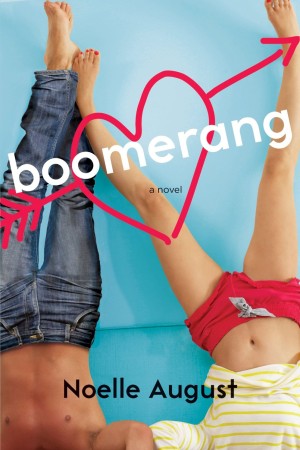 Boomerang
by
Noelle August
Series:
Boomerang #1
Published by
HarperCollins
,
William Morrow Paperbacks
Publication date:
July 8, 2014
Genres:
New Adult
,
Romance
304 pagesFormat:
eARC
Source:
ARC e-book
The first book in a sensational New Adult trilogy from Noelle August

Welcome to Boomerang.com, the dating site for the millennial gen with its no-fuss, no-commitments matchups, and where work is steamier than any random hook-up

Mia Galliano is an aspiring filmmaker. Ethan Vance has just played his last game as a collegiate soccer star. They're sharp, hungry for success, and they share a secret.

Last night, Ethan and Mia met at a bar, and, well . . . one thing led to another, which led to them waking up the next morning—together. Things turned awkward in a hurry when they found themselves sharing a post hookup taxi . . . to the same place: Boomerang headquarters.

What began as a powerful connection between them is treated to a cold shower courtesy of two major complications. First, Boomerang has a strict policy against co-worker dating. And second, they're now competitors for only one job at the end of summer.

As their internships come to an end, will they manage to keep their eyes on the future and their hands off each other, or will the pull of attraction put them right back where they started?
Affiliate Disclosure: This post contains affiliate links. In plain English, this means that I may receive a small commission (at no cost to you) if you purchase something through the links provided. This small income goes back into my blog, so I can continue to create fun content for you. I appreciate my readers and make it my goal to be upfront and honest. Thank you for supporting my blog!
** TOMORROW, I will have a fun interview with Noelle August for you all!  Stay Tuned!**
Review:
I have been so excited to read this book ever since I found out that Veronica Rossi and Lorin Oberweger were having not one but multiple book love children in the form of the Boomerang series.  Boomerang was a fun, sweet, and sexy romantic comedy that kept me entertained from the very first page.
"I want someone who just wants me, without question. And I want to want him back. And just go for it."
The opening scene of this book was absolutely hilarious.  The beginning of the book played out just like a romantic comedy.  Mia Galliano and Ethan Vance clearly had quite the sexy night.  They wake tangled up in each other, naked as the day they were born.  The problem is that neither of them can remember what happened or even know who each other are. After stumbling around Ethan's apartment looking for her clothes, Mia finds her underwear in the toast — TOASTER PANTIES!  Mia realizes that she has got to get out of there fast or else she'll late to her first day at her new internship.  Both of them share a cab downtown and serendipitously end up going to the exact same location—the offices of Boomerang.
Boomerang is an up-and-coming dating website, the brainchild of Adam Blackwood, a young business mogul. Its targeted audience are people who have just broken up with their significant others and are looking for a rebound.  On their first day, Mia and Ethan find out, to their horror, that they're competing for the same job.  At the end of their unpaid internship, there will only be one job offer to the winner.
On top of that, Boomerang has a strict no-dating policy.  Sounds easy enough?  Well, not when Mia and Ethan can't stop staring at one another.  The chemistry between Ethan and Mia is incredible in this book. I'm a huge fan of forbidden-type romances and this was just that.
I'm screwed because of his smile, because of that dimple that deepens when he laughs, his straight, even teeth, perfect except for one slightly turned incisor…I'm screwed, most of all, because of his kindness, which radiates from every pore. His passion, when he lets himself talk about things he loves…I'm screwed because of him, all of him. My body and my brain are conspiring against me here, but I can't let myself give in to them.
Mia and Ethan come from opposite sides of the tracks.  Mia was born into wealth.  Her mother is an extremely famous artist in Los Angeles and has done well for herself.  But she wants to branch out from her mother's shadow and find own personal style in film.  Ethan, on the other hand, was raised in a blue-collar family, basically growing up in his family's bowling alley.  After graduating from UCLA, Ethan is jobless and could really use the income.  Both need this job for different reasons.  I loved that as time went on, the job became less and less important for them.  Rather it was, each other's well-being that was at the forefront of their minds.
I really liked Mia's character a lot.  Her determination and drive to make something of her life when she could have had it made was completely admirable. She had such a big heart.  Her scenes with her grandmother tugged on my heartstrings.   I loved the way she truly saw Ethan and his heart from the very beginning.
I step toward him. I can't help myself; his pull is too strong. The hell with the job…I just need to wrap myself in his gorgeous beach-fire scent. I want to feel the length of him against me, want those soft, warm, lips all over me again. And I want to remember it this time.
Ethan was such a good guy through and through.  I tend to flock towards the good guys.  As if he isn't perfect enough, he spends his free time coaching soccer to a group of nine-year old boys.  The progression of his feelings as he worked side-by-side with Mia was so much fun to see.  He fought so hard to push down the growing feelings he had for her.  But the longer he was around her the more he realized that she was perfect for him.  He just wanted to make her happy.
I want her against me. I want me against her against the wall. I do not want her dating other guys.
This book was light and fun and the perfect summer read.  The swoony moment were plentiful as were the super angsty moments.  I was thankful, however, that the drama llama levels were low.  Unlike so many new adult novels that I've been reading lately, Boomerang was not fraught with unnecessary plot twists for shock value.  Overall, I really, really liked the story and I cannot WAIT for Rebound.
* I received a copy from the publisher in exchange for an honest review.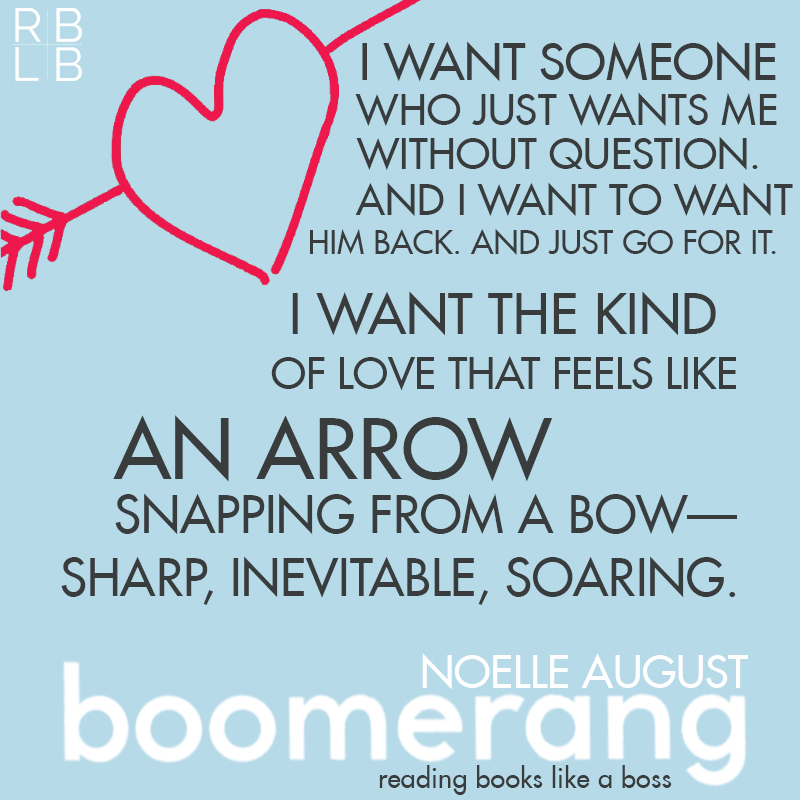 4 stars
About Noelle August:
NOELLE AUGUST is an anagram for Veronica Rossi and Lorin Oberweger. Just kidding, it's a pen name!
VERONICA ROSSI is the author of the New York Times Best-selling UNDER THE NEVER SKY trilogy for young adults. The books are available in more than thirty countries and the film rights have been optioned by Warner Bros. Veronica completed undergraduate studies at UCLA and lives in Northern California with her husband and two sons. She is fond of dresses with pockets, fluffy dogs, and cheese and chocolate — but not together.
LORIN OBERWEGER began her storytelling career by captivating her first-grade class with tales of her summers on a kibbutz in Israel. Lorin had never been to Israel. While teacher/parent night put an end to her first experiments in fiction, she'd already caught the bug and eventually made a career of all things story. As a long-time independent editor and story development guru, Lorin's client successes range from small press publications to major bestselling novels. She's an award-winning author and has also worked behind the scenes as a ghostwriter on a variety of projects. Her work has received starred Kirkus reviews and glowing mentions in The New York Times. Oh, she did get to see a kibbutz, eventually, and found out she had it pretty much right all along.
Veronica and Lorin met at a writing workshop and just knew they were destined to create awesome things together.
Connect with Noelle August:
Website | Goodreads | Facebook | Twitter
GIVEAWAY